We all wish we could afford the newest releases shown in the Best Irons for Seniors, but the truth is that most golfers are not willing to spend $500 dollars on a set of irons that will improve their scores by a shot or two. For all the frugal golfers out there, who want a solid set of irons on a good budget, I made a list of the top 5 best iron sets for the money that seniors can buy.
Oh, and if you want to just buy a complete set of golf clubs, check out the best golf club sets for seniors.
My Guidelines for Choosing the Best Combo Iron Sets for the Money:

•

Under $200
I think $200 is the perfect price to spend for solid irons. All of these iron sets are extremely top quality and have fallen in price due to a couple of reason:
1) They might have been released many years ago, as these clubs range from being introduced in 2011 to 2014. Each year, as golf club manufacturers release new products, their old products fall in value slightly.
2) They were so mass produced that sellers kept dropping their prices to keep up with the competition.
•

Available in Graphite Shafts

Let's face it. If you have been playing golf for many many years, you don't swing as fast as you used to. Lighter graphite shafts will let you swing faster, resulting in higher, longer golf shots. If you are new to golf, first of all look into potentially buying one of the best full sets of golf clubs for seniors for an even lower price than a combination of the "best on a budget" recommendations for drivers, woods, irons, wedges, and putters. Second of all, your distance potential is much less compared to when you were stronger and more flexible, so graphite shafts will typically be the way to go for you to play your best golf.
•

Available in a Combo Set

Combo sets are absolutely perfect for senior golfers, as hitting long irons high and stopping them softly can be tough. I am a huge proponent of all senior golfers having at least 2 hybrids in their bags, and potentially more if you struggle with long irons and would like to substitute another more forgiving, high launching hybrid.
1) Best Combo Iron Set for the Money for Seniors: Callaway X Hot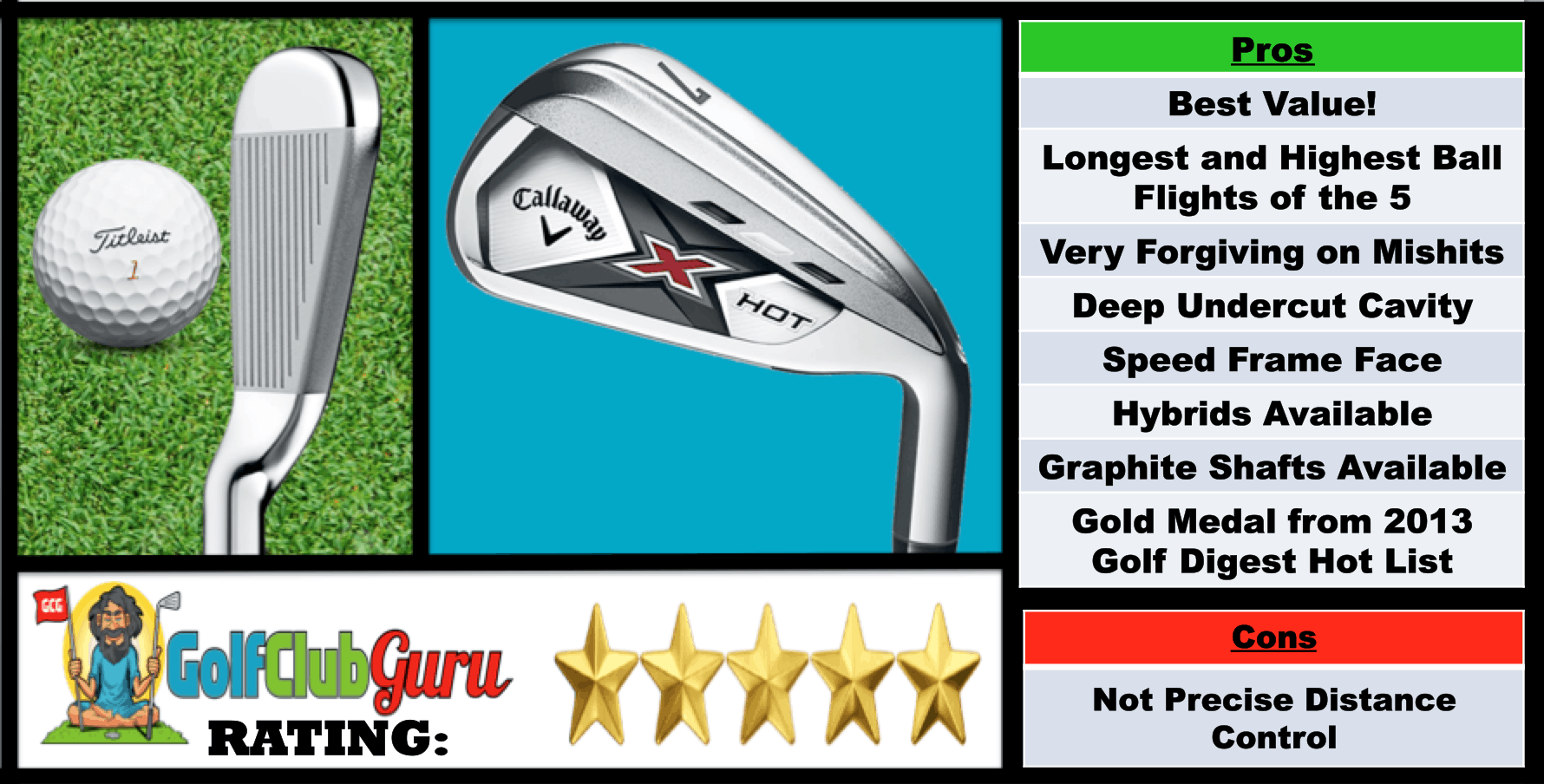 Without further ado, the number one iron set for seniors on a budget is the 2013 Callaway X Hot Irons. As a senior, the length and heights that you can hit the ball will surprise you. They are extremely forgiving, as you can see from the large topline and sole of the clubs. It's honesty hard to hit anything but straight, so if you are looking for clubs that let you work the ball left and right, these aren't the ones for you. The look at address is phenomenal, as the contrasting light and dark silver or grey make it extremely easy to align to your target. When I demoed these clubs, I had a little trouble with distance control, typically involving me hitting shots way longer than I thought I could. If I wasn't so personally in favor of thin toplines, I would be gaming these irons without a doubt.
As you can see from the pictures below, you can pick up a set of X Hot irons in great condition for $200. If you find one a little over $200 though, that would still be an incredible deal for the value that you are going to get in return. Although I couldn't find a combo iron/hybrid set selling for $200 or less, there was one with 3 hybrids selling for $280, which is still an incredible deal for these clubs.
The X Hot hybrids, which are available in 3H to 6H, are very easy to hit and launch the ball extremely high. If you are looking to make your own combo set by buying the hybrids separately, try to pick one up in good condition for about $50 or less.
Let me mention some of the benefits of the design of these irons:
Deep Undercut Cavity: The Undercut Cavity acts similarly to TaylorMade's Speed Pocket, as they both have a trampoline like affect on the ball, therefore increasing ball speeds and overall distance.
Speed Frame Face: Ball speeds are optimized across the entire thin face of these irons, even on shots now hit perfectly on the center of the face. This is the same technology that they use on their drivers.
Precision Center of Gravity Placement: The center of gravity on these irons is very low, allowing for stronger lofts that result in high, long iron shots.
Feel Management Technology: Callaway says this technology fine tunes sounds and provides more feel and playability. However, I personally think that there is a big give and take when it comes to playability and distance, and these irons definitely lean towards distance.
TL/DR: The Callaway X Hot Irons are perfect for someone that wants to hit longer, higher irons shots. Also, if you already have a hybrid/hybrids that you really like and don't want to replace, these are the perfect set of budget irons for you, as the combo sets are a little less common.
2) Lowest Price and Still Great Quality: Adams Idea Tech V3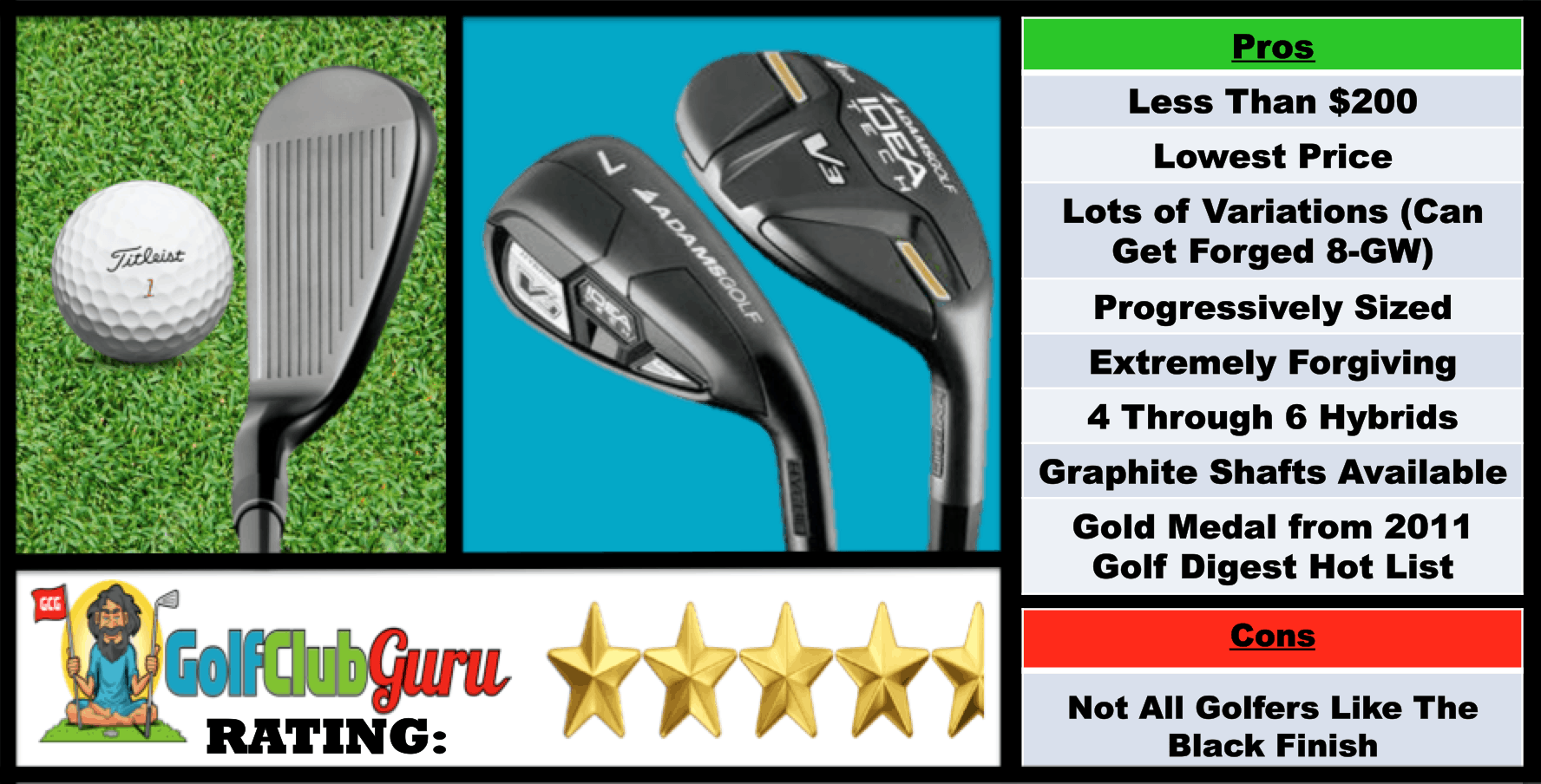 Adams Golf is going to be very common in my "Best on a Budget" series. They make very high quality clubs for ridiculously low prices. If it weren't for the Callaway X Hot clubs blowing me away with height, length, and forgiveness, this would be #1 on the list. Putting this combo set apart from any other, they are progressively sized, meaning the club heads get slightly bigger from Wedges to 4 Hybrid. This is great for seniors, as the change from irons to hybrids can often be difficult. These small changes between clubs make the switch from irons to hybrids very small. Also, there are some variations in the set that you can look out for if you would like (such as getting forged irons from 8-GW for feel or maybe V3-R Hybrid irons for even more forgiveness).
The only downside of these clubs could be that some golfers dislike or maybe are not used to the black finish on the irons. Other than that, you can now go wrong with these clubs at the prices that they sell at. Combo sets in good condition sell for $200 and under pretty often. However,  at that price I would urge you to buy some in like new condition for a little over $200 and get the most use out of them that you can.
TL/DR: Adams Idea Tech V3 Combo Set is perfect for seniors not wanting to spend much money on clubs. They are the lowest price of the 5 by a decent margin. I love their progressive design, which makes changes between clubs much less dramatic.
The Baffler XL Combo Set is by far the easiest set to hit that Cobra has ever made. Cobra has made great strides in their reputation in the last few years, with many iron sets getting rave reviews from testers. The Baffler XL set is definitely one of them, as most high handicappers and seniors golfers in general love how forgiving they are and how solid they feel. Although they are slightly heavier than most game improvement clubs and therefore slightly shorter typically, you could say they make up for it with consistency and control. After all, it's easier to be consistent with a heavier club head than with a light clubhead.
Along with the other combo sets in this article, the Cobra Baffler XL Combo set can be bought for less than $200 if you wait for a good deal (typically an auction, not a buy it now). Nearing the $150 mark, this set of irons is perfect for golfers on a budget, as the difference between these and a $500 set of irons is minuscule.
Some of the prominent features of the Cobra Baffler XL irons are their deep undercut cavity (same as Callaway's) for ball speeds, oversized face design for forgiveness, and wide rail sole for improved club to turf interaction.
TL/DR: These Cobra Baffler XL irons are perfect for golfers looking for more consistency and forgiveness, as opposed to those strongly searching for the longest irons around.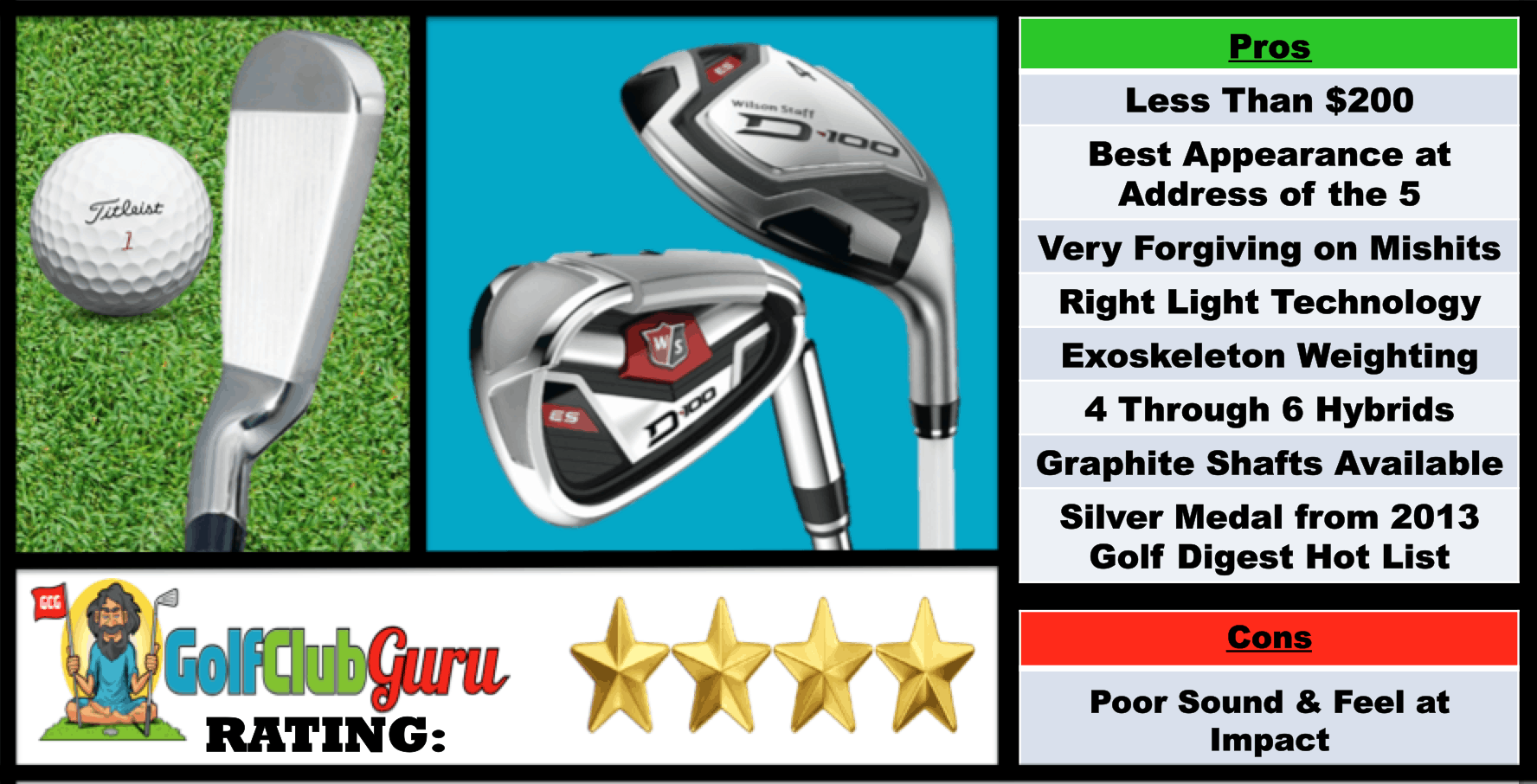 Wilson hasn't made much noise in golf for decades, but they have released a few sets that got rave reviews from golfers, with the D100 irons being one of them. This set is Wilson's most forgiving set, and the addition of the hybrids make this a great combo set for seniors. Wide toplines and soles make mishits still fly straight and somewhat far.
To speak about some of the benefits of the design of these irons, let's start with the Right Light Technology. This basically means they take some weight away from the shaft, grip, and clubhead to make the club lighter and allow you to swing faster and hit longer shots. Next, there is the exoskeleton weighting, which means most of the mass of the club is around the perimeter, resulting in increased forgiveness across the entire face.
Along with the others, if you are patient, you can find a set for around $200. The one pictures below has steel shafts, but one sold for $202.50 with graphite shafts!
TL/DR: These are Wilson's most forgiving, longest, and lightest irons, so they are perfect for seniors who think their clubs now are too heavy for them.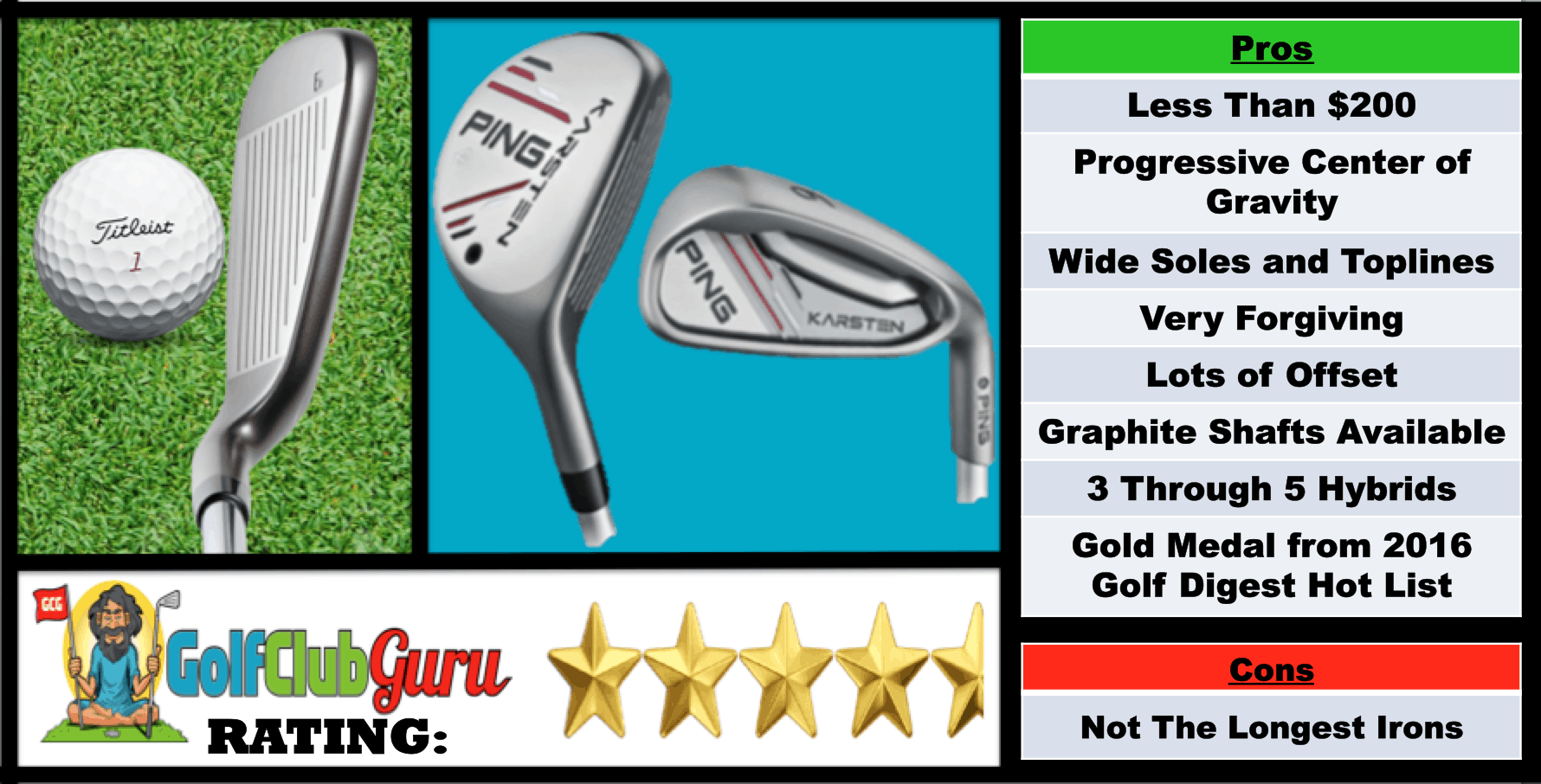 Ping Karsten irons are very similar to Ping K15 irons, which was my top pick in the Best on a Budget: Super Game Improvement Irons. Together, they are the two most forgiving clubs that Ping has ever made. The soles and toplines are very wide, which typically results in more forgiveness across the face. As you can see from the at address picture, there is a good bit of offset, really encouraging a good impact position and square face at impact. For the irons, the center of gravity is noticeable more back and lower. As a result, balls fly very high.
For the hybrids, on Center of Gravity is actually progressive. This means that it is further back on the lower lofted hybrid (3) and closer to the face on the higher lofted hybrid (5) to reduce spin. Ping also touts a high Moment of Inertia Design, due to internal heel and toe weights, resulting in increased forgiveness in the hybrids.
As 2014 was only a few years ago, the Ping Karsten irons still sell for a good bit, but you can pick them up for $200 if you are patient. By the way, a seller on eBay you should look for is 3ballsgolf. I've bought a lot of stuff from them and they provide incredible service and quality clubs for incredible prices.
TL/DR: The Ping Karsten Irons, or the Ping K15 irons, are perfect for seniors looking for extremely forgiving and oversized clubs.