I have played with hundreds of golfers, and naturally I look at all of their golf clubs without thinking twice. One thing that I have noticed is that golfers typically stick with wedges for waaaaay longer than I would recommend. I can see why they do this: they don't want to spend hundreds on clubs that they feel won't make a huge difference. Yet they don't bat an eye when a new driver comes out with a price tag of $400, promising a couple more yards on their drives.
Don't forget, about 60% or so of a golfer's shots come from within 100 yards, so wedges have a much larger impact on one's score than people realize. If you've been using the same wedges for countless rounds and practice sessions, it might be time to get some new ones. I know what you are thinking. "Shoot, I've got three wedges, replacing those will probably cost $300!"
Now, if you want the best of the best golf wedges and don't mind spending $100+ for wedges, read the Best Wedges and I can hook you up with the newest releases. For those that don't have $300 dollars to replace their wedge set, I'm here today to tell you that you can buy some incredible wedges BRAND NEW for $50 or less each.
Here's how!
Read my Guide to Choosing a Wedge to help you pick lofts, grinds, bounce, etc.
Know where to buy! Just click one of the pictures or links below and you will end up in a magical place where golf clubs are sold cheaper than anywhere else!
Know what to buy! Well… that's what I am here for! Read below for 5 awesome golf wedges that you can buy for $50 or less (with proof!).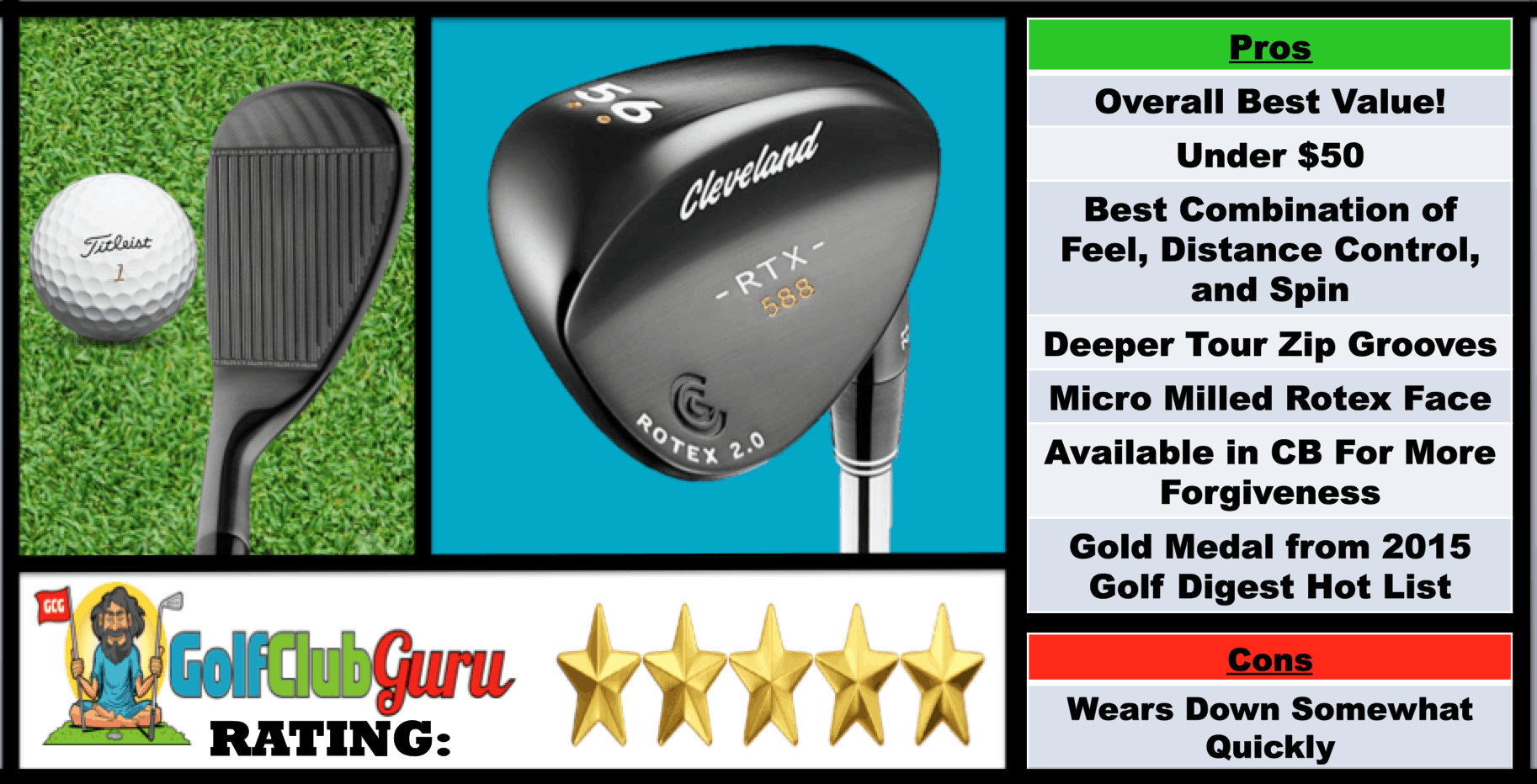 Originally when writing this article, I put the original Cleveland 588 RTX wedges (not the 2.0) as the number one wedge to buy on a budget, and I saw a many sell for less than $50. That's when I noticed that many of the newer 2.0 wedges are also selling for less than $50!
I can't speak any higher of Cleveland as a wedge company. That's where they started and that's where their fame and reputation will always be in my opinion. I've played both Vokeys and Clevelands in the past, and I am very confident in my belief that overall, Cleveland makes better wedges. Better feel. Better distance control. Better spin.
So what makes this the best budget wedge?
18 Different Loft & Bounce Combination
Available in CB for those that are not confident with their ability to consistently hit the center of the club face. The CB is noticeably more forgiving!
Cleveland makes it extremely easy to fit yourself (as opposed to spending more money on a fitter) with the Cleveland Wedge Analyzer App.
588 RTX 2.0 Technology: Cleveland's Rotex face technology was a huge improvement regarding spin in 2016. The 588 RTX 2.0 takes controlling spin to another level due to 15% sharper grooves and micro-milled RTX face patterns, giving these wedges the maximum surface roughness allowed.

Tour Zip Grooves: Now, the 4th generation "Tour Zip Grooves" have even deeper walls and sharper radii than in the past, resulting in cleaner contact and more consistent spin rates.

The Cleveland 588 RTX 2.0 wedge is perfect for a golfer that wants to easily fit himself to the best grind/bounce/loft combination and a wedge that is the best combination of spin, distance control, and feel around the greens.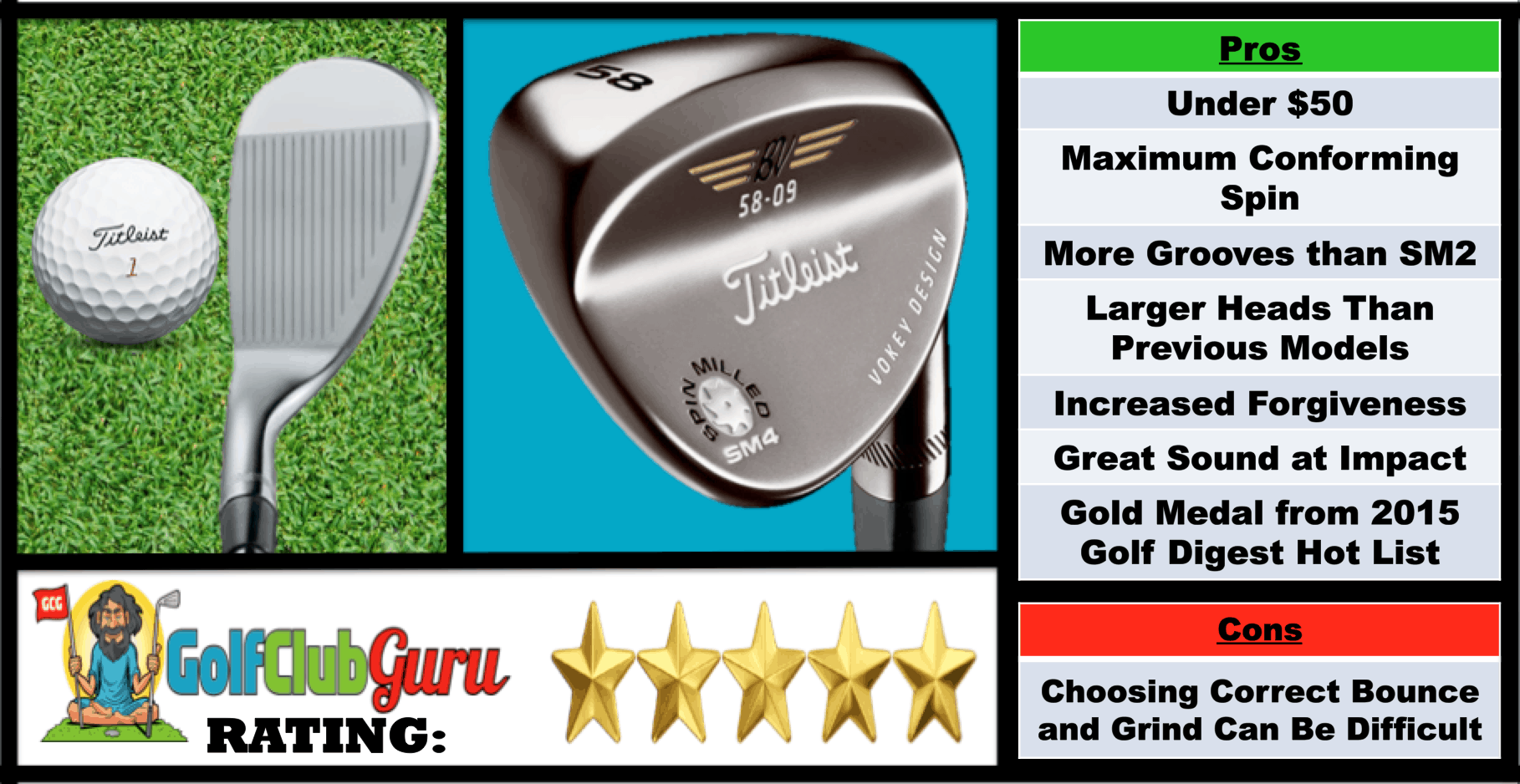 "Vokey"… Hmmm, doesn't ring a bell. OK, so its the most recognized wedge in all of golf. I understand that. I accept that. Vokeys are great. Not as solid as Cleveland RTX, but still EXTREMELY solid. They feel great at impact, and I'm willing to admit that around the greens I think they are the best wedge ever. If you are willing to go back a couple of years of innovations and redesigns, you can pick up a Vokey SM4 for less than $50 including shipping if you look hard enough. That's a bargain for a wedge that seems to be worshiped around golf clubs everywhere.
Compared to the previous model, the SM2, the SM4 has more grooves and maximum conforming spin relative to the USGA rules. The SM4 is also physically larger. This larger club head leads to more forgiveness and a larger sweet spot.
One problem I have with the Vokey line is that it is very difficult for golfers to determine and find the correct bounce and grinds. I would heavily recommend getting fit for a Vokey wedge, and considering that you are reading this "Best on a Budget" series, you might not be willing to spend extra money on the fitting (If you are, it will be worth it!).

The Titleist Vokey SM4 wedge is perfect for 1) Titleist loyals obviously and 2) someone that ends up having a lot of difficult chip or pitch shots around the greens, as it is the best wedge for short spinny shots.
3) Best Forged Wedge: Ping Gorge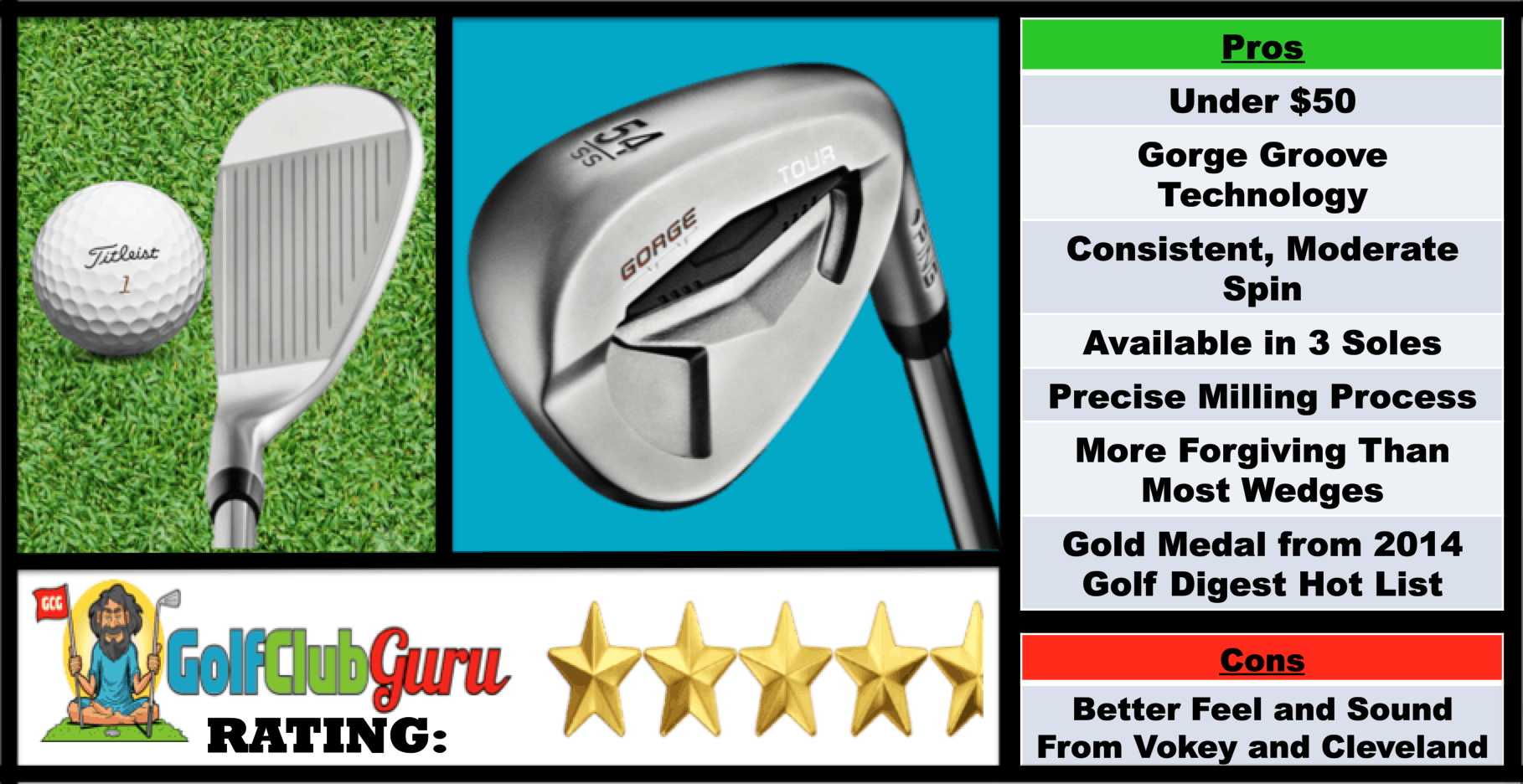 I still remember when my dad brought home these wedges for himself (he bought at Dicks Sporting Goods, so no he did not pay less than $50 for his) and I had no idea how to feel about the fact that they were Ping. At the time I didn't realize how solid these were, but I quickly fell in love with them. I wasn't a great golfer at the time, and I loved the forgiveness of them. Anywhere near the center of the face felt solid and spun really well when clipped nicely. One caveat I will give is that the club head is much larger than you are probably used to with a wedge. I don't see a problem with this though, as the increased forgiveness doesn't seem to take away from the feel at impact.  If you are looking to buy a Ping Gorge wedge, you can pick one up for around $50 including shipping, although I will admit this and #5 are the most expensive wedges of the 5 listed.
The Ping Tour Gorge wedge is perfect for someone that is not confident in their ability to consistently hit the center of the club face. If you are looking for the most forgiving wedge ever made, this could very well be it.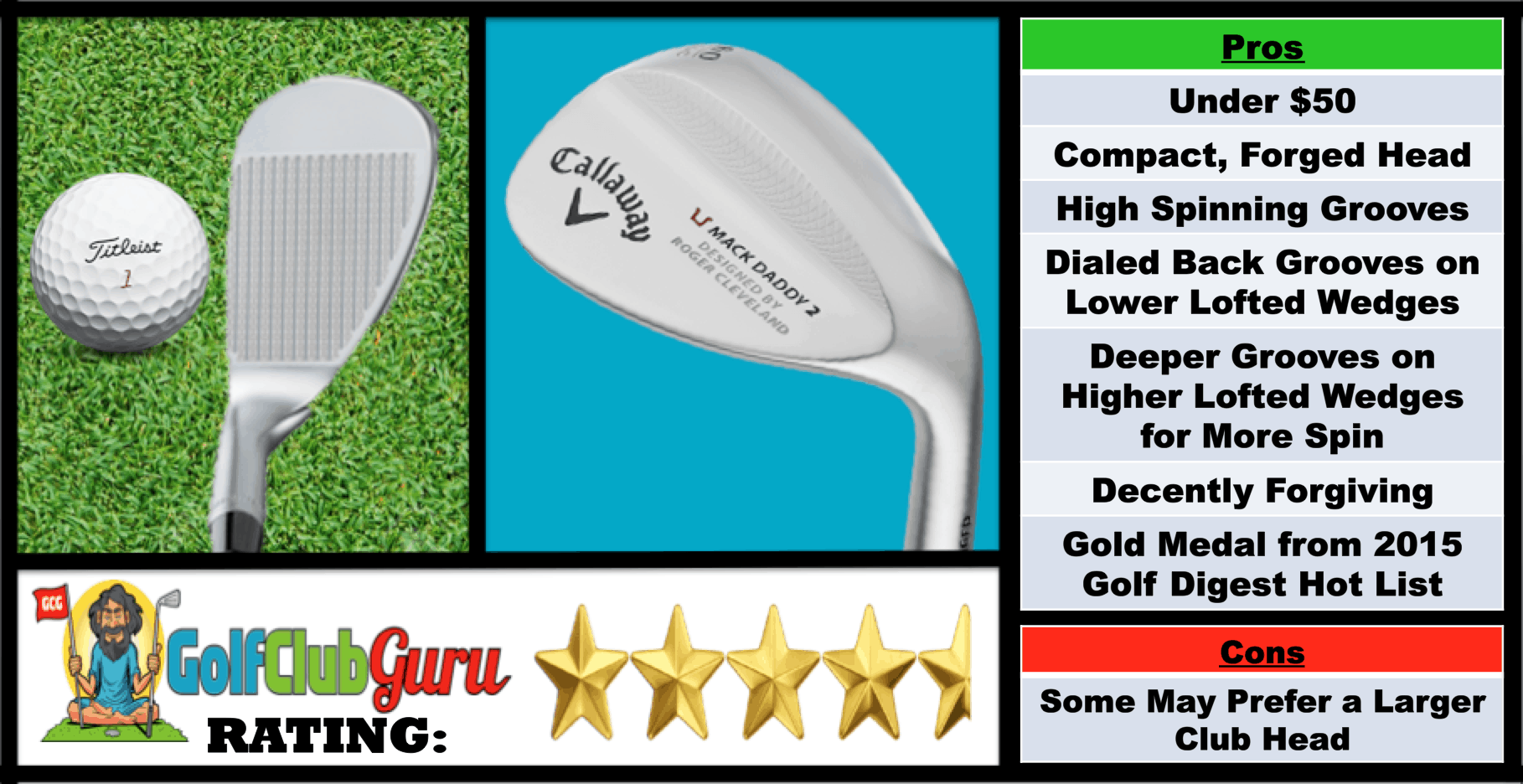 On the other side of the spectrum regarding club head size, the Callaway Mack Daddy 2 wedges have a very compact look. Personally, I favor the blade like look of this wedge as compared to the chunkier Ping Gorge, especially for chip and pitch shots. It gives me a sense of confidence setting up to a thin topline wedge as opposed to a thicker topline wedge, and I've talked to many other golfers of all abilities that agree. Going back a couple of generation of Callaway wedges, the Mack Daddy 2 can be picked up for around $50 brand new as well, an absolute steal if you compare that to current wedge prices at Golfsmith, Dicks, or even Amazon. It's clear to see why this a great value golf wedge on a budget.
The Callaway Mack Daddy 2 Wedge is perfect for golfers that love the look of a blade like wedge (compact head) and are confident that they can hit the center of the club face consistently.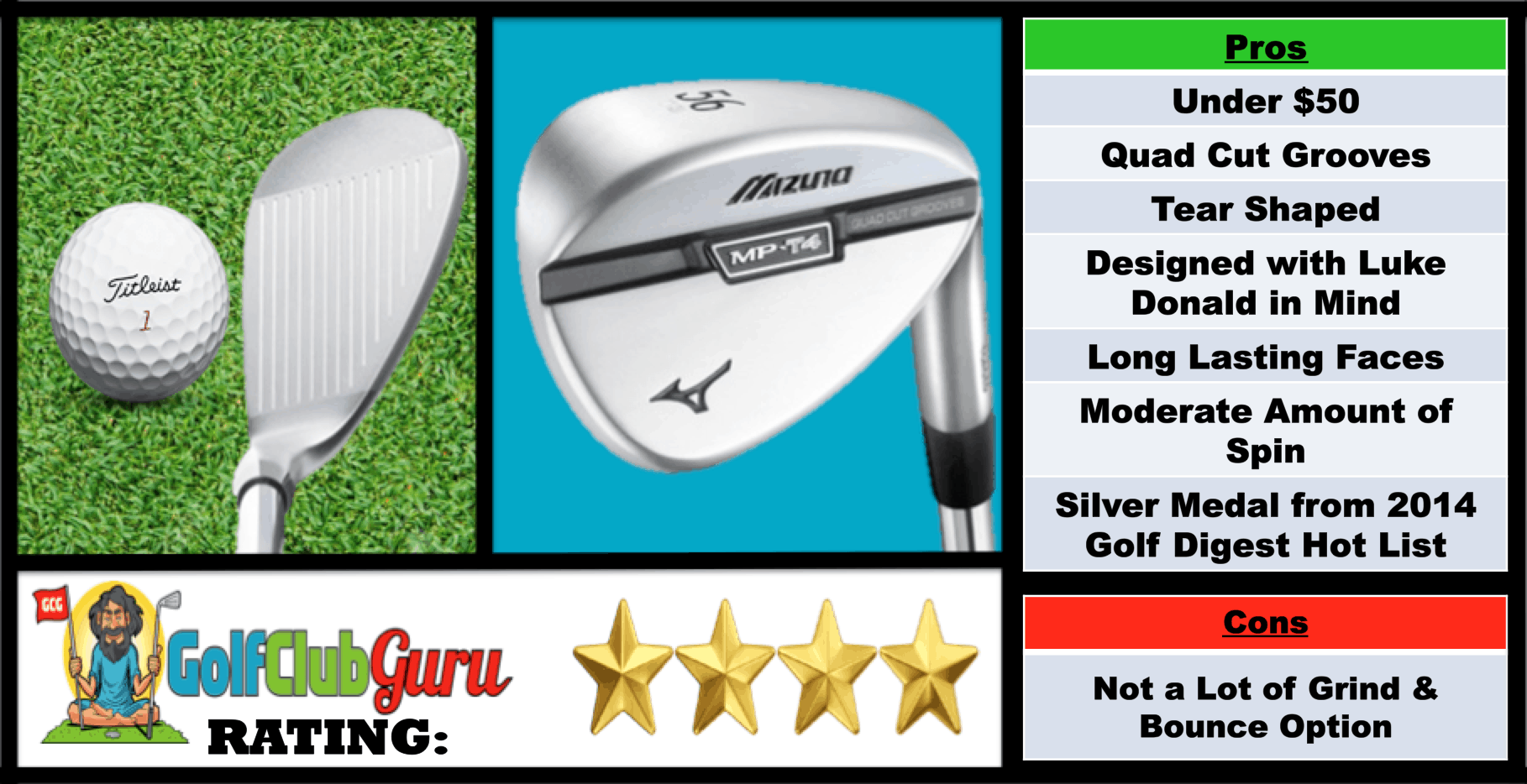 Although typically known for their incredibly made irons, Mizuno also has some great wedge offerings that can be purchased for pretty cheap. One of these offerings is the Mizuno MP-T4 wedges that were made in 2014. In my many golfers' opinions, these are some of the longest lasting wedges, undergoing hundreds of hours of practice before wearing the faces down. One con of these wedges is that there are not many grind and bounce options, however. If you can look past this short coming, though, you can buy one brand new for $50 plus shipping if you wait for the right deal.
These wedges were designed with Luke Donald in mind, who is typically one of the best wedge players every year on tour. It is a great confidence boost knowing one of the best short game players trusts Mizuno's wedges and performs so well with them.
As long as you can find a grind and bounce combination that fits you, the Mizuno MP-T4 wedge is perfect for someone looking for a long lasting wedge with great feel around the greens.