So, it's time for you to buy new wedges! Either you are new to golf or you have worn your grooves down from hours and hours on the driving range, but either way, you have come to the right place to find the perfect wedges (and their lofts/models!) for your game.
Let me make a quick note that, while I often encourage buying scarcely used clubs, I 100% recommend always buying wedges brand new, as the grooves can often be worn down quicker than you might think. With that being said, let's get into how to find the perfect wedge for you, and then I will list the top 5 wedges.
You may also like to read:
Finding the Perfect Lofts
To start off with, I would recommend typing your iron set into google with the words "specs" (such as "Titleist AP2 712 specs") and finding the loft of your PW. Whatever that PW loft is, I would add 3-4 degrees and that should be your first wedge loft. So if your PW is 46 degrees, I would buy a 50 degree wedge. It would be smart to continue this trend (to have equal yardage differences between wedges) and get 54 and 58 degree wedges as well. Therefore, you would have lofts of 46, 50, 54, and 58. I strongly recommend carrying 4 wedges total, including the PW, as this is where most of the scoring occurs throughout a round. The more dialed in you can be with your wedges, the better you will score!
If you have 11 clubs already besides wedges (and therefore can only carry 3 wedges), I would recommend adding 6 degrees to your PW and continuing that trend. Using the 46 degree PW as an example again, I would add a 52 degree gap wedge and a 58 degree lob wedge to complete your set. Just know that the gaps between tour wedges will be much larger than typical, so you will have to practice a lot of half shots to really dial in your distances.
Finding How Much Bounce You Need
I love the complexity of the construction of golf clubs… but, I know that you probably don't. So, I'll keep it very simple. Bounce is the angle between the ground and the sole of the club when standing straight up. Another way to look at is the higher the leading edge of the club is off the ground when the club is straight up, the more bounce there is. What does bounce do?  It helps the club not just dig into the ground, effectively "bouncing" the sole off of the ground.
The bounce angle on a wedge typically falls between 0° and 14°. The more bounce a wedge has, the less the wedge will dig into the ground.
Here's a great explanation of bounce angle from thirteenundergolf.com: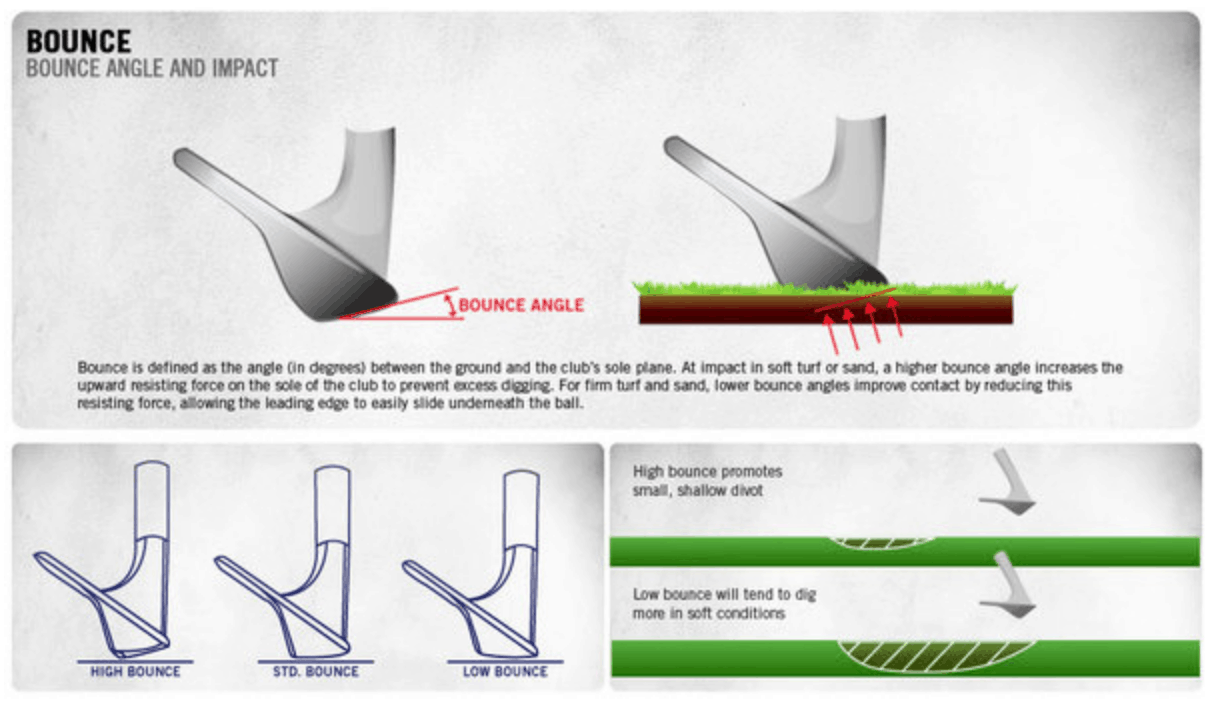 You need more bounce if:
You play in soft, wet conditions. You don't want the club to dig into or get stuck in the ground, so the more bounce you have on the wedges, the smaller your divots will be and the better your wedges shots will be!
You have a very steep swing/ take steep divots. For the same reasoning as above, the steeper your divots are, the more you would benefit from bounce on a wedge.
You need less bounce if:
You play in hard, dry conditions. If you play in hard, firm conditions with too much bounce, you'd be at risk of the club bouncing off the ground and thinning most wedge shots.
You have a very shallow swing/ take little to no divots. If you typically do not take divots with a wedge, you would benefit from a little less bounce to make better contact and create more spin on wedge shots.
With this information in mind, let's get to the top 5 wedges of 2016!
Oh, real quick: all links/pictures will take you to eBay listings for the wedges if you click on them. Oh, and scroll down to the bottom of the article to see better value options. Thanks!
2023 WEDGES
If you can afford it, it's best to buy brand new wedges. They will last the longest (obviously) and perform the best while the grooves are fresh. However, if you can't afford brand new wedges, consider scrolling down to the "Better Value Options" further down in this article.
1) All Around Best Wedge 2023:

Cleveland CBX 2

Cleveland is known for their high quality wedges. They produce all types of wedges, from traditional blades to the most forgiving wedges on the market (see the next section). Right smack in the middle of these two are the Cleveland CBX 2 wedges.
The Cleveland CBX 2 wedges are the perfect mix of forgiveness, spin, control, and price. If you want a good all around wedge, this one will be hard to beat.
Around the greens, you'll get plenty of spin to stop the ball on a dime if needed. On longer shots, you'll get a little extra forgiveness with the perimeter weighting and more bounce on the soles of the club.
They cost around $140 right now, but you can find the original (CBX) for under $100 pretty handily.

Most golfers search for forgiving drivers. Probably even forgiving iron sets too. Why do they not care about forgiving wedges though? Let's be real: it's hard to hit the center of the club face, no matter what club you have in your hand.
Half and full wedge shots need to be struck properly if you have any intentions of having consistent distance control. Half an inch toward the toe of the club could result in a loss of 10 yards, which is probably the difference between hitting the green and falling short. Half an inch toward the heel of the club and you may be hosel-rocketing the golf ball onto another hole. We all know how embarrassing that is (don't lie).
Anyway, that was a long introduction. The Cleveland Smart Sole 4 wedges are the latest release of super forgiving wedges. There are three options: a sand wedge, a chipper, and gap wedge. If you struggle with bunkers, get the sand wedge. If you struggle with flubbing chips around the greens, get the chipper. If you struggle with inconsistent shots between your sand wedge and your pitching wedge, get the gap wedge. Pretty simple, really.
They are all made with more bounce so that they don't dig into the ground. They also have wider soles of the club face for larger sweet spots.

Vokey wedges are great all around wedges – no question about that. However, I still think Cleveland wedges are better all around.
But if you want a super spinny wedge, Titleist Vokey SM8 wedges are probably your best option. Their grooves are deeper and allow the ball to stop on a dime and even back up a little when struck properly.
Obviously this depends on a few things, like the quality of the greens, the golf ball you are playing, how new the wedges/grooves are, etc. But in general, I've had the most spin while using Vokey wedges compared to other brands.
---
Frequently Asked Questions
How many wedges do I need?
There's no perfect answer here. It depends on how much gaps you are OK with between club lofts.
Pros typically have 4, beginners typically have 1-2. Most golfers could get by with 3: a pitching wedge (45 degrees), a sand wedge (54 degrees), and a lob wedge (60 degrees). However, you could also add in a gap wedge (50 degrees) if you wanted.
Personally, I have a pitching wedge (46) gap wedge (50), sand wedge (54), and lob wedge (58). Relatively even gaps, which I like.
How big should my gaps between wedges be?
Again, it depends on how large of gaps you are OK with. The general rule would be 4-7 degrees of loft between wedges.
What are some common wedge set loft combinations?
Here are a few different options that I see on a regular basis:
PW (pitching wedge), GW (gap wedge), SW (sand wedge), LW (lob wedge)
46, 50, 54, 58 (4 degree gaps)
45, 50, 55, 60 (5 degree gaps)
45, 52, 58 (6-7 degree gaps)
45, 54 (Only 2 wedge option, wouldn't recommend but would work)
What are the best wedge brands to buy?
I like to keep it simple. Cleveland and Titleist make the best wedges. They are pretty similar in all aspects of performance (spin, distance control, feel, durability, appearance, etc). Any differences are extremely marginal. Other brands are close when it comes to performance, but there is no clear reason why anyone would choose a wedge from a company besides Cleveland & Titleist.
What is the best VALUE wedge on the market?
The Cleveland 588 RTX 2.0 CB is the best value golf wedge for your hard earned money. It's the best mix of price and performance. It's more forgiving than most other wedges on the market due to its perimeter weighting, cavity back (CB) design. It's an older model, which is why you can get a new one for under $80, or a slightly used one for around $40.
How can I spin the ball back on the greens like the pros do?
Ha, good question there. It's a combination of:
Good, new-ish grooves. Old, worn down grooves that have been hit a million times won't spin the ball like newer, deeper grooves will.
A good golf ball. Sorry, but your $10/dozen Noodle golf balls won't spin much, even if you hit them perfectly. There's a reason pros use the expensive Titleist Pro V1 or Pro V1x golf balls. They spin more.
A solid strike. Most golfers try to help the golf ball in the air with a wedge. Nope. You've got to SMUSH the golf ball into the ground, with an aggressive, downward swing at impact to generate some back spin.
Good, fast greens. Your local muni probably isn't similar to what the pros play, sorry. A low cut, fast green will make the ball dance a whole lot more than your slow local greens.
---
BETTER VALUE OPTIONS
Below you'll find some better value wedges. These wedges are older models. I actually wrote this portion of the article around 3 years ago. These wedges will perform practically the same as the newer wedges, but they will save you TONS of money.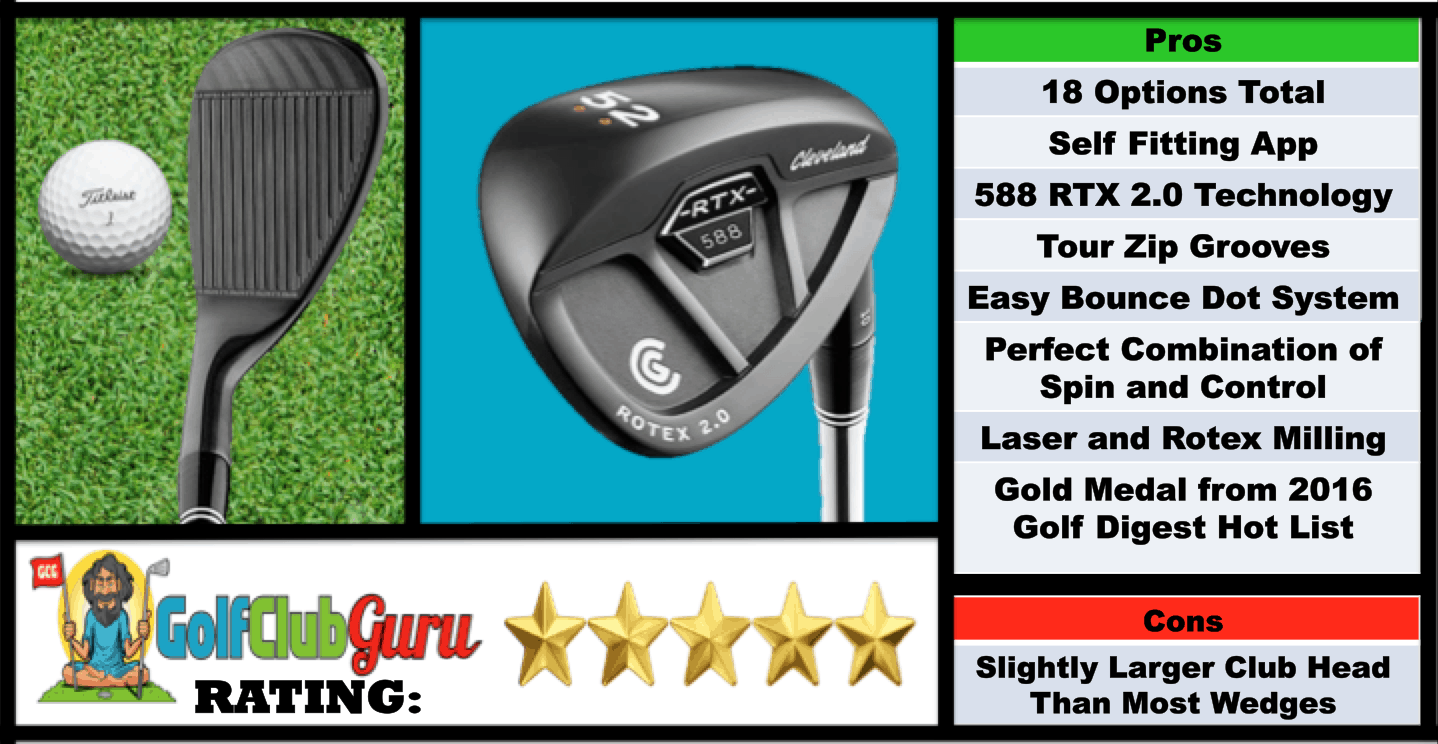 Cleveland started out as just a wedge company, and this shows because their wedges are undoubtedly top notch. With that being said, the winner of 2016 for the best wedge is the Cleveland RTX 2.0 CB! After personally trying all of these 5 wedges, I felt that this wedge had the most spin and control of them all on a variety of short game shots.
So what makes these wedges so great?
18 Different Options/ Combinations of Lofts and Bounce
You can fit yourself for your wedges using the Cleveland Wedge Analyzer App
588 RTX 2.0 Technology: Cleveland's

Rotex face technology  changed the face of spin in golf in 2016. Rotex 2.0 takes spin control to whole other level, with 15% sharper grooves and newly micro-milled Rotex face patterns, giving the RTX 2.0's the maximum surface roughness that the USGA will allow.
Tour Zip Grooves:

Fourth generation "Tour Zip Grooves" have deeper walls and a sharper radius than ever before, allowing  for cleaner contact and a more consistent, stronger spin.
Three Grind Options
1 Dot (Low Bounce Grind): Has the lowest

effective bounce of the three, allowing players to be aggressive even from tight lies. Low Bounce Grind is perfect for firm conditions and/or players with a more shallow attack angles/ shallow divots.

2 Dot (Standard Bounce Grind):

Has a mid effective bounce, offering golfers a wedge that gives the player the perfect combination of versatility and forgiveness. Standard Bounce Grind is perfect for a wide variety of conditions and/or players with a neutral attack angle.

3 Dot (Full Sole Bounce Grind):

Has the highest effective bounce, allowing players more versatility around the green. Full Sole Grind is perfect for softer conditions and/or players with a steep attack angle/ deep divots.


The SM (Spin Milled) Series from Titleist/Vokey has been exceptional so far, and the SM6 wedge continues that tradition. According to the Titleist website, the new SM6 has made a new performance standard by working on the three main areas of wedge play: distance control, shot versatility, and maximum spin.  One thing I have always loved about Vokey wedges is the many different finishes that they offer, with the jet black being my favorite in the past.
The SM6 wedges come in three finishes: Tour Chrome, Steel Gray, and Jet Black. Lofts available are: 46, 48, 50, 52, 54, 56, 58, 60, 62.
5 Different Grinds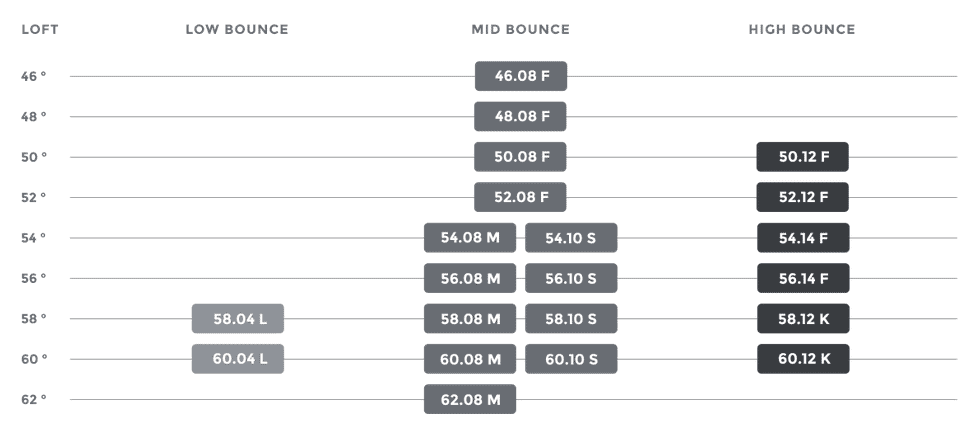 L Grind: This low bounce grind, meant for golfers that sweep the ball and/or take none to small divots. The perfect conditions for this grind would be on firm grounds.
M Grind: The M grind is a mid bounce grind, perfect for golfers that have shallow to neutral angles of attack (shallow to medium sized divots) and play in firm to medium ground conditions.
S Grind: This grind is mid bounce as well, and is meant for golfers that take normal to larger divots (have neutral to steep angles of attack). Perfect conditions for the S grind is in medium to soft conditions.
F Grind: The F grind is a mid to high bounce grind, meant for neutral angles of attack (not too shallow or too steep divots) and in medium conditions.
K Grind: The K grind is a high bounce grind, ideal for neutral to steep angles of attack (neutral to deep divots), and the perfect conditions for this grind is medium to soft grounds.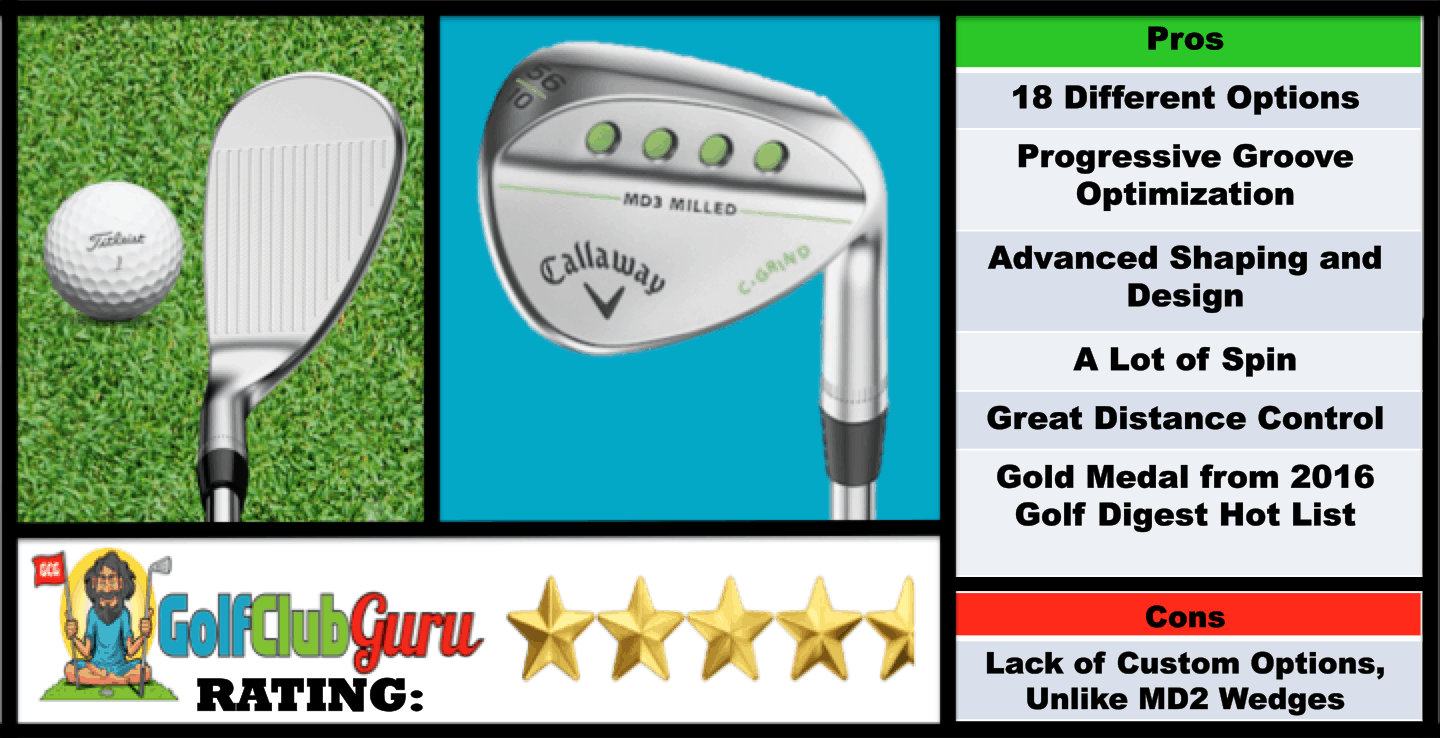 I've hit the Mack Daddy series on multiple occasions, and I thought they had a great feel to them. I know that many golfers have trouble trusting Callaway when it comes to wedges, but I think they are underrated when it comes to helping golfers' short games.
What benefits do the Callaway Mack Daddy 3 Wedges Have?
Progressive Groove Optimization

The MD3 Milled line has what is called "Progressive Groove Optimization," which is a 3 groove package precision milled into the face of the wedges that maximizes spin as the loft gets higher. It creates a smoother transition regarding spin from a golfer's irons to wedges. The 30V grooves in the PW and Gap Wedges are built for shots that require a steep angle into the ball, while the 20V grooves in the sand wedges are built for both full shots and bunker shots. Callaway put in wider 5V grooves in the lob wedges, leading to better control on a variety of shots around the green.

Advanced Shaping and Design

Callaway wedge designer Roger Cleveland took critique from tour players and mixed that with advanced CAD design. This resulted in a balanced wedge that has a high toe  and a semi-straight leading edge. The weight in the back of the wedge gave Callaway the ability to reposition the weight for better ball striking, especially out of harsh rough.

A Wide Array Of Custom Options

Golfers can choose from a large selection of shafts, grips, and finishes to make the Mack Daddy 3 their own.
3 Different Grinds
W-Grind: The W grind has a slightly wider sole, and it is perfect if you play in softer, wetter conditions or if you have a steep angle to the ball/ take deep divots.
S-Grind: This is Callaway's most versatile option. It is great for a wide range of conditions (normal, soft or firm), shot types, and swing attack angles (moderate to sweeping attack angles).
C-Grind: The C grind was designed for firmer conditions and versatility around the green. The heel and toe relief allow for a variety of shots, specifically opening the face up.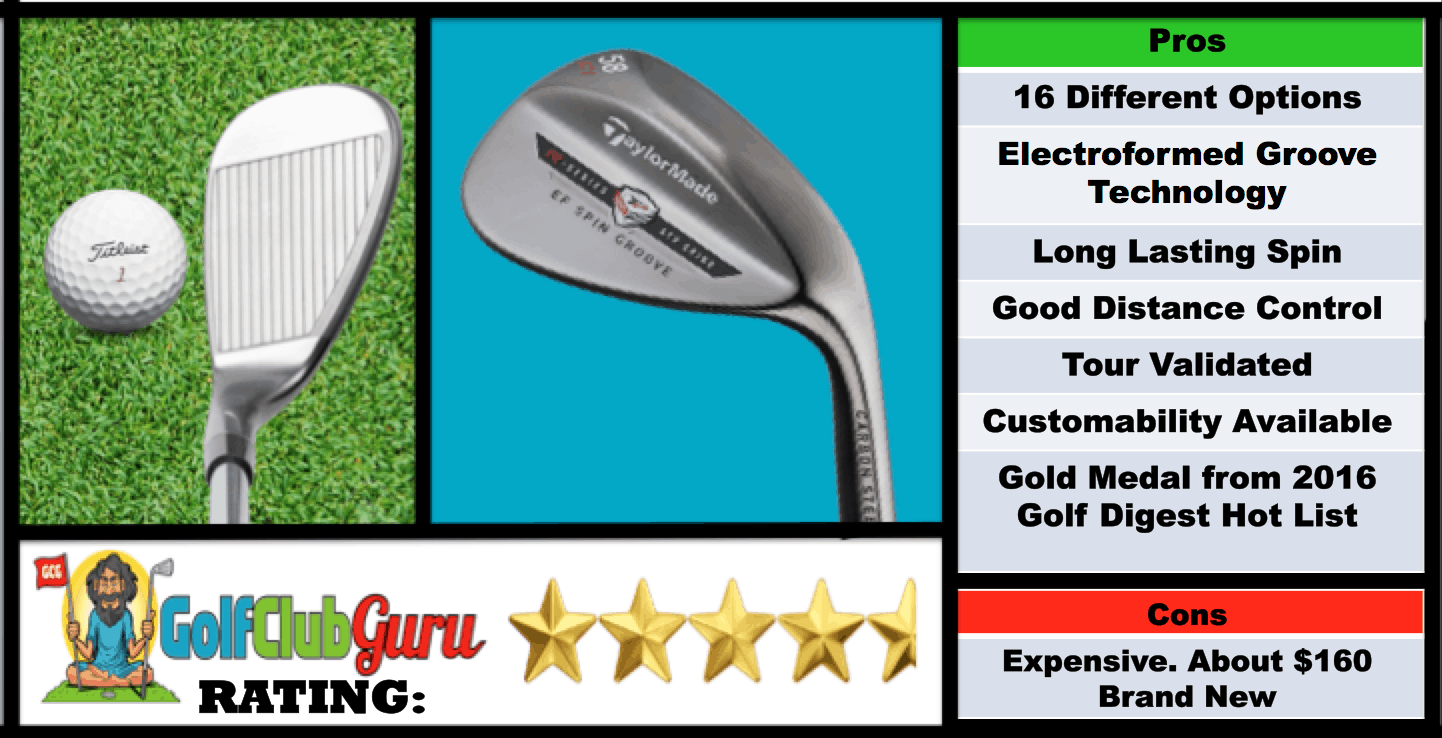 A hard to find, yet incredible wedge is the TM Tour Preferred EF. The TM Tour Preferred EF wedge is a mix between  technological advancements and the detailed craftsmanship of renowned golf club designer Clay Long. This wedge is extremely tour-validated, as pros have found that it delivers incredible long lasting high spin performance, exceeding the durability of any wedge TaylorMade has ever created.
According to Clay Long, Director of Product Creation for TaylorMade, "The beautiful refined shapes of our TP wedges now feature next generation Electroformed groove technology embedded in a soft 1025 carbon steel body. The new process forms highly accurate grooves from super wear resistant Nickel Cobalt."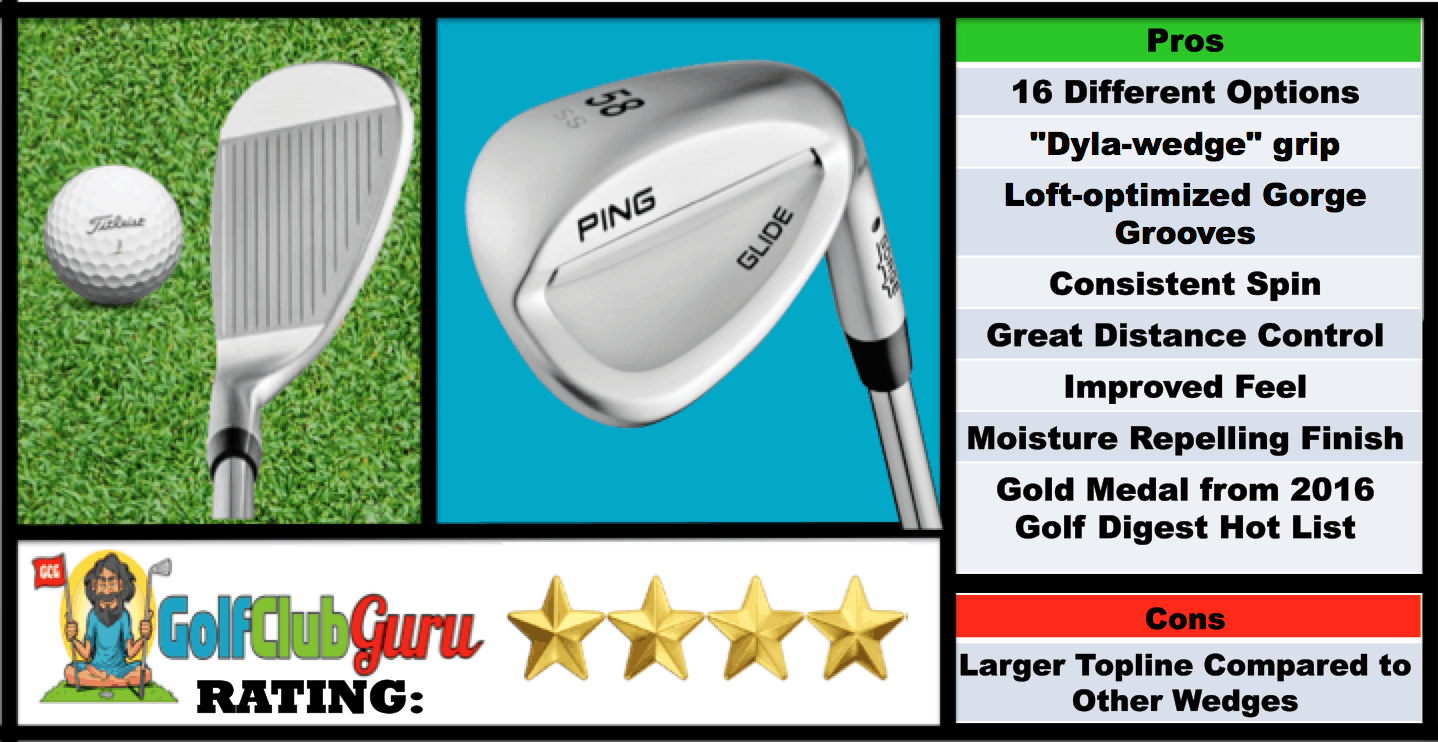 This year, PING custom-engineered the Glide wedges starting from the hands with a wedge-exclusive grip, shaft and heads for improving spin and control to facilitate short-game performance. Available in four different sole designs with  bounce and loft-optimized Gorge grooves, the Ping Glide wedges are PING's most versatile and consistent wedge line ever made.
The proprietary "Dyla-wedge" grip is 3/4 inch longer to encourage gripping down, therefore producing a lower trajectory. Grip-down marks at 1 3/8-inch intervals make hand placement easy, and a softer tapering profile utilizes feel when used with the lower grip-down markings. The 118g CFS Wedge shaft is also optimized in weight, flex and balance to lead to a lower trajectory with improved control, feel and stability.
Loft-optimized Gorge grooves contain changing radius angles to ensure more spin for consistent, reliable results. A 16° sidewall in lofts 47-54 improves groove volume to enhance performance on all full shots. A 24° sidewall and tighter radius in lofts 56-60 lead to compressing and "grabbing" the ball to maximize spin on both short pitches and chips.
Club heads are available in standard sole (SS), thin sole (TS), wide sole (WS) and Eye sole (ES), enabling you to choose according to your attack angle and most-common turf conditions, as has been a pattern in this article. SS is ideal for average attack angles and medium sized divots; TS is meant for shallow attack angles and shallow (or nonexistent) divots; the WS is perfect for steep attack angles and large divots, and the ES offers versatility for all conditions, most notably bunkers.
Chrome-plating gives the 431 stainless steel club heads a moisture-repelling finish, creating friction for more spin and consistency in all conditions.