If you have read any of my other articles, you probably already know how big of a proponent of hybrids that I am. Who wouldn't be? They are more beneficial than long irons for two important reasons:
They are more forgiving: The less left you have on a club, the harder it is to hit consistently. You can strike your short irons and your mid irons aren't bad, but you might struggle with your long irons. Sound familiar? Hybrids have much more weight behind them, offering more forgiveness across the entire club face. You no longer have to hit the dime sized sweet spot of a 3 iron. Instead, consider taking your least lofted iron and exchange it for a more forgiving hybrid.
They result in longer, higher ball flights: Similar to my last point, it's tough to hit high, towering shots that stop quickly with long irons. Hybrids, however, have much lower and deeper centers of gravity than irons. That means that when the ball makes contact with the club face, the energy goes upwards more than with an iron, leading to higher launch angles and longer ball flights.
I want to give you the full rundown on hybrids. For that reason, I want to discuss the two downsides to hybrids. However, I am going to tell you why these are hardly downsides, and I think it will be clear that the pros of substituting a hybrid outweigh the cons pretty easily.
They are less versatile. If you are in some thick grass or any other bad lie, it's going to be easier to give it a rip with an iron than with a hybrid. The hybrid would get stuck up in the grass more easily and the face would probably turn over much quicker due to the large size. However, if you are in a lie that impact a hybrid that much, odds are you won't hit a good shot either way and would probably be best to take a short iron and hack it back into the fairway.
Punch shots are a little more challenging with hybrids: Although it's true that long irons are much easier to hit low, penetrating knock out shots or shots that run up to the green, this isn't a huge factor. At most, it might result in a one shot difference on average. With that in mind, the benefit of using a hybrid instead of a long iron for typical long range shots might help you 2-5 shots a round. This all depends on how often you would hit long irons and how many trouble spots you would get into as a result of mishits.
Now that you know a little more about why you should game more hybrids, here are my top 5 hybrid picks from 2016!
Note: you may also be interested in the best VALUE golf hybrids (under $75) and the easiest to hit, most forgiving hybrids on the market. 
2023 HYBRIDS
There have been plenty of high performing hybrids released in 2021. Yes, they are a little pricey, since they are new and demand is high. Personally, I'd scroll down to the "Better Value Options" and save a buck or two by purchasing a used hybrid that will perform practically the same as the new 2021 hybrids.
1) Best Overall 2021: Ping G410
In my opinion, the Ping G410 hybrid is the best all around hybrid that you can buy. It's not the most forgiving. It's not the most versatile. It's not the longest. It's incredible at all of those things, but the best at none of them.
The G410 looks great at address, launches the ball high, and has a really flat sole design that I prefer.
If you want a good all around club, this is the one for you. If you put a lot more weight on forgiveness, go with the more forgiving, oversized Callaway MAVRIK Max. If you put a lot more weight on versatility, go with the TaylorMade SIM Max, with a smaller profile to get out of taller grass or difficult lies.

The Callaway MAVRIK Max hybrid is considered a "super game improvement" hybrid. It's oversized, has a huge sweet spot, and is as forgiving as they come.
It's definitely meant for higher handicaps, but there is not shame in picking clubs that are easier to hit. Plus, hybrids were literally DESIGNED to be more forgiving, as they are replacing your difficult to hit long irons.
The weight is focused low and back in the club head. The result? Super high launching shots that can actually stop on the green, unlike your low-flighted long iron shots.

Versatility is an important factor in choosing golf clubs. As much as you wish, you won't be playing from the tee box or fairway on every shot. You'll be hitting from dirt, tall grass, some weeds, some pinestraw, etc. A smaller profile hybrid will perform much better than a large, oversized hybrid like the Callaway MAVRIK Max.
The TaylorMade SIM hybrid is as versatile as they come. I'd consider it a "player's hybrid", along with most hybrids that TaylorMade produces. Their soles are more curved (not as flat as Callaway and Ping hybrids).
The TaylorMade SIM hybrids will allow you to hit betters shots from imperfect lies. However, I do think they are slightly harder to hit than the Ping and Callaway counterparts in general.
---
Frequently Asked Questions
How many hybrids do I need?
There is no perfect answer here. One or two hybrids is the most common choice, with some women and seniors gaming 3. Personally, I just have one, but that's what is best for MY game.
You need more hybrids if:
You struggle getting the ball off the ground. Hybrids get the ball in the air much quicker. If you struggle with getting your iron shots in the air, more hybrids will greatly improve your long game.
You hit the ball far too low into the greens. If you often time hit the greens, but your ball rolls far off the back, then you likely need more hybrids. Hybrids allow the ball to land softer on the greens, causing the ball to stay on and not roll off.
You simply hate hitting your long irons. If you just hate hitting your long irons, then consider swapping your 1 or 2 longest irons with hybrids. They are far more forgiving due to their perimeter weighting and lower center of gravity.
How are hybrids "easier to hit" and "more forgiving" than long irons?
Hybrids have more perimeter weighting and a lower center of gravity than long irons. The perimeter weighing is great for your off-center strikes, as it increases the sweet spot and helps the ball fly relatively far and straight. The lower center of gravity launches the ball higher into the air much faster, which is hard to do with long irons.
What's the best VALUE hybrid that I can buy today?
Personally, I think my current gamer, the Titleist 910H hybrid, is the best value hybrid on the market. You can pick one up for around $30 in good condition, which is far below the original retail price of $230.
It's a great all around hybrid. Good distance, good look at address, decently forgiving. I have no reason to upgrade mine, as the newer options are practically the same exact clubs but with significantly higher price tags.
Should I replace my long irons with hybrids?
Most likely, yes! I'd wager that 95% of golfer will perform better (read: have more fun) while using hybrids in place of their long irons (3,4,5 irons). Easier to hit = lower scores = more fun. Always.
Unless you simply consider long irons the strongest part of your game, then I'd highly recommend replacing AT LEAST your longest iron with a hybrid. If you like it, then you can replace more long irons later.
---
BETTER VALUE OPTIONS
Looking to save some money? These options are older, more affordable, and will perform nearly just as well as the newer hybrids.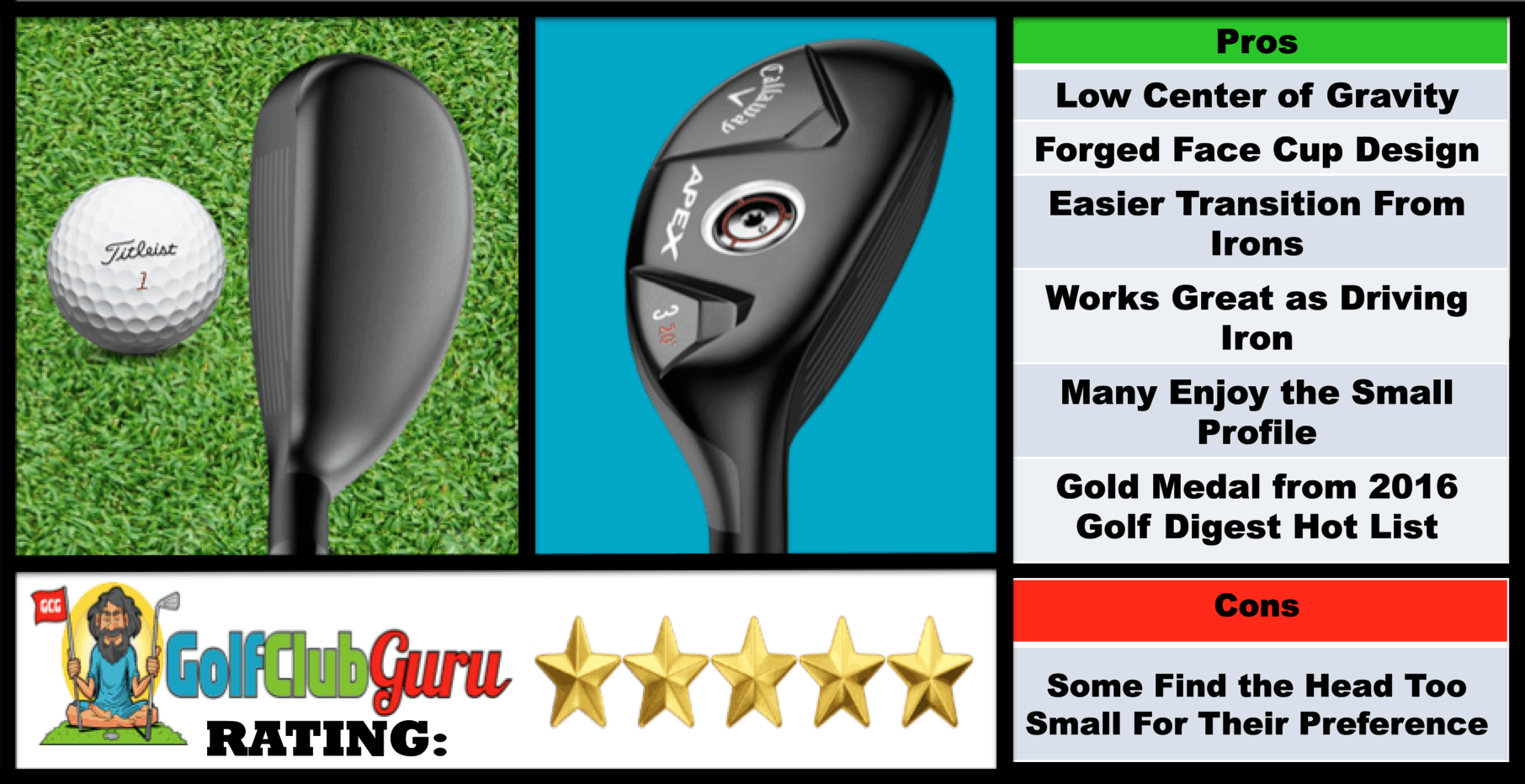 For the best overall performer, the Callaway Apex hybrid takes the gold. It is the best mixture of distance, forgiveness, design, and appearance. You can't ask for much more than that!
Let's talk about some of the features/benefits of this hybrid:
Low to Neutral COG: The weight is placed low and centered on the sole. With the low center of gravity (see the weight on the sole in the picture above), the ball launches high and can stop more quickly. By placing it in the center of the sole, however, the spin rate is perfect. The weight is not too far back resulting in too much height/spin, but it's not too close to the face either, which would lead to a lack of forgiveness. No more long irons that bounce on the green and roll off the back. You can now play more aggressively instead of trying to bounce a shot up to the green.
Forged Face Cup Design: the club face is made of durable steel that will lead to increased ball speeds across the entire face. Mishits will go shorter than center strikes, but still further than mishits with other hybrids.
Internal Standing Wave: this is Callaway's fancy phrase for adjustability. By being able to adjust the weight on the sole, you can impact ball flight and and feel pretty significantly.
Versatility: Personally, I think this is the perfect sized hybrid.  Some might find it a tad smaller than they are used to. However, it's not too small so that is loses it's forgiveness, yet not too large either to lose its physical appeal. Speaking of it's size, I think it's a great transition from irons to woods, and can easily be used as a driving iron type club off the tee.
TL/DR: Taking into account distance, forgiveness, ball flight height, and versatility, the Callaway Apex hybrid offers the best performance overall.
Easily the most underrated brand when it comes to hybrids, Tour Exotics has produced some incredible clubs in the past couple of years. With the Tour Exotics EX9, you will get a club that most of your buddies have never heard of. However, they consistently get top reviews from all around the golf community. The main thing that sets them apart from other hybrids is the SlipSteam sole, which increases ball turf interaction and therefore increases ball speed and overall distance.
To discuss the design, the club is made with Variable Face Thickness for forgiveness on off center strikes and maximum ball speeds on center hits. This way you are rewarded for balls hit on the sweet spot, yet your misses might land short of nearby trouble.
The last benefit is the premium stock shaft, the UST Mamiya Recoil. For a stock shaft, this is an excellent offering, and I hope Tour Edge continues to offer this benefit for future releases.
Smallest Profile/ Most Versatile: TaylorMade M1
I know many golfers who love the look of tiny profile clubs. If you are one of them, then the TaylorMade M1 hybrid is for you. It's got the smallest club head that you will find on a hybrid, which in turn makes it one of the most versatile clubs. Some people refer to it as a rescue club, which is typically just a smaller designed hybrid.
It has got two adjustable weights that can offer a neutral bias or a fade bias (more weight closer to the toe). I personally am a fan of hitting high, soft landing fade hybrids into greens, so this would suit me well. Speaking of adjustability, you can also adjust the hosel to increase/decrease loft 1.5 degrees, which is great for someone that can't choose between a 3 and 4 or a 4 and 5 hybrid. It's famous Speed Pocket got a shape design change, but it still serves the same purpose as before, to increase the rebound effect at impact.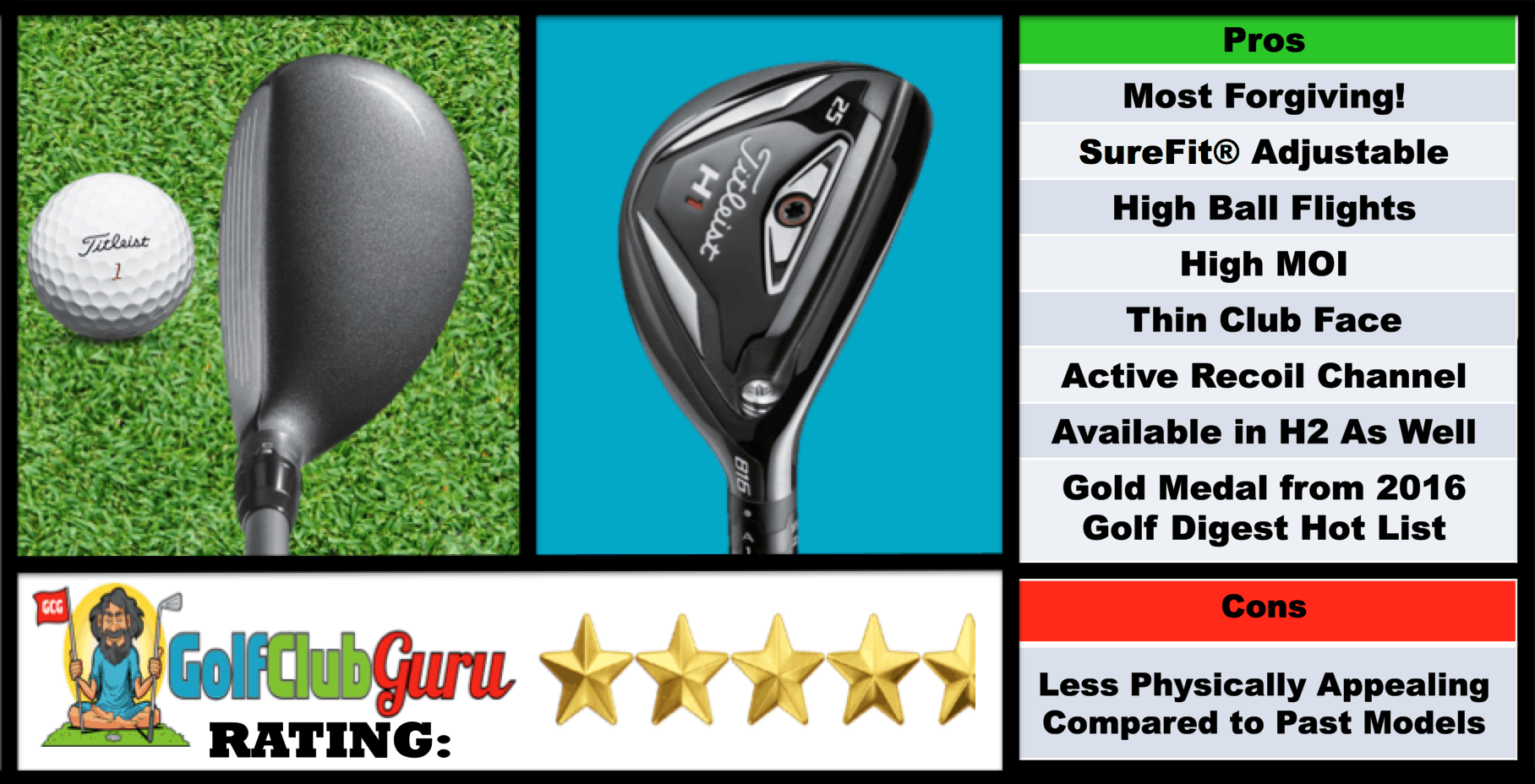 The most forgiving of the bunch is the Titleist 816H hybrid. It felt like anywhere on the face flew high and straight. This is probably due to the high MOI design. Basically, the higher the MOI, the less the face twists at impact and therefore the better the result on mishits. Aside from its forgiveness, the club is also adjustable and results in great distance:
Adjustability: The Surefit hosel results in many loft, lie, and face angle adjustments to fine tune your ball flight and distances.
Distance: The active recoil channel acts like TaylorMade's Speed Pocket and increases ball speeds through a greater reflection off the club face at impact. The extremely thin club face has the same effect.
Highest Ball Flights: Ping G

For those looking for the highest ball flights possible, the Ping G hybrid is where you should look first. It's got a very low and back center of gravity, resulting in the highest launches I have ever experienced. For someone that struggles to get the ball off the ground with hybrids or long irons, this club can only help.
Distance wise, the Cascading Sole Design is intended to increase ball speeds on the entire face. This paired with the thin club face resulted in above average, but not extraordinary, distances. I will say that I noticed that my best and longest shots made contact a little closer to the toe than I would typically expect. However, I didn't see this being a problem.
Save
Save
Save