I'm super excited and thankful for everyone that has opened this post and decided to give it a read! Why? Because odds are, you are a beginner and golf could potentially have a large impact on your life in the future, and I'm glad I can be a part of picking your first set of sticks for the course!
So, I originally wrote this article close to 4 years ago. A lot has happened since then, but the main point that I'm trying to get across hasn't: Strata makes the best value complete sets for beginners. It's as simple as that.
If you are POSITIVE that a complete set is for you, then I'm pretty confident that you should buy a Strata complete set. Nothing else. Other brands are either more expensive (with the same quality clubs) or less expensive (and FAR lower quality).
[You may also like to read about the best golf club sets for beginners under $300 or the best golf clubs specifically for men/women/seniors/kids]
Let's get right to the meat of this topic: finding the best full set of golf clubs for beginners! The only time I would recommend a full set of clubs is for someone who is just starting the game of golf, and is not sure if they are going to play very often in the future. If you are planning on playing many rounds of golf in the future, I would recommend looking at my other posts about picking the best budget driver, fairway woods, hybrids, irons, and wedges (don't worry, it's not going to be as expensive as you might think!).
So, if you are not sure that golf is going to be a sport you take very seriously in the future, and instead just want some clubs to hang out with friends and have a good time, a full set of clubs would be your best option to buy!
Below is a list of what beginners and high handicappers should look for in a full set of clubs:
Inexpensive Clubs: For your first set of clubs, it wouldn't be logical to buy an expensive set of clubs for many reasons 1) You might find you don't like golf (gasp!) and therefore the clubs would be a waste 2) You might damage a club on accident due to hitting the ground too hard 3) There is not a huge benefit of using expensive clubs, the differences in technology between these clubs and newer ones is minimal
Forgiving Clubs: As beginners and high handicappers, it's hard to consistently hit the center of the club face. As a result, you need to look for oversized clubs, which offer a wider margin for error (it's OK to miss the face by a couple inches on these clubs, which isn't true for some sets).
All the Clubs That You Need: As a beginner, you need a driver (for tee shots on long par 3s, par 4s and par 5s), a 3 wood (for long shots into a green and sometimes off the tee), a hybrid (for long shots into a green where 3 wood would be too much and irons wouldn't be enough), irons (for medium length shots into the green), a wedge (for chipping, pitching, bunker shots, and short shots into the green), and a putter.
Lightweight Carry Bag: The cheapest way to play golf is to walk the course, so make sure you get a lightweight carrying bag, which all of the following 5 have, to save you energy.
Here are the best complete sets that you can buy in 2021. Depending on what you are looking for and how much you are willing to spend, I know that we can find the best complete set of clubs for you!

If you have nearly $1,000 to spend and you know FOR SURE that you will get your money's worth from your golf clubs, then you may consider investing in the Cobra F-Max AirSpeed Complete Set. It's a top of the line complete set of clubs, unlike most sets that are meant to get you by for 5 years or so.
As a complete set meant for beginners, the Cobra F-Max Men's AirSpeed clubs are super forgiving and decently long. The clubs are very similar to their newest releases in performance. Keep in mind that their new drivers alone are around $400.
Let's compare the Cobra F-Max AirSpeed set to the Callaway Strata set that I'll talk about in the next section. First, the Cobra set is higher quality. It's made of more durable materials and is constructed to last longer and perform (distance & feel) better overall, albeit a small difference for beginners. The main benefit is that this set could last you a lifetime if you treat it well. The same can hardly be said about the Strata set (unless you hardly play at all).
Again, this set only makes sense if you know that you'll get good use out of it. If you play 25 rounds a year (one every other weekend or so) for 10 years, that's just $4/round for the clubs. If you play 5 rounds a year for 10 years, you'd be at $20/round, which is pretty expensive.
Note this is set comes with a cart bag, not a stand bag. So if you are a big walker, this may not be the best set for you. If you ride or push your cart, this set will do just fine (if you are afford it).
Who it's best for: new golfers that aren't currently worried about saving money & that want a high quality set that could last a lifetime.
Some golfers like spending good money on clubs. If you are happy spending nearly $1,000 on clubs, that's great. I'm not like that. I like saving money and trying to get the best VALUE clubs for the money.
If you are like me, then check out Callaway Strata complete sets. Their latest 12-piece set is just $250 all together. That includes 9 clubs, a golf bag, and 2 head covers. This is the set that I would recommend. Hands down, it's the best combination of distance, overall performance, and price. 
If you are looking to spend a little bit more money in exchange for more clubs, then consider the 16-piece set for $400. It includes an additional hybrid & sand wedge (as well as two more head covers). Personally, I don't think it's worth the extra $150, so I'd recommend you stick with the $250 set.
This set will most likely last you 5 years or so, depending on how often you play and how well you treat your clubs (both on and off the course). That's a good time period. If you are still playing after 5 years, it's time to upgrade to higher end clubs. If you aren't playing golf after 5 years, then you didn't spend much money in the first place!
The Strata sets come with a high quality stand bag, so they will work if you walk, ride, or push your cart.
Who it's best for: the Strata set is best for a beginner that wants a high quality complete set of clubs that offer a low priced entry into the sport. 
---
FAQs
What clubs does a beginner really need?
You might be surprised to hear this, but you really don't NEED that many clubs. You NEED a driver, a fairway wood, a hybrid, a few irons, a wedge, and a putter.
You may decide that you WANT a full set of irons, multiple fairway woods, multiple hybrids, or more wedges, but you don't really need any of them. Beginners will be fine with a limited set of clubs… trust me.
Are off-brand sets worth buying to save money?
No, do not buy an off-brand set of clubs from Pinemeadow, Precise, Aspire, RAM, etc. Stick with Cobra and Callaway (Strata) and you can't go wrong.
Off-brand sets are cheap for a reason. The clubs don't perform well. The clubs don't feel well. The clubs don't hold their value well. The clubs break easily, and will need to be replaced very quickly. Should I continue?
It's better to buy once, cry once. Buy the best quality clubs that you can afford, whether it be the Cobra clubs or the cheaper Strata clubs. Cheap clubs will not make you love the game of golf, and that's what it's all about when you start the game as a beginner.
Should I buy graphite shafted or steel shafted clubs?
As a beginner, this may confuse you. I'll try to make it as simple as possible. Graphite shafts are lighter and easier on your joints. Steel shafts are heavier but allow more control, as long as you can swing them fast enough.
In a standard men's set of clubs, the driver, fairway wood, and hybrid clubs will have graphite shafts. The irons, wedge, and putter will have a steel shafts. In a standard senior and women's set of clubs, all clubs except the putter will be graphite shafts.
If you are an average sized, average athletic man, steel shafted irons will be a good idea. If you are weaker, less-athletic man, graphite shafted clubs will be better. They'll allow you to swing harder and hit the ball further.
What are the best golf clubs to buy for beginners?
To make it as simple to understand as possible, the Cobra F-Max Airspeed complete set or the Strata 12 piece set are the best clubs for beginners.
If you want the best of the best, no matter the cost, then choose the Cobra F-Max Airspeed clubs. They are longer, more forgiving, more durable, and better feeling than cheaper sets. If you want the best bang for your buck, then consider the Strata 12 piece set. They won't perform as well as the Cobra set, but beginners won't even notice. It's a solid all around set to start learning with.
---
Here is the original article that I wrote below. You can tell because the pictures I made are absolutely hideous, ha!
These sets are now discontinued or near impossible to find. If you want to find them, I'd recommend looking locally for them in used condition. Try Facebook Marketplace and/or Craigslist, as well as all of the local selling apps that are popular in your area.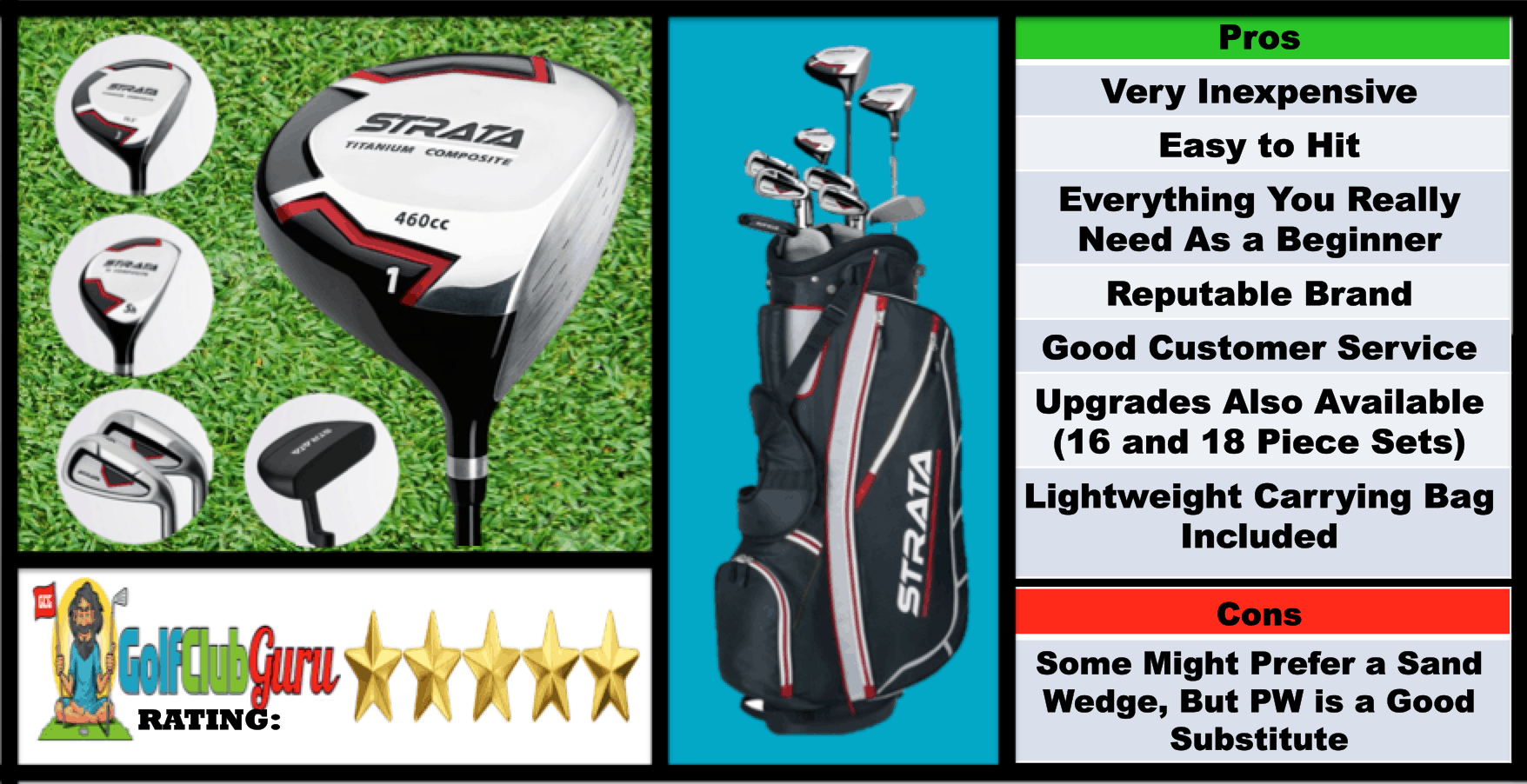 Callaway Strata is going to be your best bet for an inexpensive, well designed full set of golf clubs. Strata is Callaway's budget line of golf clubs, and they are actually the set that I learned to play golf with! They lasted me many years, and they were a great set of clubs to learn the game of golf with! The set includes a driver with a headcover, 3 wood with a headcover, 5 hybrid, 6 iron through PW, putter, and bag. At the time, I did not find it a problem that it didn't come with a sand wedge, as I just used the PW in its place.
If you are willing to shell out some extra money, you might want to consider the Strata Plus Men's Complete Set (which has an extra hybrid and sand  wedge) or the Strata Ultimate Men's Complete Set (which has an extra 5 wood, hybrid, and sand wedge; this set looks very professional for a full set). The differences between the sets is shown below.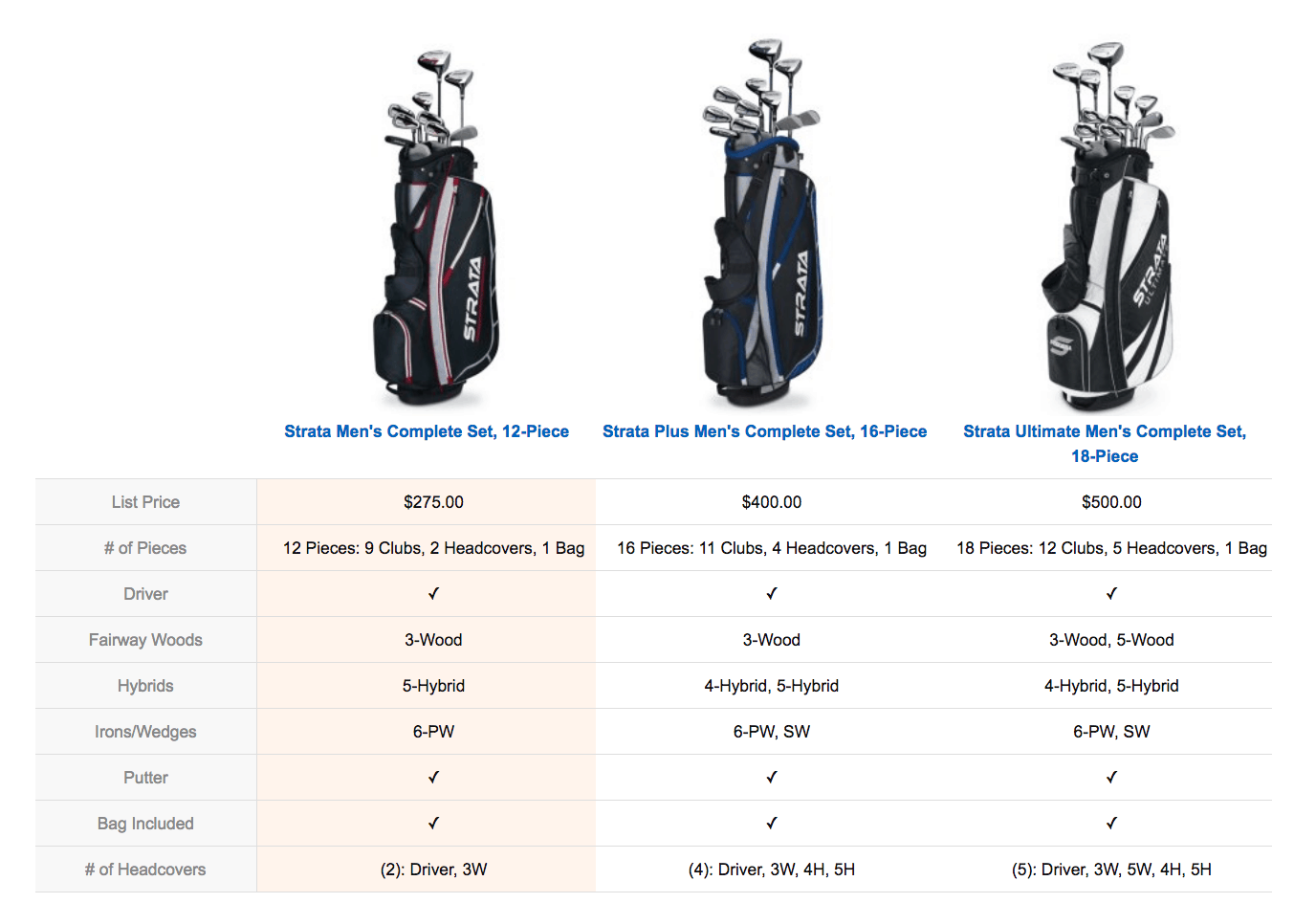 Here is a more detailed list of what is included:
Driver: This is a 460cc (pretty large for a driver, leading to forgiveness on mishits) driver with a large sweet spot and regular stiff, graphite shaft to help you rip it down the fairway

3 Wood: The 3 Wood also has a very forgiving sweet spot and a graphite shaft for exceptional distance and high flying shots

Hybrid (5H): Designed to help you hit long, yet soft landing shots that you'd normally hit a more difficult long iron


Irons and Wedge (6-PW): The irons have Perimeter weighting and progressive sole width technology for better control (5 clubs)

Putter: The putter is a mallet style with an easy T-Style alignment to help give you incredible accuracy while putting


Stand Bag: The lightweight, durable stand bag comes with five convenient pockets, an additional cooler pocket, a rain hood and a backpack strap system

12 Pieces Total: 9 Clubs, 2 Head covers, 1 Bag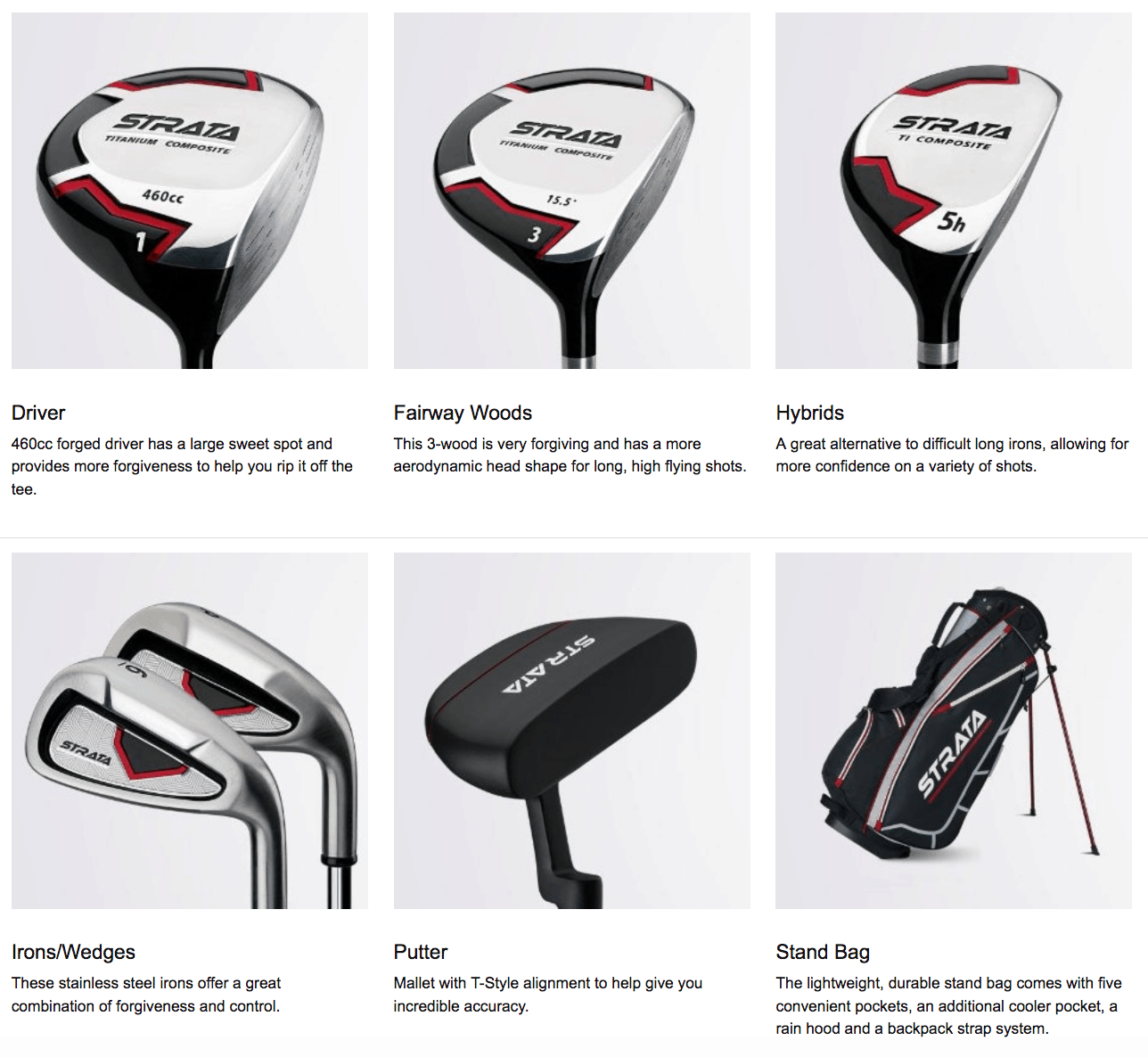 Another reason to go with the Callaway Strata Set is their awesome customer service. Others have reported that if they had a problem with any club, Callaway would instantly send them a new one no questions asked. Callaway has without a doubt rightfully owned the beginner club market for years now, so I couldn't recommend this set any stronger!

Wilson's Men's Ultra is another great option for those looking for a full set of clubs. Wilson is a well established brand in sports, and they are working hard to increase their presence in golf. This set includes the following:
Driver: 10.5 degrees in loft, this driver has an oversized head and is very forgiving on mishits. It has a high MOI, is titanium, and is 460cc. The shaft is graphite and regular flex.
3 Wood: 15 degrees in loft, also a regular flex graphite shaft
4 Hybrid: This club is used to replace long irons (3 and 4 irons), which can be difficult to get up in the air and stop quickly. Hybrids are easier to hit high and soft, and they are much more forgiving.
5-PW: cavity back, perimeter weighted irons and a pitching wedge that you can also use in place of the sand wedge
Putter: Of these 5 full sets, Wilson is the only one with a blade putter instead of a mallet putter, so take note of this and decide which one you would prefer (Short answer: I would recommend a mallet for beginners)
Lightweight Bag
Upgrades are also available for this club, as you can see below. If you can pay a little bit more, you can get the Pro Fit Men's Complete Set (which has an added adjustable driver, 5 hybrid, and sand wedge) or the Profile XLS Men's Complete Set (which has an added 5 iron and sand wedge).

A slightly less cheap set of golf clubs is the Wilson Profile HL Complete Set. This is a another set that would be great for a beginner trying to learn the game of golf. Although it is a little bit more expensive than Callaway Strata and Wilson Ultra, it contains 2 and 1 more iron respectively, and it also contains a sand wedge (the only set of these 5 that has a SW).
Here is a list of what comes with this set:
Driver and 3 Wood: Regular flex, graphite shafts
4 Hybrid: Much easier to hit than long irons; easier to get up in the air and stop safely on the green; also much more forgiving than long irons
5-PW: cavity back, perimeter weighted irons that are very easy to hit and feel solid at impact
SW: this is the only set of the top 5 that includes a SW, so that is a big plus! Although not 100% necessary, it is great to practice with a club that has "bounce" on it.
Putter: as I said with the Wilson Ultra set, Wilson has a blade putter in this set. Although not a huge difference, I would recommend a mallet putter to beginners.
Bag: Lightweight bag, easy to carry

Pinemeadow, although a lesser known company, has produced some very high quality and highly rated complete sets of golf clubs, with their best one being the Pinemeadow PRE set. Here is what is included in this set:
Driver: This is a 10.5 degree driver with a regular flex, graphite shaft. Titanium enhanced, meant for maximum distance and speed. (includes head cover)
3 Wood: The 3 wood is 15 degrees (standard loft) also with a regular flex, graphite shaft. It has a low profile head design for better shots from the fairway and rough (includes head cover)
3 Hybrid: This club has 21 degrees of loft and is a great replacement for long irons
4-PW: This is the only set with a 4 iron in it, which can be a great addition for those that hit is higher than average and are overall decent ball strikers. The irons are steel shafted. Although no SW is included, the PW will suffice for bunker shots, chip shots, etc.
Putter: This putter is very easy to align, which is great for a beginner. Putting is a huge part of the game, and half of putting is getting the line correct
Bag: A lightweight dual-strap carry bag with an easy to use kick stand and rain guard for bad weather

Tour Edge Golf has some really eye-pleasing full sets of golf clubs, and the reviews are very solid! Golfers love their hybrids and irons especially, which they say have a great feel. The oversized 460cc driver is also a very forgiving, great for beginners who often struggle to git the center of the clubface consistently. Below is a list of what the Tour Edge Golf Reaction 3 set includes:
Driver:  This 460 cc, high MOI (moment of inertia) reduced clubhead twisting and is great for high flying drives down the fairway
3 Wood: The 3 wood is also oversized, and it has a relatively low center of gravity, which produces high shots, great for off the deck (not on a tee) shots
4 Hybrid: As you have read many times in this post, I can't recommend a good hybrid enough for a beginner, as it will help your score greatly to stay away from difficult long iron shots
4-PW Irons: These are steel shafted, perimeter weighted, cavity back irons that are very forgiving for high handicappers
Putter: This set has a very unique style mallet putter, which may be distracting to some golfers
Bag: This is the biggest bag of the 5 listed, which may make it harder to carry for long distances for those that walk while they play