2021 Update
A lot has happened in the past two years. I wanted to go back and update this article to talk about the best new releases on the market. These new clubs are a tad bit longer, a tad bit more forgiving, and a tad bit better performing in general. For those reasons, let's get into the best irons for seniors.
Oh, and check this article out if you want to just buy the best complete sets of golf clubs for seniors in one easy purchase.

If you are a senior wanting the absolute longest irons on the market, look no further than the Callaway Rogue X irons. Callaway has since released their line of Mavrik irons, but I truly think the Rogue X can't be beat when it comes to distance.
They are super strong lofted while still launching the ball at incredible heights, which are perfect for seniors. If you struggle with hitting the ball as far as your senior friends, or if you just want to hit your irons further than your buddies by any extra 5 yards, the Rogue X irons are for you.
These irons perform well when it comes to distance, but they don't shine when it comes to distance control. You'll find yourself hitting irons much further than you meant to on some shots. It will definitely take some getting used to, but will be well worth it after a few rounds under your belt.
Their technologies, the 360 Face Cup, Variable Face Thickness, multi-material construction, and Urethane Microspheres, all ensure that the ball comes off the club face at maximum speeds. The Rogue irons are available in light, graphite shafts to ensure that your club head speed is at its highest.
2) Most Forgiving Irons (Combo Set Available): TaylorMade M CGB

The TaylorMade M CGB irons are easily the most forgiving irons of 2021 for seniors. TaylorMade has since released their newest line of the clubs, the SIM series. However, they are no better than the M CGB sets.
With the M CGB irons, they have produced a set that helps golfers hit the ball with much higher flights and with much less spin. Less spin will result in straighter, longer shots even on mishits. Considering that many seniors find they can't consistently hit the center of the club face with irons, forgiveness should be a huge factor in your decision to buy a set of clubs.  With a multi-material club and the Speed Pocket technology, the M CGB irons create higher moment of inertias and higher launch angles across the entire club face for increased forgiveness.
Along with the irons, this combo set (by definition) comes with hybrids as well, which are super forgiving and easy to hit from both a tee and the deck. These hybrids are a great alternative to difficult to hit longer irons, so this set is perfect for those that struggle with hitting their 4-6 irons.
Here's what Tomo Bystedt, the Director of Product Creation, has to say about this set: "The CGB name is iconic and represents some of the longest and most forgiving irons we've ever created. The concept has now been re-created with all our latest technologies to bring never-before-seen performance to golfers of all levels."
3) Best Value Irons for Seniors: Wilson D350

If you want the lowest priced and the most flexibility when it comes to playing hybrids or irons, this set of Wilson D350 irons/hybrids are for you. These irons starts at the 4-iron, but you can trade it out for a hybrid instead. Substitutions include a 3, 4, 5 and 6-hybrid from 19 to 28 degrees, and they charge just $100 for two hybrids added.
Upgrades from the prior sets include a newer version of Wilson's famous face-sole technology found in the earlier model D200 irons. Plus, the lower part of the club face, the leading edge, and front of the sole are trimmed to less thicknesses resulting in increased ball speeds off the face.
For the price, the Wilson D350 irons are the best combination of price and performance for seniors. They are pretty long, very forgiving, and definitely underpriced.
OLDER MODELS THAT ARE NOW LOWER IN PRICE
The original article that I wrote a few years back is below. As of now (2021), the prices for the below clubs have dropped substantially. It's worth noting that they will perform nearly the same as the latest releases, but only cost you a fraction of the price.
As a senior, to stay at the top of your game, you've got to make sure your irons are not costing you distance and accuracy. If you have been using the same irons for a while, it's time to upgrade for a few reasons: 1) yours are probably worn down, 2) you might have clubs that are too difficult to hit and 3) new technology is awesome. The new releases have the following that you should look for in irons:
Low Center of Gravity: This is a result of a 6 iron today having the same loft as a 4 iron 10 years ago. If the lofts kept being decreased and the center of gravity stayed the same, it would be difficult to get the ball airborne. So, companies have started to lower the center of gravity to make the ball travel higher.
Forgiving Club Heads: A larger and thicker club head increases the margin for error, therefore creating a more forgiving club. As seniors, you should look for a somewhat bulky club head as a result. This is why many pros play with blades or players irons, seeing how they don't need the extra forgiveness and would prefer work ability and feedback instead.
Graphite Shafts: Graphite shafts allow you to swing the club faster than steel shafts, which results in more distance. Also, steel shafts offer feedback through vibrations on poorly hit shots, which could be detrimental/uncomfortable for seniors.
Below are 5 sets of irons that are perfect for senior golfers, as they offer all of the benefits of new technology and make hitting golf balls much easier and therefore more enjoyable!
Oh, real quick: all links/pictures below (if you click on them) will take you to the respective eBay listings for the iron sets.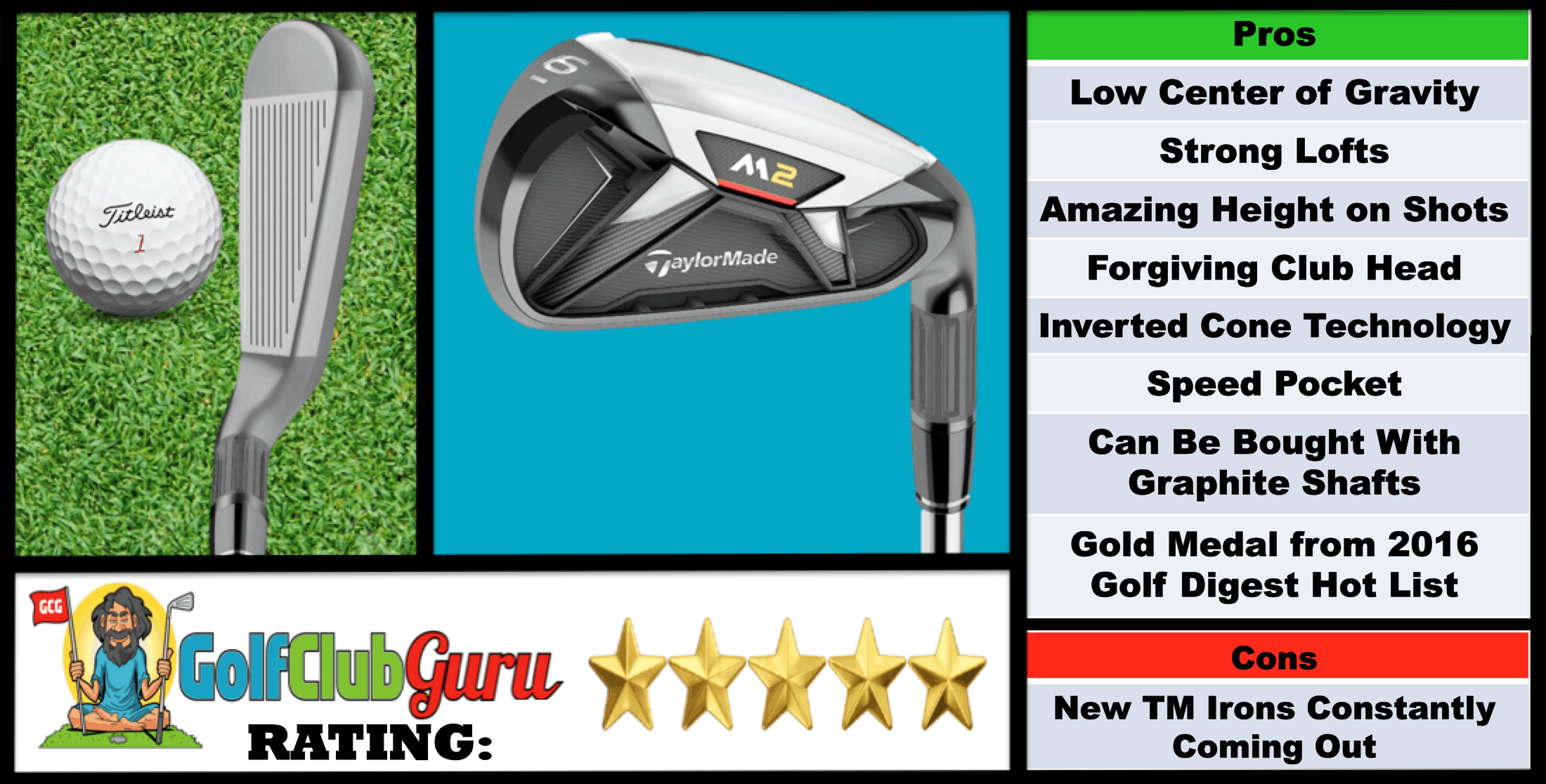 The TaylorMade M2 irons are easily my top pick for the best irons for seniors. The engineers at TM have set a new industry standard of golf clubs for players with slower swing speeds by pairing a lower center of gravity and decreased lofts in their irons. With this combination, balls easily fly long and high, creating the perfect trajectory for crazy distance. The distance is even multiplied due to the thin, hot club face of the TaylorMade M2 irons. Along with distance,  they are also the most forgiving of all of the game improvement/senior clubs released this year, as they have a very thick club head.
There are many technical benefits of the TM M2 Irons, including the 360° undercut and the thick-thin fluted hosel, which combine to allow for stronger (decreased) lofts so that you can increase distance without giving up on high trajectories. These irons also have a speed pocket, which increases ball speeds significantly. Next, there is the thin face with inverted cone technology, causing ball speeds to push the limits of distance irons performances. Lastly, the M2's display v-shaped support beams, which is a "3D badge system" and sound manager that also gets rid of undesired vibrations for increased feel.

Adams irons are super under rated in my opinion, especially the Adams Blue set. These irons are super affordable. They perform great and might as well be designed specifically for seniors.
They have a slight draw bias, which is nice considering that most seniors find themselves slicing the ball. If you have trouble hitting the ball high enough, this is a great set for you. The launch angles are crazy high, so you are sure to be able to stop balls on the greens easily. If you already struggle with hitting the ball too high, you might want to skip this set for now (or get fit so that you can find a good shaft for you).
In summary, if you want a forgiving, draw biased set of irons that launches the ball super high, check this set out. It's priced super fairly, like most Adams clubs are!

I've written many articles featuring these Wilson D200 irons (and the new D300 irons), and this article is no different. For the price, these are the best low-budget irons for seniors to buy today.
Wilson doesn't release many clubs, especially when compares to top brands like TaylorMade and Callaway. But when they do, they give golfers a great alternative at a much lower price. These D200 irons are forgiving, reasonably priced, and pretty long believe it or not. The only downside I can think of is that they don't look incredible at address. If you can get over the look, though, you'll save a lot of money by choosing this set.
With the speed sole and a light graphite shafts, seniors are sure to get plenty of distance out of these D200 irons!

These Callaway XR OS irons are the most forgiving irons I have hit in years. They are large (OS = oversized), which are great for seniors who are not super confident in their ability to hit the center of the club face on a consistent basis. Compared to the other sets, they are a tad expensive, but I would say they are well worth it. For the best combo of distance, forgiveness, and high ball flights, these XR OS irons are the best pick that I would recommend for seniors. The feel is not great at impact, but that doesn't mean much for seniors that would rather have the increased forgiveness and distance instead.
---
Q & A
What makes an iron set perfect for seniors, specifically?
That's a great question, I wish I thought of that. Iron sets that have senior flex, graphite shafts & a mix of irons/hybrids (a combo set) are perfect for seniors. And in general, a "game improvement" or "super game improvement" iron style will offer the best combination of distance and forgiveness that seniors are looking for.
What flex shafts should seniors buy?
The large majority of senior men golfers should be playing senior flex shafts. If a senior man has a very fast swing speed for their age, then they can play a stiffer flex. The large majority of senior women should be playing ladies flex shafts, which have more WHIP at impact than senior flex shafts. Again, if they have a fast swing speed for their age, then a stiffer flex (senior flex or regular flex) will be better.
"Senior flex" shafts offer more WHIP at impact than regular flex iron shafts. This more WHIP will allow you to hit the ball longer and higher. The increase in club head speed at impact will launch the ball further than regular flex irons.
Should seniors use graphite or steel shafts in their irons?
The large majority of senior golfers Graphite shafts are much lighter and easier on your joints than steel shafts. They will allow you to hit the ball longer and higher than steel shafts, and they won't cause you pain through vibrations at impact. Steel shafts is what comes standard in iron sets meant for "men". However, graphite flex shafts always come standard in "senior" iron sets.
Should seniors use a combo set (a mix of irons and hybrids)?
Combo sets are the best fit for seniors. A combo set is a mix of irons and hybrids. For example, iron sets are typically 4-PW irons. A "combo set" would be 4-5 in hybrids and then 6-PW in irons. The 4 and 5 hybrids essentially replace the long irons (4 and 5 irons). Hybrids are far easier to hit. They launch the ball higher and longer, and they are more forgiving on your mishit shots.
Seniors often struggle with getting enough air on their shots. They may hit the 4 iron 20 feet in the air, and it rolls another 50 yards when it hits the ground. A hybrid, on the other hand, will fly further and land softer, so that the ball will stay on the green instead of rolling off the green.
You can put together a combo set in two ways: buying the hybrids and irons together, or buying them separately. I'd strongly recommend buying the irons and hybrids together in the same set. That will ensure that you have proper distance/loft gaps in between clubs.
What is the best set of irons for seniors?
The Callaway Rogue X iron set is the best iron set for seniors. They are crazy long, crazy forgiving, and launch the ball higher than any other set that I've ever hit.
The Callaway Rogue X irons are available in senior flex, graphite shafts which are perfect for seniors. Oh, and you can pair the irons with the Rogue X hybrids for a great combo set.
You can pick up this set in used condition for around $550, which is a heck of a deal in my opinion.