If you are a senior and are looking for a full set of golf clubs, I can make a couple of assumptions:
You probably don't play much, or at all. And that is perfectly fine! You've got to start sometime, and you aren't getting any younger 🙂
You want a set that has everything you need. That way, you can make one purchase and be ready to hit the course in just a few days.
You might not know exactly what all you need. That's where we come in to help! To keep it very short and sweet, if you don't think you will be able to swing the club very fast, get graphite (not steel) irons shafts! They are lighter, which will help you swing faster than if you bought a set with steel shafts. Also, make sure your set has at least one hybrid, which is much easier to hit than a long iron.
With those assumptions in mind, I have picked out 5 sets of golf clubs that would be perfect for you. They nearly all have everything you need, most notably light and forgiving club heads with graphite shafts and a hybrid.
Be aware that all links/pictures in this article, if you click on them, will take you to the respective eBay listings. Thanks!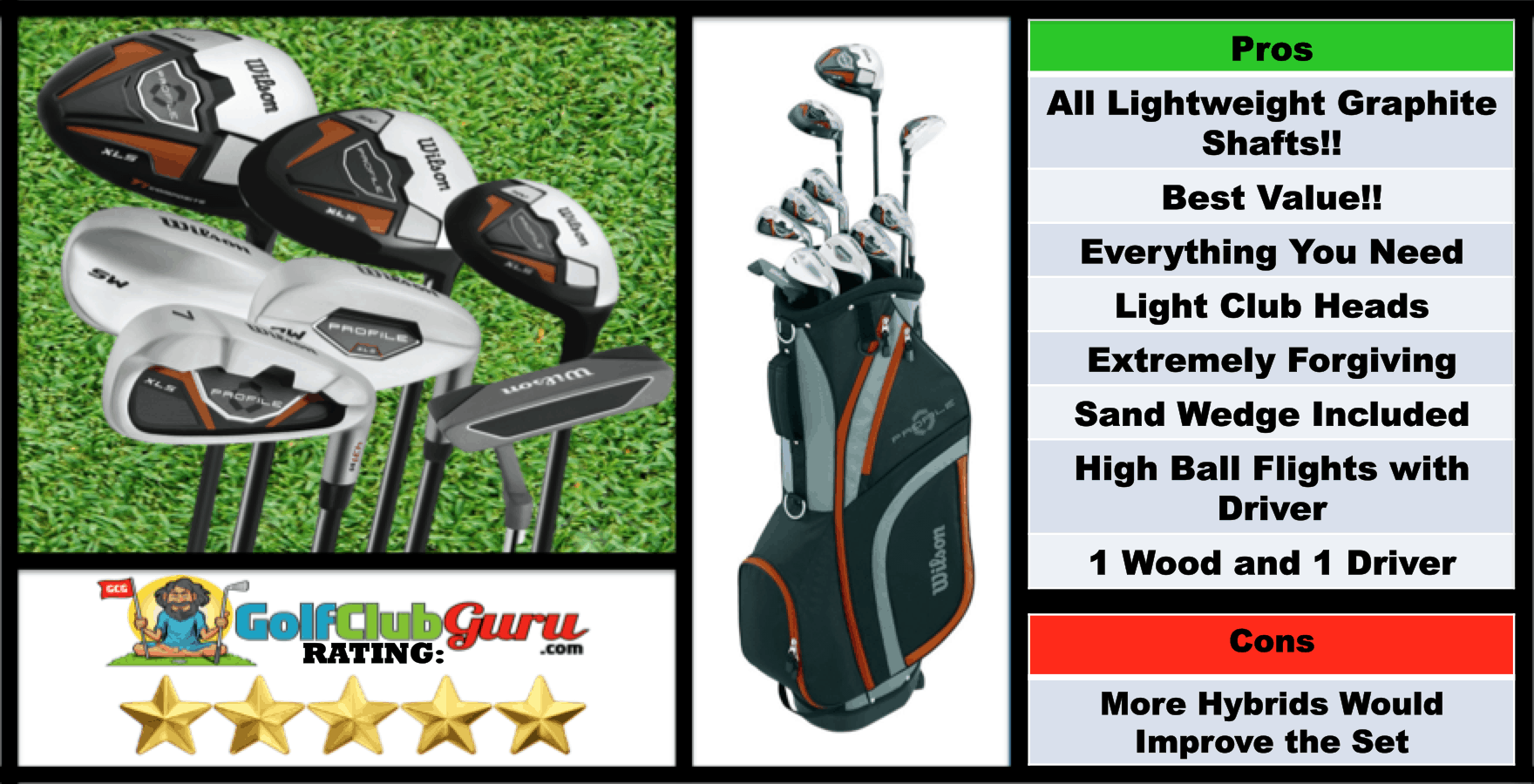 Oddly enough, it was very tough to find complete sets with all graphite shafts. However, the Wilson Men's Profile XLS Complete Set offers this, and much more! Overall, this is the set I would recommend to any senior that wants to make the game of golf as easy as possible. With the lighter club shafts, you will be able to swing much faster, resulting in longer golf shots and better scores. Also, to make the game even easier, the sweet spots are extremely large, leading to extreme forgiveness. This means that you can miss the center of the club and still get decent results.
Here is what all is included in this set:
A durable, long driver
A strong lofted three wood for extra distance
A 4 Hybrid instead of a 4 iron for forgiveness
Easy to hit irons from 5-PW
A low profile wedge, to help you get out of bunkers easily
An easy to align putter for alignment
A high quality stand bag
Quality aside, the price of these clubs is incredible. For half the price of what you would probably pay at Dicks Sporting Goods or Academy Sports, you can purchase this set for about $200 on amazon, and that is delivered free!
Wilson is a great brand for high handicaps and senior golfers. It offers well made clubs for a great value, which is all that you can ask for in a golf club company. Also, their customer service is very strong, so any problems you might have with the set will easily and quickly be fixed.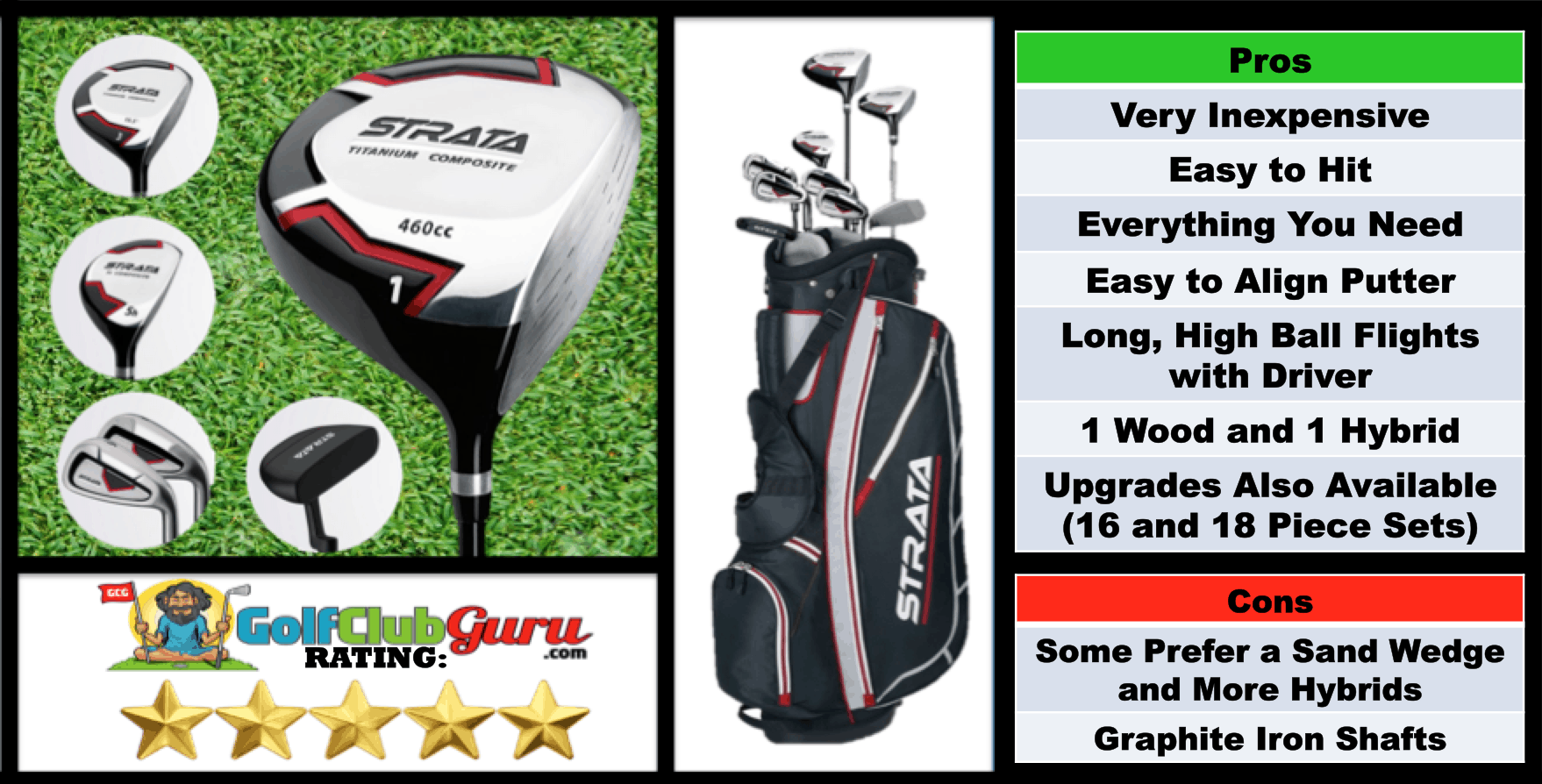 If as a senior golfers, you still have a high degree of flexibility and strength, and therefore can hit the ball pretty far, this is the set I would recommend for you. The Callaway Men's Strata Complete Set has steel graphite shafts, which are heavier than graphite shafts. However, they will offer more control for those strong enough to swing them. Strata is one of the leading brands in complete golf sets, and for good reason! They make well made sets for an exceptional price as well, similar to Wilson. One thing that truly sets Strata apart is making professional looking clubs. Many complete sets look tacky and cheap, but Strata has always focused on a sleek, defined design.
Below is a list of everything included in this Strata set:
A graphite shaft driver with a large sweet spot
A graphite shaft three wood to fill the gap between driver and hybrid
A forgiving hybrid (also graphite shaft) in the place of a difficult to hit long iron
Irons from 6-PW that have perimeter weighting and great distance
A lightweight stand bag
If quality is your main concern, with money not being much of a problem, then you CAN NOT pass up on the Adams Speedline Fast 12 Complete set. There are not many high end complete golf sets, but this is one of them. Adams has created a great reputation in the golf industry for making high quality clubs for seniors. They specialize in easy to hit woods, hybrids (potentially the best hybrid brand ever), and irons.
This set is perfect if you are looking for multiple woods and hybrids, as well. As a senior golfer, I would highly recommend having as many woods and hybrids as you can (without sacrificing too many irons and wedges in their place). Why is this? Well, as a senior, you probably won't be able to hit it as far as you used to. Therefore, you might end up with more longer shots than you would like to. Having different hybrids and woods (2 of each in this set) to choose from for each particular shot would be great to really dial in your distances.
List of everything included:
High MOI design driver for straighter, longer drives
3 and 5 Woods for better distance control on long shots
4 and 5 Hybrids in place of unforgiving long irons
6-PW Irons that have great distance control and feel at impact
Tom Watson RC14 Sand Wedge
A premium quality putter with a great sound when struck
A light carry/stand bag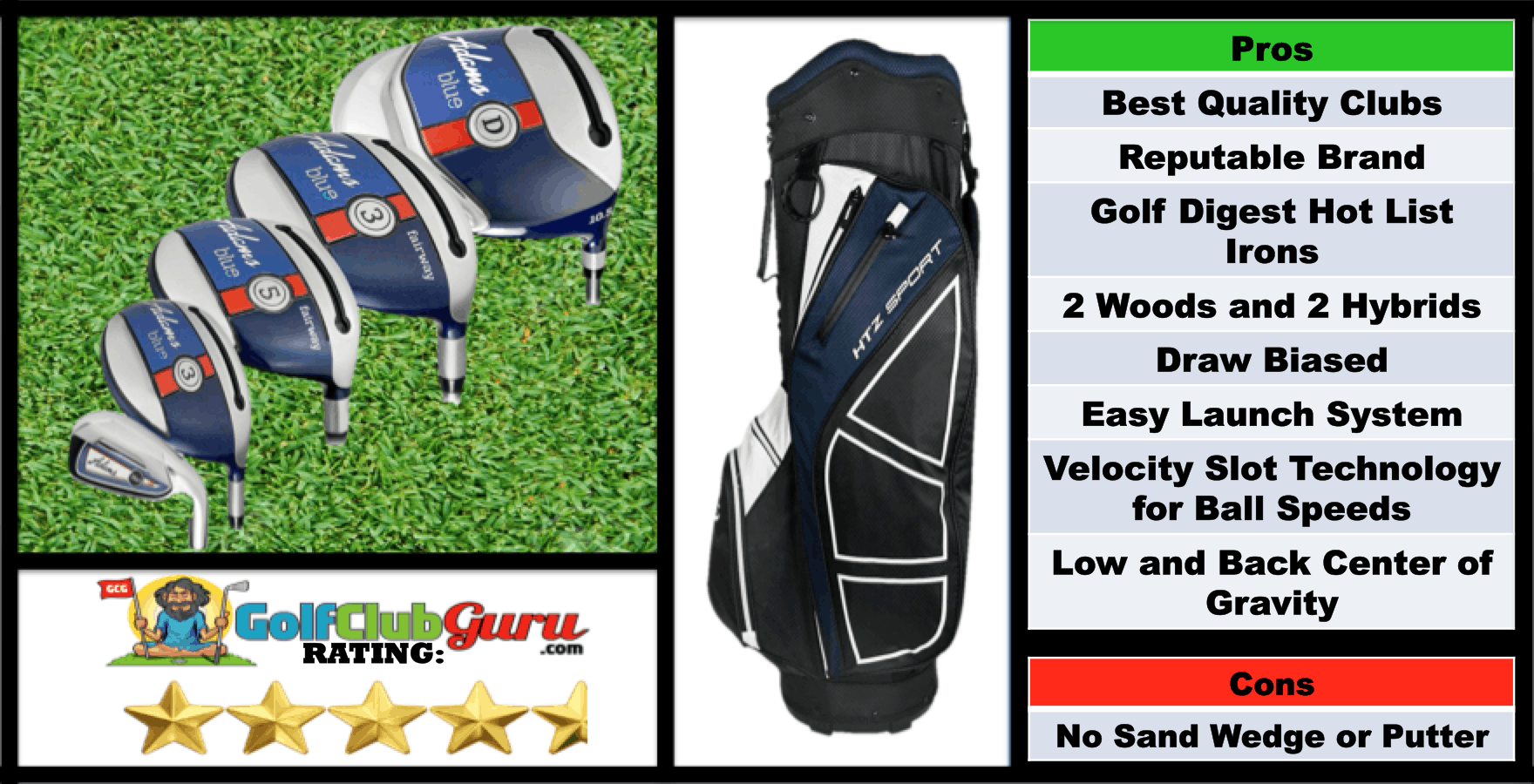 If you have a trusty putter already, and are just looking to get new irons, hybrids, and woods, then Adams Blue Complete Golf Set is what you are looking for. Adams Blue has created some solid golf clubs in their Blue product line, and many seniors jumped on the opportunity to buy everything in one purchase when this set first came out. These clubs, unlike the others listed, actually made it on the famous Golf Digest Hotlist, so be assured that they are quality clubs.
One huge benefit of this set is that they are draw biased, meaning that the set encourages the club face to close at impact. This decreases the probability of slicing or pushing the ball to the right, a common problem for seniors. Similar to the Adams Speedline set, this set offers multiple woods and hybrids, which tend to be used often in senior golfers.
The features of the set include the following:
Velocity Slot Technology (Leading to Faster Ball Speeds)
A driver with a Low center of gravity for higher, longer drives
3 and 5 Woods that are easy to hit from the tee and off the deck
3 and 4 Hybrids that launch the ball high and soft
5-PW Irons (one more iron than the Speedline set)
Hot Z Cart Bag
To be completely honest, I would only recommend this set if you are extremely tight on a budget and simply can not afford one of the other sets. As the cheapest of the 5 sets, this set is great for seniors
Save
Save