If you are a senior and are looking for a full set of golf clubs, I can make a few assumptions:
You probably don't play much, or at all. And that is perfectly fine! You've got to start sometime, and you aren't getting any younger 🙂
You want a set that has everything you need. That way, you can make one purchase and be ready to hit the course in just a few days.
You might not know exactly what all you need. That's where we come in to help! To keep it very short and sweet, if you don't think you will be able to swing the club very fast, get graphite (not steel) irons shafts! They are lighter, which will help you swing faster than if you bought a set with steel shafts. Also, make sure your set has at least one hybrid, which is much easier to hit than a long iron.
With those assumptions in mind, I have picked out 3 sets of golf clubs that would be perfect for you. They nearly all have everything you need, most notably light and forgiving club heads with graphite shafts and a hybrid.
—
2023 Update
Well, a few things have changed in the past 5 years. It's been long overdue for an update, but better late than never, right?
If you want to see the original article that I wrote many years ago, scroll down to the bottom of the article. Yes, the part with the super outdated pictures that look like they were made in Powerpoint by a 10 year old (yes, they were made in Powerpoint).
I've decided to make this article dedicated to seniors that need graphite shafts. The majority of seniors, close to 100% of them, would be better off with graphite shafts. Odds are, you will probably know whether you'll need graphite shafts or steel shafts.
Graphite shafts are much lighter, so you'll be able to swing the club faster. You'll also feel less vibrations through your body at impact. Nearly all seniors had swing speeds far closer to an LPGA golfer than a PGA golfer. And guess what shafts most LPGA golfers use? Yep, graphite.
Oh, and here's something you may be interested in: the best MEN's senior golf clubs and the best WOMEN's senior golf club sets.
So, here are the best complete sets for seniors in 2020 that have lightweight, graphite shafts in a senior flex.
Wilson makes some of the best value complete sets on the market, for ALL golfers. Strata sets are more popular for men looking for the low-priced set, but Strata doesn't make complete sets for men looking for graphite shafts.
As a result, I chose the Wilson Profile SGI set as the best complete set for seniors under $400. They have lightweight, graphite shafts & are made to give senior golfers a low priced entry into the great game of golf.
The "SGI" stands for super game improvement. So you know that the name of the game is forgiveness on mishits. Remember: golf is a game of managing your mistakes, not hitting perfect shots all day. A forgiving driver, hybrids, and irons will make your bad days just a little bit better, which is a huge plus.
Make sure you are choosing the "Senior" option, as Wilson Profile SGI is made for lots of different golfers (teens, adults, tall adults, short adults, and seniors). The "senior" option is the only one that offers the more flexible, senior flex shafts that will benefit your game.
Best for: golfers that don't want to spend much money, but still want a decently high quality set to learn how to play golf. 
2) Best
Value

Senior Golf Clubs: Cobra XL Speed
Cobra releases great complete sets every year. They have been the leader in complete sets for seniors for about 3-4 years now. Last year, they put the Cobra XL Speed complete set. It was priced over a $1,000. However, after the release of the new Cobra 2020 Airspeed set (see next section), the demand and price have fallen. Currently, this set offers the most bang for your buck. They sell for around $800 now.
Cobra XL Speed offers a great set of clubs for seniors… both men and women! Their clubs are made to be lightweight so that you can create as much speed (hence the name) as possible. Lightweight clubs + lightweight flexible shafts = more distance and more fun for senior golfers.
Sure, it's a year old, but no significant improvements were made in clubs in a one year period! The 2020 set is practically the same set as the 2019 one, but the name and color schemes are different. You are basically saving $200-$300 simply by "waiting" a year and buying this 2019 set in the year 2020.
Best for: senior golfers that want the best value for their money.

If you truly want the best of the best (and if you can afford it), you can't go wrong with the Cobra 2020 F-MAX Airspeed Complete Set. It's available in graphite shafts with senior flex, and can be purchased from a many different retailers.
Complete sets are notorious for being made of low quality. However, this complete set isn't like most "complete sets". Cobra simply combined all of their top of the line clubs into one, easy-to-buy package with the same branding.
Currently, the price is around $1,200 for the complete set. Therefore, the price only makes sense IF you know you'll get lots of use out of it. When taken care of properly, this set will be the last set that you ever purchase, which is a huge benefit. You won't have to worry about broken club heads, broken shafts, etc.
These clubs are super forgiving and super lightweight. That's an awesome combination for senior golfers, both men and women. What more could you ask for?
Best for: seniors that want the highest quality, lightest clubs on the market, no matter the money. 
Older Sets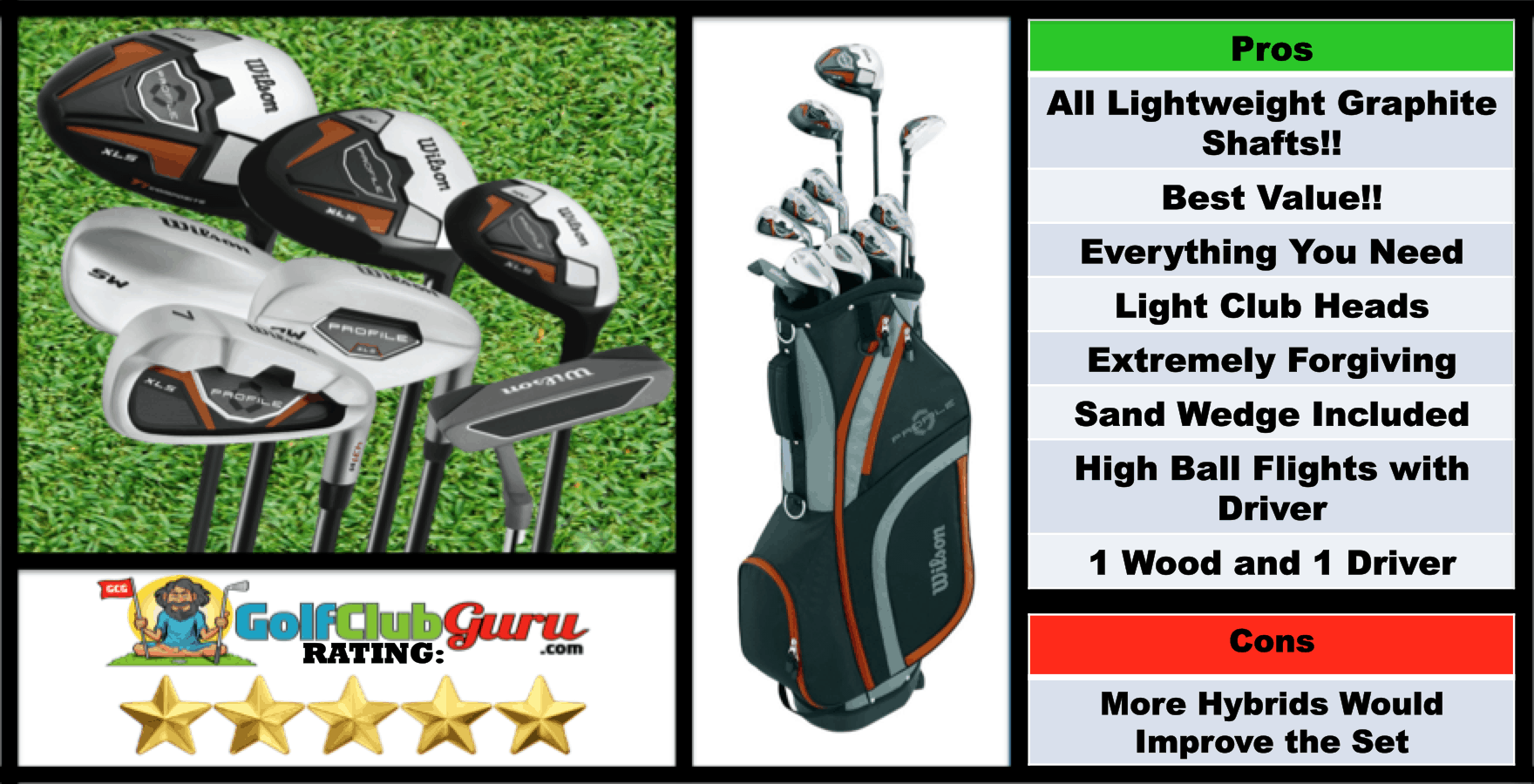 Oddly enough, it was very tough to find complete sets with all graphite shafts. However, the Wilson Men's Profile XLS Complete Set offers this, and much more! Overall, this is the set I would recommend to any senior that wants to make the game of golf as easy as possible. With the lighter club shafts, you will be able to swing much faster, resulting in longer golf shots and better scores. Also, to make the game even easier, the sweet spots are extremely large, leading to extreme forgiveness. This means that you can miss the center of the club and still get decent results.
Here is what all is included in this set:
A durable, long driver
A strong lofted three wood for extra distance
A 4 Hybrid instead of a 4 iron for forgiveness
Easy to hit irons from 5-PW
A low profile wedge, to help you get out of bunkers easily
An easy to align putter for alignment
A high quality stand bag
Quality aside, the price of these clubs is incredible. For half the price of what you would probably pay at Dicks Sporting Goods or Academy Sports, you can purchase this set for about $200 on amazon, and that is delivered free!
Wilson is a great brand for high handicaps and senior golfers. It offers well made clubs for a great value, which is all that you can ask for in a golf club company. Also, their customer service is very strong, so any problems you might have with the set will easily and quickly be fixed.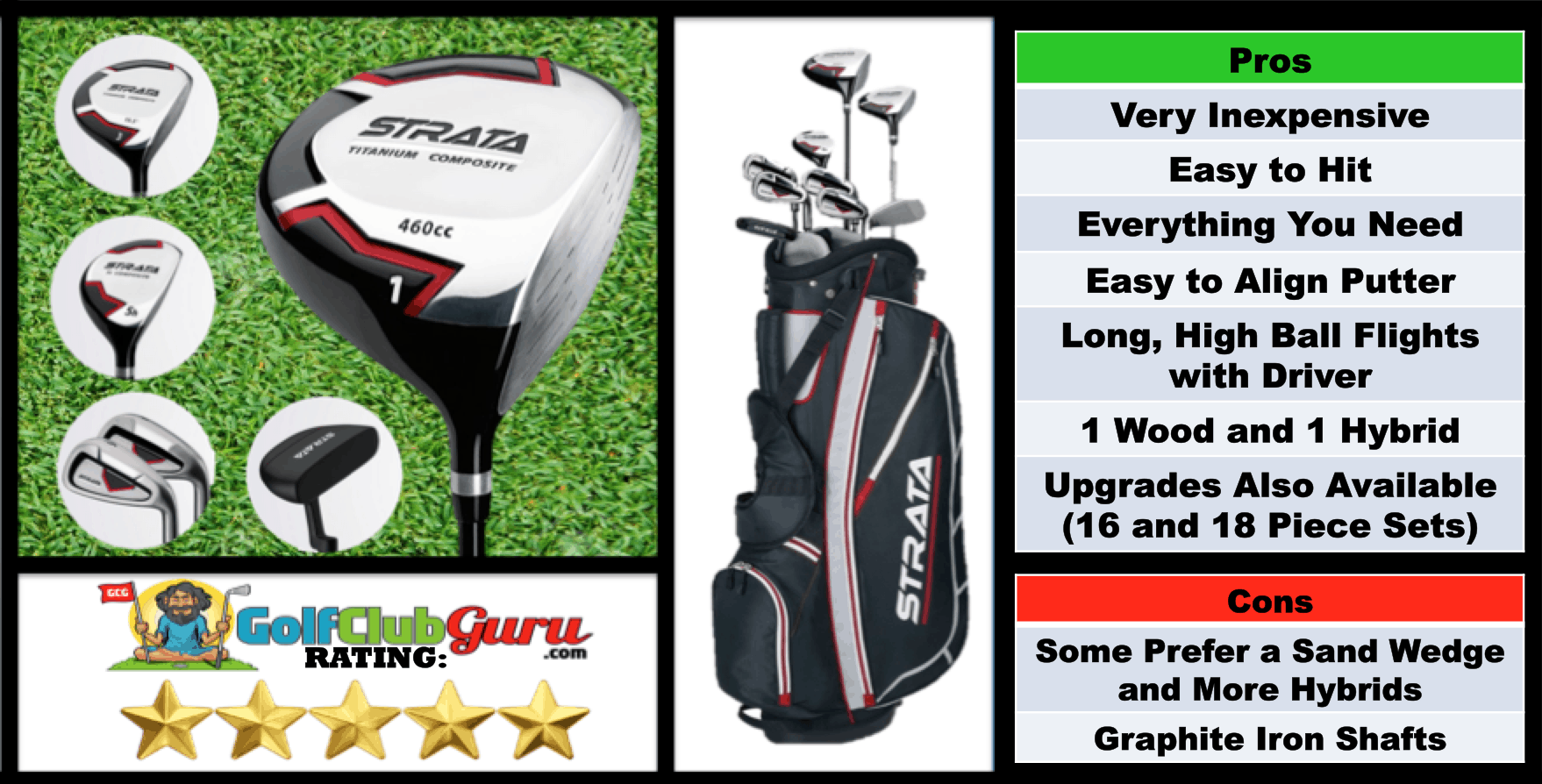 If as a senior golfers, you still have a high degree of flexibility and strength, and therefore can hit the ball pretty far, this is the set I would recommend for you. The Callaway Men's Strata Complete Set has steel graphite shafts, which are heavier than graphite shafts. However, they will offer more control for those strong enough to swing them. Strata is one of the leading brands in complete golf sets, and for good reason! They make well made sets for an exceptional price as well, similar to Wilson. One thing that truly sets Strata apart is making professional looking clubs. Many complete sets look tacky and cheap, but Strata has always focused on a sleek, defined design.
Below is a list of everything included in this Strata set:
A graphite shaft driver with a large sweet spot
A graphite shaft three wood to fill the gap between driver and hybrid
A forgiving hybrid (also graphite shaft) in the place of a difficult to hit long iron
Irons from 6-PW that have perimeter weighting and great distance
A lightweight stand bag
If quality is your main concern, with money not being much of a problem, then you CAN NOT pass up on the Adams Speedline Fast 12 Complete set. There are not many high end complete golf sets, but this is one of them. Adams has created a great reputation in the golf industry for making high quality clubs for seniors. They specialize in easy to hit woods, hybrids (potentially the best hybrid brand ever), and irons.
This set is perfect if you are looking for multiple woods and hybrids, as well. As a senior golfer, I would highly recommend having as many woods and hybrids as you can (without sacrificing too many irons and wedges in their place). Why is this? Well, as a senior, you probably won't be able to hit it as far as you used to. Therefore, you might end up with more longer shots than you would like to. Having different hybrids and woods (2 of each in this set) to choose from for each particular shot would be great to really dial in your distances.
List of everything included:
High MOI design driver for straighter, longer drives
3 and 5 Woods for better distance control on long shots
4 and 5 Hybrids in place of unforgiving long irons
6-PW Irons that have great distance control and feel at impact
Tom Watson RC14 Sand Wedge
A premium quality putter with a great sound when struck
A light carry/stand bag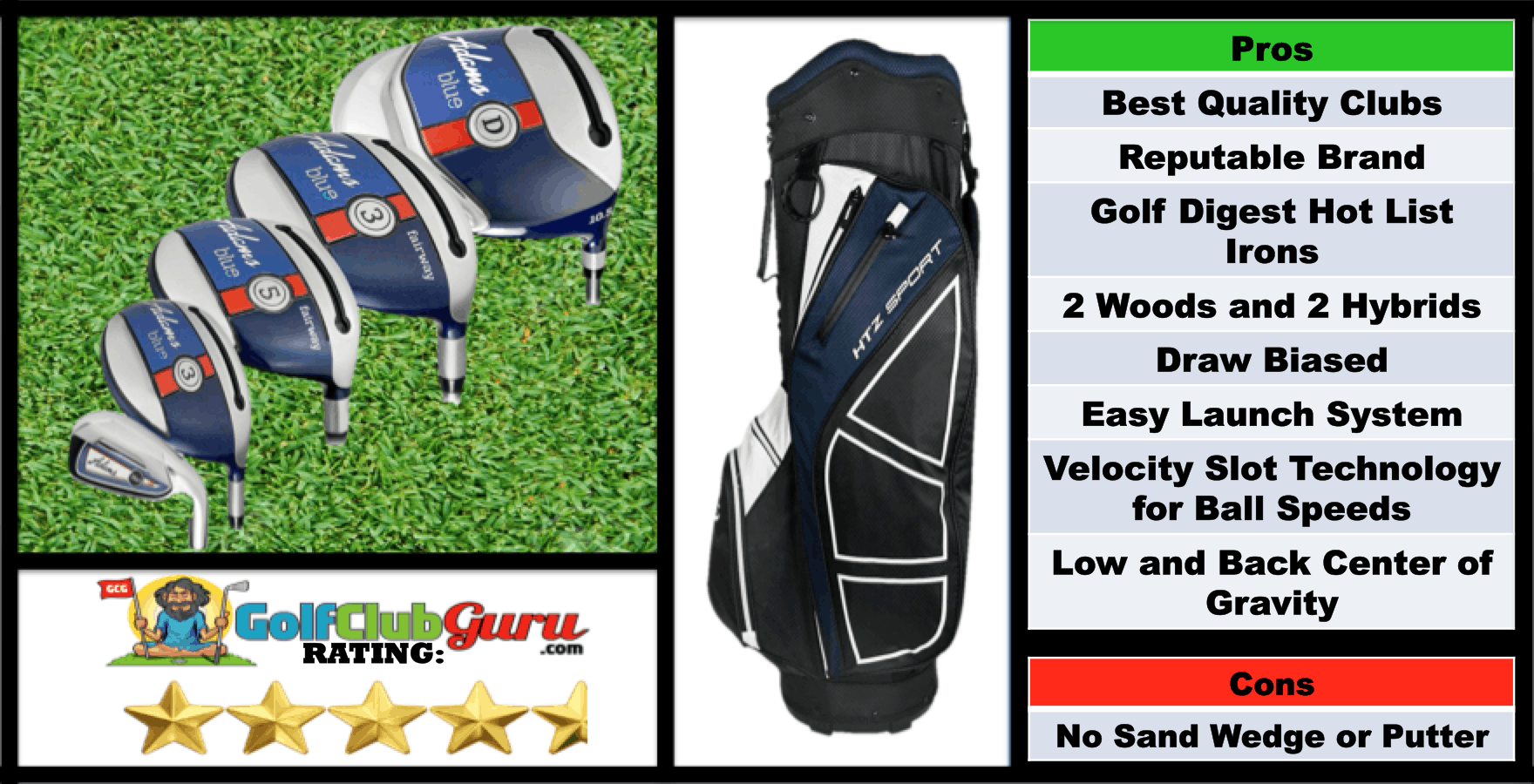 If you have a trusty putter already, and are just looking to get new irons, hybrids, and woods, then Adams Blue Complete Golf Set is what you are looking for. Adams Blue has created some solid golf clubs in their Blue product line, and many seniors jumped on the opportunity to buy everything in one purchase when this set first came out. These clubs, unlike the others listed, actually made it on the famous Golf Digest Hotlist, so be assured that they are quality clubs.
One huge benefit of this set is that they are draw biased, meaning that the set encourages the club face to close at impact. This decreases the probability of slicing or pushing the ball to the right, a common problem for seniors. Similar to the Adams Speedline set, this set offers multiple woods and hybrids, which tend to be used often in senior golfers.
The features of the set include the following:
Velocity Slot Technology (Leading to Faster Ball Speeds)
A driver with a Low center of gravity for higher, longer drives
3 and 5 Woods that are easy to hit from the tee and off the deck
3 and 4 Hybrids that launch the ball high and soft
5-PW Irons (one more iron than the Speedline set)
Hot Z Cart Bag
To be completely honest, I would only recommend this set if you are extremely tight on a budget and simply can not afford one of the other sets. As the cheapest of the 5 sets, this set is great for seniors
Save
Save