Golf is supposed to be fun, right? I don't know about you, but I have a lot more fun when I shoot low numbers, and hitting greens plays a big part in that. If you consider yourself a far below average ball striker (for the time being), super game improvement irons are perfect for you. Bottom line, if you want to make golf a little easier for you, this is one way to do it.
They are extremely forgiving, meaning that you can miss the center of the club face and still end up on the green or at least have an easy chip shot. They are typically longer than other irons, so they can possibly lead to you hitting an 8 iron where you might typically hit a 6 iron.  The only problem with super game improvement irons is that they lack distance control and feel. However, most new or struggling golfers could care less about feel, and distance control is something that you can develop through repetition and practice. Once you improve as a ball striker, you can switch to Game Improvement Irons, and eventually to Players Irons, which have sleeker profiles and offer better feel and distance control as opposed to forgiveness.
Also, regarding long irons, if you want to make golf EVEN easier, make sure you trade your long irons in for more forgiving hybrids. Most of the iron sets below offer a combo iron/hybrid blend, so you can get the PW-6 in irons and 4 and 5 hybrids for example. If you would rather get different hybrids, check out my article on the best hybrids on a budget.
If you have had any experience buying golf clubs, whether it be at large sports store or in a golf shop, then you know how expensive golf clubs can be. But it doesn't have to be that way! Golf clubs in both new and slightly used condition are sold at very affordable prices everyday online. Below are the top 5 best super game improvement irons if you are on a budget. They have all sold for $200 or less, which in my opinion is the perfect middle ground of quality and price for your money.
TL/DR: Bad at ball striking? Get Super Game Improvement Irons. They are more forgiving and typically longer.
Note: You may want to check out the best SUPER game improvement irons that money can buy (if you think you can afford it, of course).
1) Best Overall Super Game Improvement Iron: Ping K15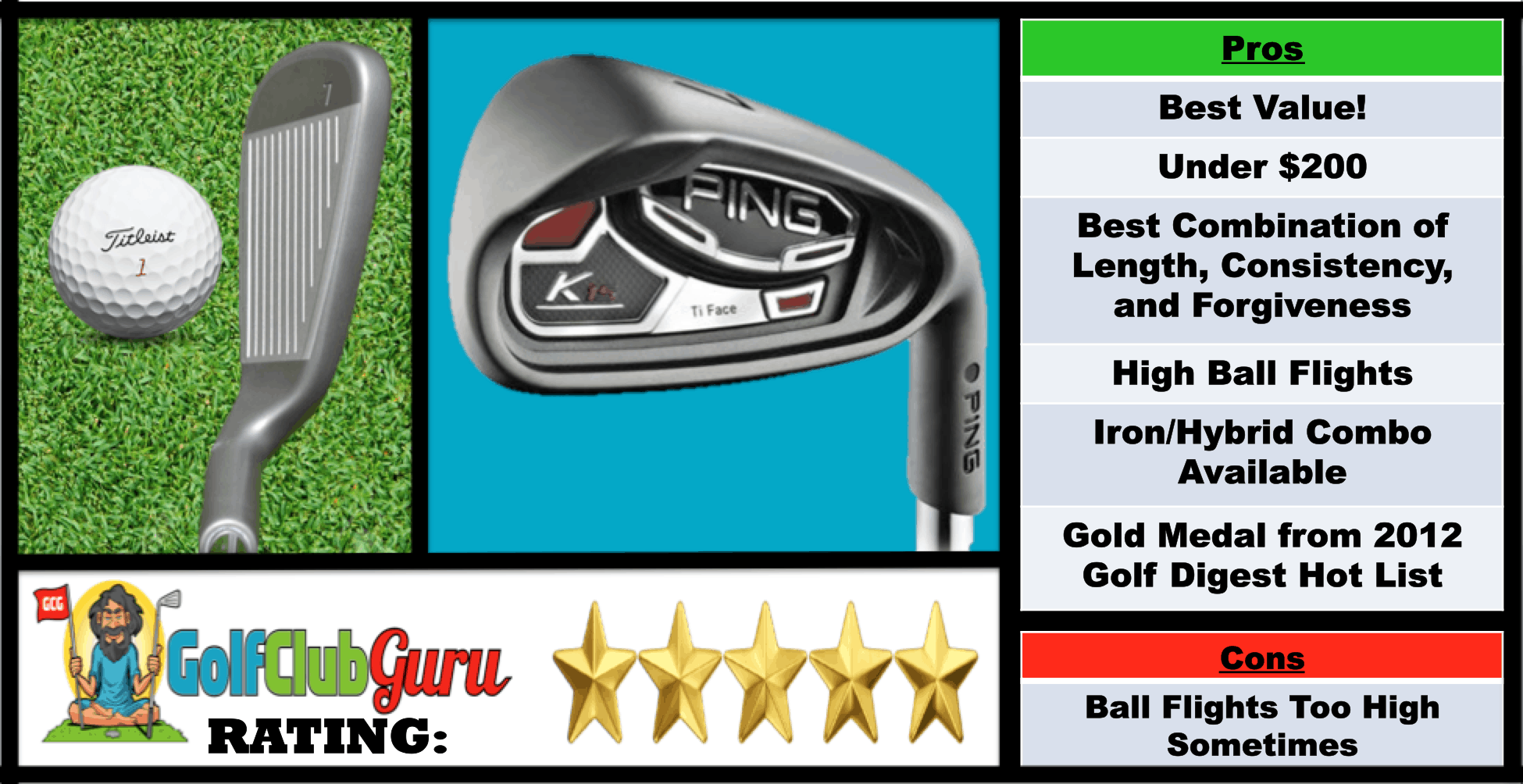 Ping K15's are my #1 pick for golfers struggling with hitting greens. If you are looking for the best combination of length, consistency, and forgiveness, these are it! I can't express how forgiving these clubs really are. Anything on the face seemed to fly the same: high and straight. The ball flights are  noticeably high, which is great for high handicap golfers who can often struggle to get the ball in the air.  Also, for those that want to make golf EVEN easier, make sure you trade your long irons in for more forgiving hybrids. This set offers a combo iron/hybrid blend, so you can get the PW-6 in irons and 4 and 5 hybrids for example. If you are looking to make it a combo set, lots of them go floating around on eBay.
The prices for K15's are very budget friendly, as you can see above. This combo set would be perfect for a new golfer or someone trying to make ball striking a little bit easier, while saving money as well.
If you get more thrill out of hitting balls past your buddies than you do making putts, then the Callaway X Hot irons might be the set of irons for you. You can expect on average (obviously depends on a lot of things) hitting at least one club less with these clubs than you normally would.  With the deep undercut cavity and the famous speed frame face technology from Callaway, they made this club go as long as they could. The one con that many people experience is that distance control can be tough, often hitting balls much further than they would expect when they catch the ball well. However, a lot can be said about hitting an 8 iron compared to when you might normally have a 6 iron in your hand.
The Callaway X Hot Irons can also be found very cheaply on eBay if you look hard enough, such as this set that sold for less than $200.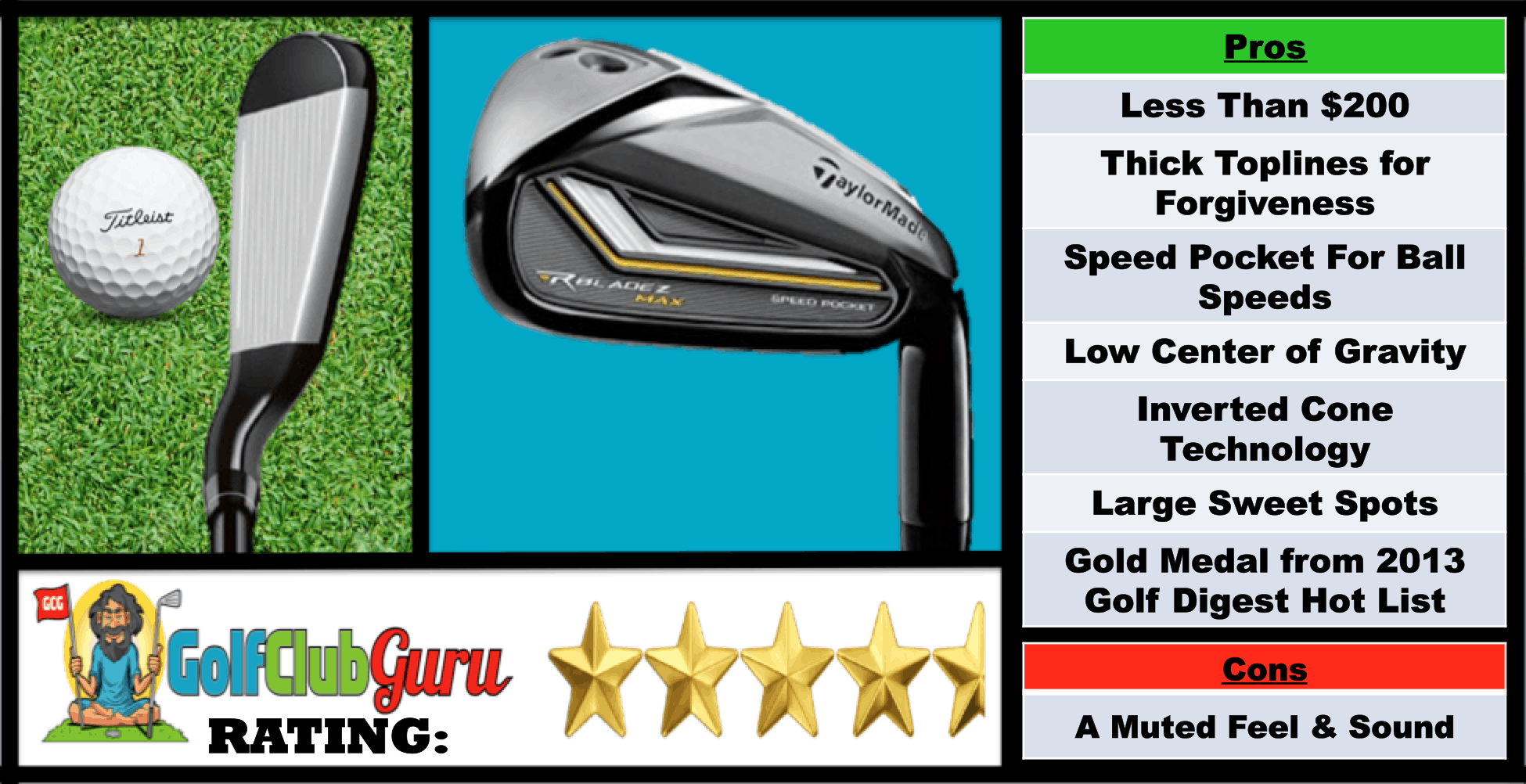 If forgiveness is all that you are after, the TaylorMade RocketBladez Max are your best bet. They have a huge topline, sole, and club face. They also sport the inverted cone technology, allowing mishits to still fly pretty well. Shots where you typically lay the sod over the ball might still fly pretty well, too, as the sole will just bounce off the ground to a certain degree. If you can get over the large chunky physique of this set, you will be rewarded with extreme forgiveness and above average distance.
Although the most expensive of the 5 listed here, there was one instance of a set in good condition selling for less than $200. I'm sure that as time goes on from when I wrote this article, they should be selling for less than 2 bills pretty consistently.
4) The Lowest Price on Average:

Adams Idea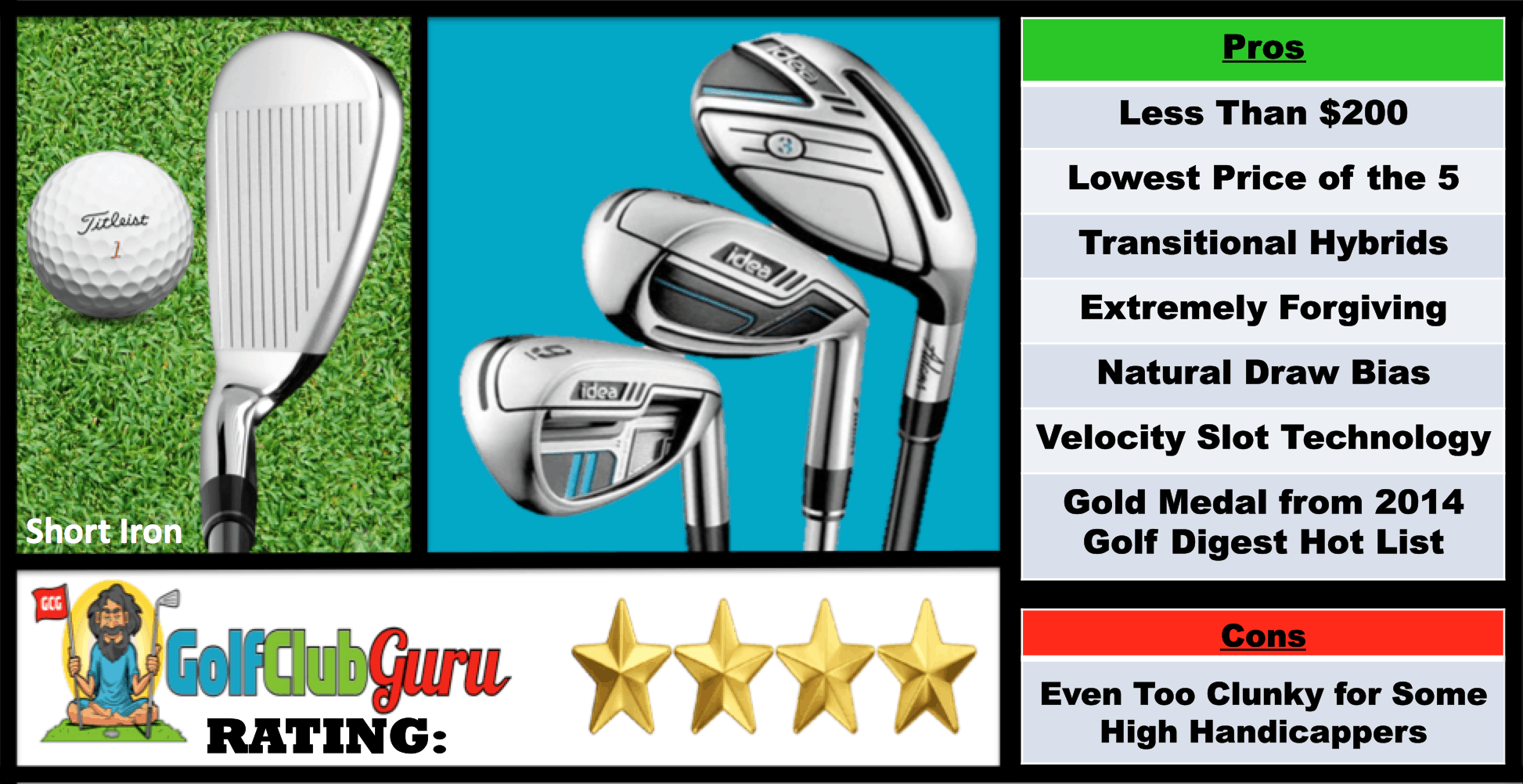 Adams Idea is consistently on my best on a budget top 5 lists. To keep it simple, they produce very solid clubs at a very reasonable price. Adams Idea 2014 irons are no different. With them being the lowest price of the 5 on average, paired with the stellar reputation of the Idea line, they were a no brainer. Specific to new golfers and high handicappers, they have a draw bias (very favorable for slicers) and are extremely forgiving.
One great characteristic that is rare in other sets is the transitional design. Unlike other brands who go straight from irons to hybrids, Adams Idea 2014 irons start with smaller designed short irons, then transition into more forgiving long iron/hybrid mixes, and end with very easy to hit traditional hybrids.
Considering all that is included and the condition that the set was in, this eBay listing above (update: eBay sucks and I left their affiliate program) for $188.84 is an absolute steal! I saw many transactions just like this one, too, so click on the picture above and check out the current prices for yourself!
5) The Most Durable:

Ping G20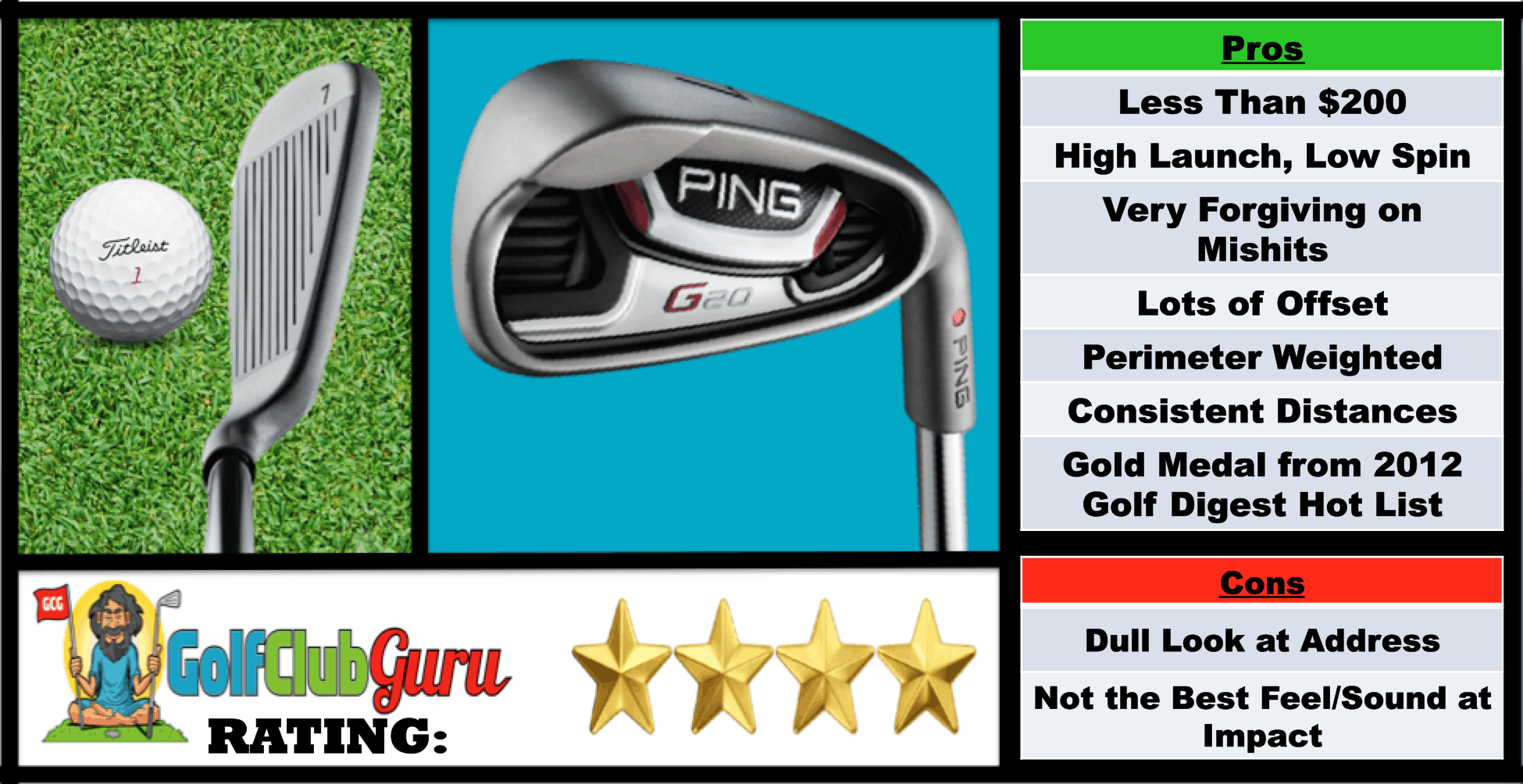 Durability is a huge factor when deciding to get new irons. If the grooves wear away and rust within a year or two, you probably should have a) taken better care of your clubs or b) gotten a pair of Ping G20's! I've had many friends and students that have bragged about the quality of this set. Although they look a little dull at address, they are extremely forgiving and produce consistent distances, unlike many of the other super game improvement clubs. Another thing worth noting is that there is a lot of offset, which is great for players that tend to come into the ball with an open club face. The offset encourages the face to close and for the hands to be ahead of the ball at impact, a key to better ball striking with irons!
Similar to the TM RocketBladez Max, there weren't a ton of sets selling for less than 2 Benjamins, but you can find them if you are patient. Make sure to add items to you "Watchlist" and bid in the last 5-10 seconds at the highest price that you are willing to spend for the irons.
—
Good luck, and thanks for reading!