If you have decided that it's time for new fairway woods, you have come to the right place! This article will rank and explain the pros and cons of the best value fairway woods that money can buy. All of these can be purchased in either new or barely used condition for less than $75, and I took the time to prove it!
What should you look for in a fairway wood? Well, a few things:
Most importantly, you need a club with a low and back center of gravity. Woods are hard to hit off the deck, so a club with a low and back center of gravity will make it much easier to get the ball airborne. This is also important off the tee, as it leads to higher, longer tee shots.
A design that fits your eye. Some prefer a larger club head likely due to the increased forgiveness. Others, however, prefer a much sleeker, lower profile head design. Overall, you've got to be comfortable with the club in your hand, so choose accordingly to your tastes.
A thin club face. Although most clubs today all sport a thin, strong club face, the same cannot be said for some clubs in the past. So make sure you get a thin club face, which results in a higher rebound effect at impact and therefore leads to increased distance.
As always, if you would rather shell out an extra $100+, check out my article on the absolute best fairway woods that you can buy. For everyone else, including those that don't want to spend $300 on one club, here are top 5 best value fairway woods on a budget.
Oh, and if you struggle with hitting your fairway woods, check out the most forgiving fairway woods that are the easiest to hit straight and far. 
1) Overall Best Value Fairway Wood: Cobra Bio Cell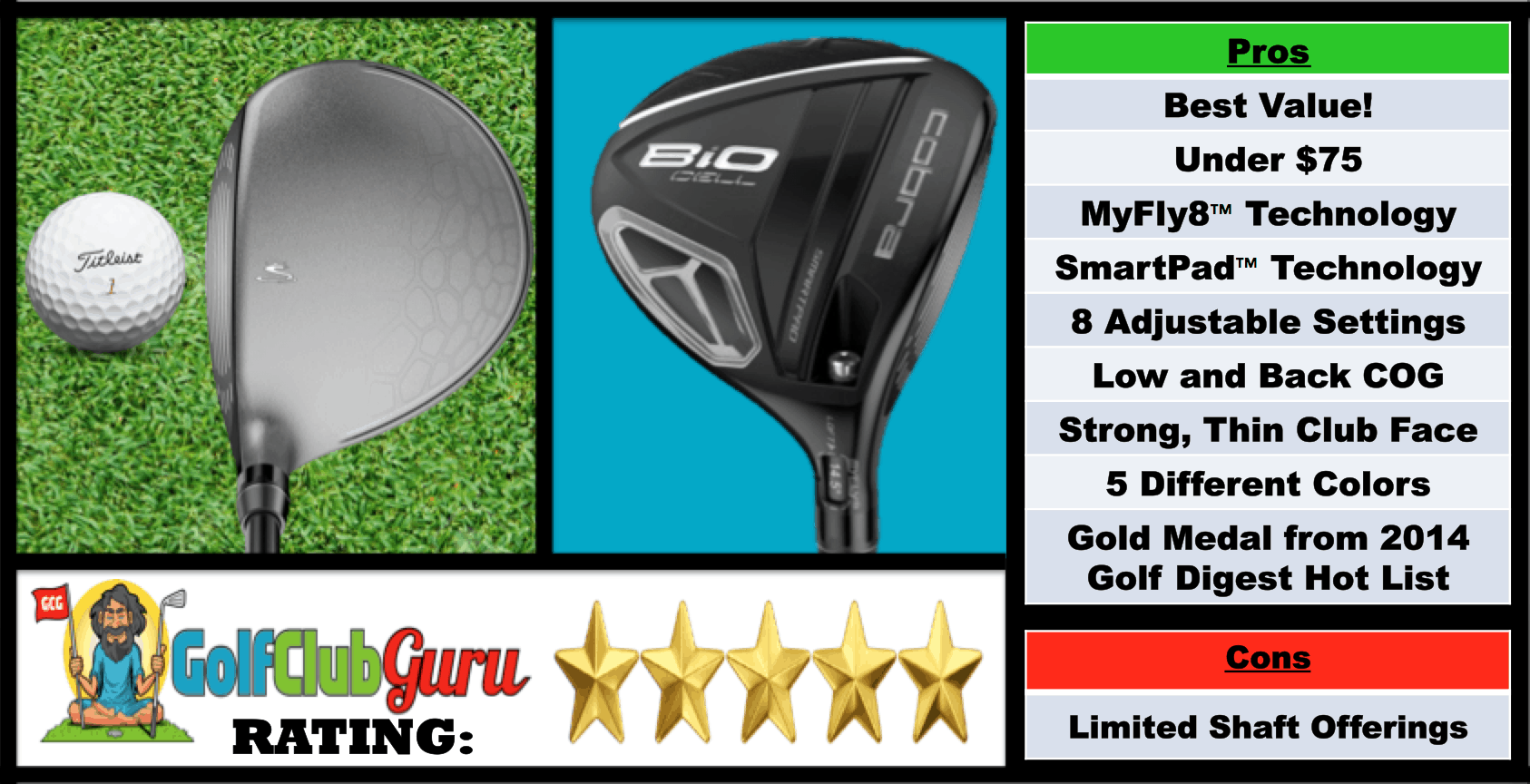 Cobra Fairway woods are very highly underrated. They are super long off the tee, easy to hit off the deck, feel incredible at impact, and use the latest technologies to back up their designs. As an added bonus, there are 5 different color options (orange, blue, red, black, and silver).
If you are big on adjustability, this club is perfect for you as well. The trademarked MyFly8 Technology offers 8 different loft settings to tinker with, so you can find the perfect loft to fill the gap between your best value driver and best value hybrids.
If adjustability isn't your thing, and you are more concerned with the look on your buddy's face when you hit your three wood past his driver, then you'll love the thin club face on this fairway wood. It is forged thin and made of high strength steel, allowing for more of a rebound/flex effect when struck, obviously leading to longer drives and waaaaay more fun.
Let's talk forgiveness for a second. Using their E9 Face Technology, they have created a bigger, faster sweet spot resulting in lower spin all around the club face. Additionally, considering that I like to target this site to beginners and lower handicappers, the Cobra Bio Cell has a slight draw bias, which allows golfers to square the club face much easier at impact, putting a stop to or at least lessening the amount of pushes and the slices.
The Cobra Bio Cell fairway woods can often sell BRAND NEW for less than $75. If you see one for that price, snag it up quick, as it won't last long!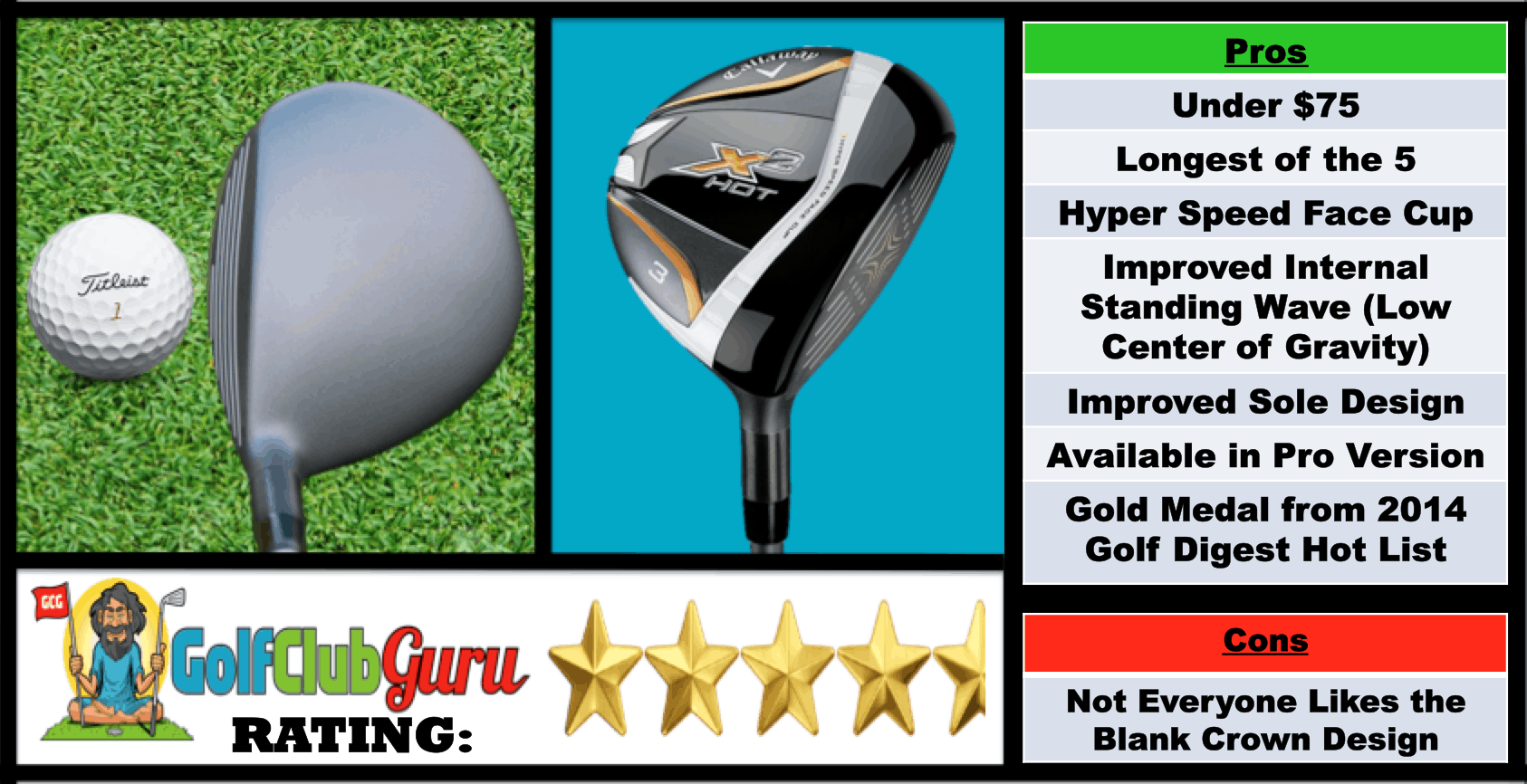 As the pros/cons list says, the Callaway X2 Hot fairway woods are the LONGEST budget woods that you can buy. Due to the hyper speed face cup, your ball speeds can reach new records. The thinner, lighter face results in a bigger rebound effect, shooting the ball off the face at impact.
They also tout their improved "Internal Standing Wave", which is just their fancy, scientific way to say that their center of gravity is lower than before. This results in less spin and higher launches across the face.
Fairway woods aren't only hit off the tee. They also need to have a degree of versatility to them. Have you ever looked at a rough lie and thought: "I can't hit my three wood from here, I'll have to take an iron." Well, their Warbird sole design targets this problem specifically. The new sole is extremely versatile, as it doesn't get caught up in its surroundings (think tall grass, mulch, etc) near impact.
At an average of 1 dollar for each 4 yards, you can pick up this club for $75 and start smacking some 300 yard drives in no time! 🙂
3) Most Forgiving Fairway Wood: Ping G25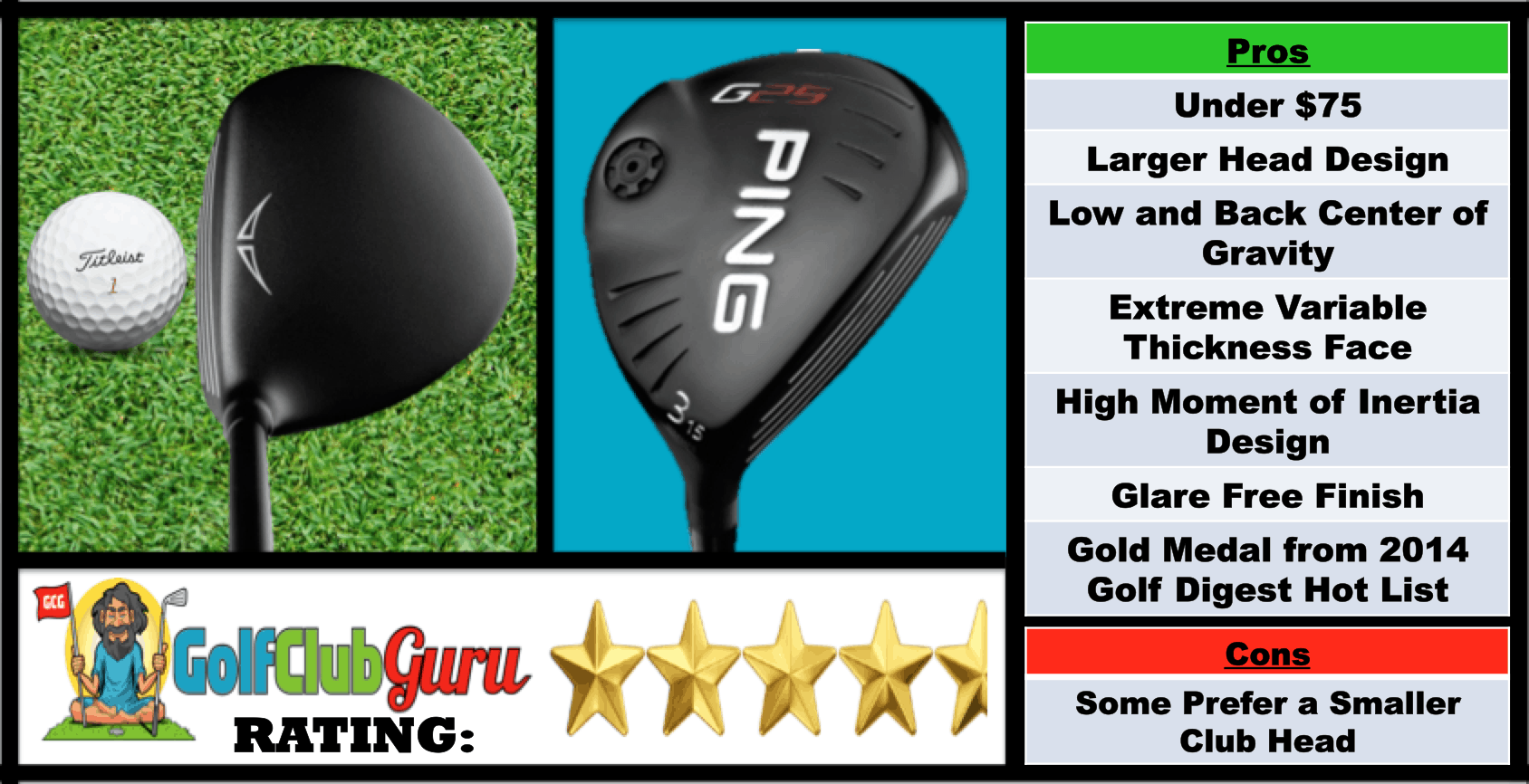 If you are a fan of a large club head, one which leans towards being very forgiving, then consider the Ping G25. They personally have everything that I look for in a fairway wood, except I am not a fan of the clunkier design. If you are, though, then this might be your best bet! Going along with the design, there is also a glare free finish, so the sun's reflection will never distract you from knocking it on a Par 5 in two!
Similar to all of the others so far, the Ping G25 offers a low and back center of gravity, leading to higher ball flights and facilitated shots off the deck. The Ping G25 series (drivers, irons, hybrids) consistently rank at the top of the list of best clubs on a budget. They are simply a well designed, sought after set that will always be in demand.
Although it is the most expensive of the 5 listed in this article, there were still multiple that sold in hardly used condition for under $75, like the one shown above. Either way, it is still easily one of the best valued woods that you can purchase today.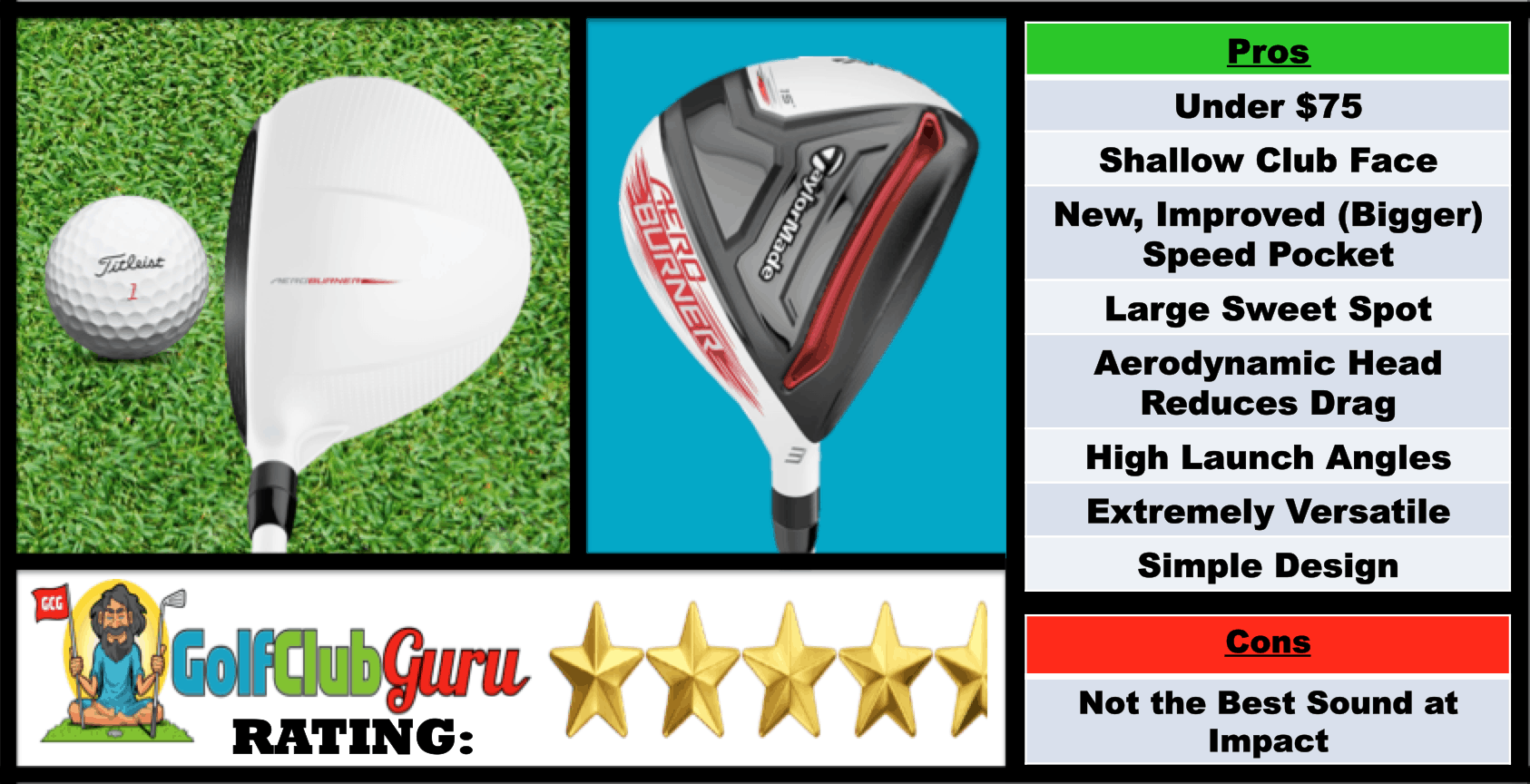 If white club heads and simple designs are your thing, then the TaylorMade AeroBurner woods should be top on your wish list. I personally am a fan of the simple design, as there is no adjustability. This is perfect for beginners. As a result of the design, if you are not hitting it well, you might be more inclined to work on your swing rather than tinkering with the settings of the hosel. I'm also a proponent of the speed pocket, as gimmicky as it sounds. Impact is obviously very important in golf, and if you can create a stronger rebound effect at impact, the results in distance will come. The one con about this club is that there is a very poor sound at impact (similar to a "dink"). I'm not a fan of the high pitched sound/feel, but if it wouldn't bother you than go for it!
Since TaylorMade releases so many models each year, this club had steadily declined in price since it's release. You can ALMOST get it brand new for $75, but I couldn't find out that hit that limit. However, lots of them in barely used condition sold for less than that.
If you find yourself hitting fairway woods too low too often, then the TaylorMade SLDR S is an exceptional club for you. It is, in my opinion, the highest launching wood that I have ever hit. This is a result of its low and forward COG easily getting the ball airborne no matter what lie you are hitting from. It is often hard to get a ball to stop on a green when you hit a fairway wood into it, and that is where this club differentiates itself from others. Keep in mind, however, that spin rates tend to be higher and the forgiveness isn't at the level that most expected it to be at. So if you play in strong winds often, I wouldn't recommend this club for the circumstances of hitting into strong headwinds.
An exceptionally made club, the TaylorMade SLDR S still surprisingly sells BRAND NEW for well less than $100, as you can see here.
If you have any questions about these clubs, or which one might be the best for you, please leave a message below!
Save