Ah, so you typed in "Longest Driver on a Budget" or something along those lines, and are looking for an expert in the golf industry to tell you the longest driver on the market. Well, search no more, because the Golf Club Guru is here to help! I'll keep it very simple. Golf club companies throw out a lot of sophisticated words that sound cool, but no one really know what they mean. So what actually makes a driver long?
A thin face insert (Why? A larger rebound effect on the ball = increased ball speed)
A low spin head (Why? Less spin = further carry)
A light driver head (Why? Increases club speed)
An adjustable driver head (Why? To fine tune any trajectory or ball flight problems that are costing you yards on your drives)
A low center of gravity  (Why? Increases loft and decreases spin = balls fly high and far)

Note: all links/pictures below, if you click on them, will take you to Global Golf listings.
Another note: click here if you want the longest men's drivers that you can buy (with no consideration of your budget), and click here for the longest women's drivers. 
Jan 2021 Update
So here we are, finally done with that crazy year that we'll never talk about again. Long drivers still haven't gone out of style. Oh, and they never will.
But I do want to be clear: you don't need the latest and greatest clubs to play good golf. You don't need the latest release from the big companies to hit 300 yard drives.
Will they ensure that you have the most up-to-date technology in your hand? Sure, but 2021 improvements don't warrant an extra $200 compared to most drivers from a year or two ago.
If you want to save money, keep scrolling down this article to find the older versions of the article. Those clubs are now older models, so their prices are much more affordable today.
Anyway, here are the longest drivers of 2021:

If you TRULY want a driver that is going to maximize the distance you hit off the tee, go try out the Callaway Mavrik Sub Zero. When hit on the center of the club face, the ball seems to travel forever with low spin, good carry, and good roll as well. If you want to TRULY max out your potential distance, though, go get fitted by a professional and see if it's a good fit for you.
It's super low launch and low spin, so you may find that you hit your longest drives when the loft is a taaaaaad bit higher than you are used to. For example, if you are used to using a 10 degree driver loft, adjust the hosel to be 11 degrees and you may be (pleasantly) surprised about the trajectory and distance.
It's got a bit of a smaller head size compared to the normal Mavrik driver, but only by 10cc which is hardly noticeable.
We don't like getting into the BS marketing that companies get into. Callaway will try to convince you to their "AI-designed" club face is what is allowing you to hit the ball so far. Nope, their previous designs will launch the ball nearly just as far. Hardly noticeable at all.
Ping G410 SFT (Longest For Slicers/Pushers)

It's very common for golfers to lose distance due to their ball flight. Slices and pushes simply won't travel as far as a well struck draw/straight shot/fade. It's as simple as that. The Ping G410 SFT (Straight Flight Technology) will be the longest driver for slicers, and I'll try to explain why.
If you struggle with hitting slices and hitting pushes (to the right for right handed golfers), it's because your club face is open at impact relative to your swing path. The fix? We need to square your club face at impact.
How can we square your club face at impact? Well, two options. First and foremost, you can work on your swing with a PGA professional. You may work on your grip (stronger grip = easier to close the club face), release of the golf club through impact, or many other possible factors.
The other option to fix an open club face at impact? To use a driver that encourages a more square club face at impact. Is it considered more of a quick fix? Sure, but it'll definitely help. The Ping G410 SFT does just that. It's got more weight towards the heel of the club, which makes it far easier for the toe of the club to turn over and close the club face through impact.
Other than the Straight Flight Technology, the Ping G410 line of drivers is simply an incredible series of long drivers with great forgiveness, too. Their LST (Low Spin Technology) is also a super long option, but I think the Callaway Mavrik wins unless you are a huge slicer or pusher of the ball.
---
---
---
Previous Update From A Year Ago (Pretty Good Value Now)
So, it's been a couple of years since I originally wrote this article. I've decided to go back and add a few long drivers on a budget. The ones that I originally wrote about are becoming harder and harder to come by, as you might not be able to find the right loft or shaft flex that you want. However, because they are older, you will typically find better deals if you stick with the ones that I posted a few years ago.
Here are a couple new models that you should definitely check out though. They are focused on distance, and they are both a great value at the moment.

Can't speak more highly of the Callaway Great Big Bertha Epic driver. Super attractive at address & super long off the tee. What more would you want in a driver? I truly think that Callaway makes the best drivers nowadays (especially considering the prices after the clubs have been on the market for a year).
The jail break technology improves ball speeds and forgiveness across the whole face, so it's long on both center hits and off-center hits. Plus, with the new release of the Rogue drivers, the Epic models have dropped pretty significantly in price.
If you want a super long driver with the latest tech, check out the Callaway GBB Epic!

If you can't shell out the money for the Callaway Epic driver, check out the earlier model, the Callaway Great Big Bertha driver. It's lower in price, but won't travel quite as far as the Epic drivers, especially on mishits.
Next Gen R•MOTO Technology results in a super thin, fast club face to increase ball speeds at impact. For more stability and adjustability, there is a 10g weight on the back of the crown. You can move it closer to the heel for a draw bias, or closer to the toe for a fade bias. You can also use the adjustable hosel for 8 different configurations of loft, lie, and face angle.
If you want a super long driver that is adjustable and even lower priced than the Epic, check out the Callaway Great Big Bertha driver!
Original Article From 4 Years Ago (Most Drivers Are Under $150 Now & Still Plenty Long)
With these important features in mind, here are the Top Five Longest Drivers. The Golf Club Guru guarantees that you cannot go wrong with any of these picks.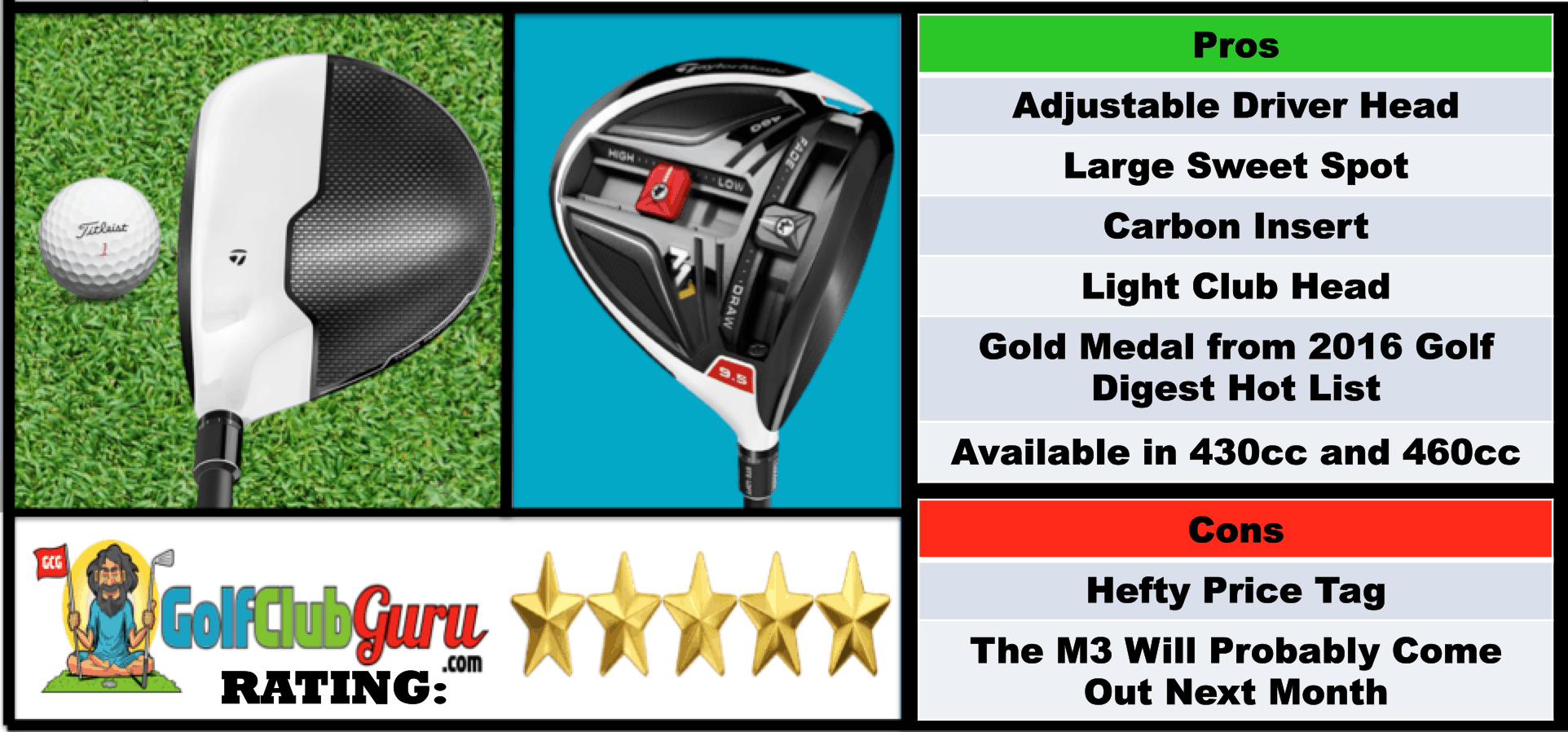 Key Distance Features :
An Adjustable Driver Head
A Large Sweet Spot
A Carbon Insert
A Light Head = More Swing Speed = More Distance
Low Spin = Greater Carry and More Roll = More Distance
Well, looks like it's time to replace that old driver in the bag that you know has lost some of its "oomph" over time. You know this is special when TaylorMade, a.k.a. "the #1 Driver in Golf," calls the M1 the longest driver they have ever made. Golfers all over the world praise the TaylorMade M1 consistency, distance, look, and feel. It has got a very large sweet spot, with many mishit balls surprisingly sailing off far and straight down the fairway. I personally have hit 5-10 balls with even the stock shaft, and can wholeheartedly agree that this driver is worth all the commotion it is causing.
Even World #1 Jason Day, one of the best drivers on tour at the moment, can't contain how much his driving improved once he made the change:
"To be honest, I'm hitting it longer than my R15, which is fantastic," Jason Day says about the TaylorMade M1. "Just the whole setup, the whole makeup of the driver, with it being a little bit lighter, with the carbon insert on top, … the swing speeds are up because of that. But then on top of it, I'm launching it the same angle, but the down angle coming down to the ground is a lot lower."
He goes on to say "the spin is a lot lower than my old driver, as well. When you've got the same launch angle, carrying a little bit further with a lower down angle and less spin, it's going to bounce and roll. It's just a perfect makeup right now."
TLDR: The Golf Club Guru likes equations, so here's one for you: a light and adjustable driver head + a large sweet spot + carbon insert + increased swing speed + less spin + being good enough for the best in the world = the longest driver on the market.
With the M1, TaylorMade built a driver that has both incredible distance and feel while allowing adjustability that allows all golfers to fine tune their drivers with the same accuracy as Tour players who have access to TaylorMade's professional fitters. The most important component is the M1's lightweight driver head, as it allows additional weight to be put on the driver' sole to achieve a golfer's ball flight preferences.
The TaylorMade M1 driver is 460cc, but the 430cc head is also available to better drivers for increased workability. The stock length is 45 and a half inches, and can be purchased with a loft of 8.5°, 9.5°, 10.5°, and 12°. Left handers only have the options of 9.5° and 10.5°.
2018 edit: In the picture above, I made a joke about the M3 driver coming out "next month". Turns out I wasn't too far off 🙂 haha
2019 edit: M5 and M6 are out. Waiting for M7 any minute now

Key Distance Features:
A Large Sweet Spot
Low and Rearward Weight for Low, Penetrating Ball Flight
Ability to Increase/Decrease Loft to Dial in Trajectory
A Carbon Insert
A Light Head (More Swing Speed = More Distance)
Low Spin (Greater Carry and More Roll = More Distance)
Second behind TaylorMade's M1 is…. Well, TaylorMade's M2. What the difference? Well, same carbon composite crown and head shape, still extremely forgiving (if not more forgiving), but no driver head adjustability.
When you really get a hold of one, TaylorMade's M2 can produce some outrageously long drives, among the longest out. The flat, low spin ball flight created a nice compromise of carry distance and roll, while ball speeds are pretty consistent across a large area on the driver head (in other words, even mishits will impress you with their distance).
Similar to the famous M1 driver, the M2 has a light-weight carbon crown. While the M1 offers adjustability throughout the sole, the M2 moves weight low and rearward (as opposed to close to the face), to improve forgiveness. This increases ball speed on shots hit low on the face, due to the fact that the face insert is thinnest around the edges to keep ball speeds high on mishits.
The TaylorMade M2 has an adjustable hosel: You can increase or decrease loft by up to 2 degrees and can choose from 30 premium shafts, with the Fujikura Pro being stock. TaylorMade's M2 driver is available in 9.5°, 10.5°, and 12° lofts.
Key Distance Features:
Extremely Aerodynamic Head
Low and Deep Center of Gravity
Increased Moment of Inertia
Lighter and Thinner Face = More Distance
Callaway worked with the aerodynamics team at Boeing to reach previously unseen ball speed with a deeper face. The Callaway XR16 Pro offers a high head speed design, low drag, and a 450cc head. How did they do this? Well, they pinpointed the size and re-engineered the shape with a lighter Speed-Step Crown to decrease weight (less weight = more ball speed = more distance). With lower spin and a low and deep Center of Gravity bias, the XR 16 Pro is built for the distance that all golfers are searching for.
On top of the distance that this driver offers, it also has the forgiveness that lower handicaps can benefit from. That's what happens when they added Moment of Inertia, increase the size of the head, and made the Center of Gravity lower and deeper. These changes lead to increased ball speed at every impact location on the club face, directly increasing the distance golfers can hit off the tee.
With the XR 16 Pro, Callaway stepped up their game with new "R•MOTO Face Technology," which is lighter and thinner to improve ball speed all across the face. When you have high forgiveness and a faster driver face, you can pick up a lot of ball speed, regardless of where you hit it on the face! This driver is available in 9° and 10.5° lofts.

Key Distance Features:
Low and Deep Center of Gravity
High Moment of Inertia
Thin Face for Faster Ball Speeds
Easily Adjustable to Fine Tune Ideal Trajectory and Shape
The King LTD Driver is without a doubt Cobra's best driver they have ever created. Made with only the best materials and new technologies, the King LTD Driver is a shock to the golf equipment industry, as their previous drivers have traditionally under-performed.
A 16g weight strategically moves weight low and deep in the head, making a very low center of gravity (CoG) with high Moment of Inertia. These two qualities are idea for delivering maximum distance with no sacrifices in forgiveness. The multi-material "Spaceport" design acts like a window with a removable cover, so for the first time golfers can literally see all the internal Cobra technologies that make this their best driver yet.
A re-designed "Forged 8-1-1 Titanium E9 Face" is a varying thickness design that is lighter and thinner (leading to increased distance) and hotter creating more deflection for faster ball speeds and a larger sweet zone across the face. The "Speed Channel" is a Cobra-exclusive design. An engineered trench along the outside of the face decreases thickness and therefore improves ball speeds all across the face for crazy distance.
The Cobra King LTD Driver has 8 easily adjustable loft settings to fine tune trajectory and dial in launch conditions to maximize distance for any swing speed.

Key Distance Features:
Low and Deep Center of Gravity
Increased Moment of Inertia
Aerodynamic Head to Reduce Drag
Easily Adjustable to Fine Tune Ideal Trajectory and Shape
Low Spin for Increased Carry and Roll
The Ping G LS Tec (short for Low-Spin Technology) has a center of Gravity that is extremely low, along with a "high launch-angle-to-spin ratio" built for the golfer who wants low spin and forgiveness (this would be everybody… ever). Inspired by a technique called biomimicry, PING engineers used the dragonfly's complicated wing design to create thin crown sections for low CG and increased MOI, resulting in their longest, most forgiving driver ever made. This is the lowest, deepest CG of any Ping driver, and it shows by generating more distance.
According to their website, "Vortec Technology on the back of the Ti 8-1-1 head minimizes turbulent wake during the downswing for faster clubhead speed with stability and forgiveness". Crown turbulators and Vortec Technologies decrease drag 37% through impact, resulting in measurable distance gains with all swing speeds. The varying-thickness T9S face has a large strength-to-weight ratio, resulting in a further increase in ball speed.
To dial in your launch conditions before a round, change the loft of your Ping G LS Tec ±1° using Trajectory Tuning 2.0, which uses a lightweight, aerodynamic and strong 7075 aluminum hosel sleeve.
---
FAQs
What are the longest drivers on a budget?
The longest golf clubs on a budget are slightly older models (2-10 years old typically), in slightly used condition, from the top brands. For example, the TaylorMade M1 driver is about 4 years old. Finding one in slightly used condition will only cost you $150, and it'll last you 5+ years without needing to be upgraded. The brand new TaylorMade SIM driver, on the other hand, is around $550. And it won't hit the ball but maybe a couple of yards longer than the older M1.
Slightly older models (2-10 years) are drastically lower in price than the newest releases. When a company releases a new driver, for example, their older drivers drop in demand, and they therefore drop the prices of them so they can make room for the newer, more expensive drivers. Newer drivers are hardly any longer than slightly older ones, though. Therefore, as long as you can wait a couple of years, you can get the best value for your dollar by buying slightly older drivers.
What are the longest driver brands?
Personally, I think any of the top brands are excellent choices for a long driver. My personal favorites on a budget are older Callaway, TaylorMade, Cobra, and Ping drivers. However, other brands make excellent drivers on a budget as well. I'm still gaming my Titleist 910 D2 driver from about 10 years ago, and it hits the ball as long (for me) as the newest drivers on the market, which are $500+.
How much should a golfer spend on a driver?
This question is impossible to answer. Personally, I'm always looking for the best VALUE equipment. The clubs that offer the biggest bang for you hard earned dollars. For that reason, I try to recommend drivers that you can buy for under $200 in slightly used condition.
If money is not a concern in your life, then you might as well spend the extra couple/few hundred dollars and buy the longest drivers that were just released and offer the latest technology. There's no question, the newest drivers from this year will hit the ball longer than older clubs, but not by much. But if you think your hard earned money is better spent elsewhere (not on golf clubs), then I think $200 is a great number to stay under for some of the longest drivers on the market.
Should I get professionally fitted for a driver?
There's no question, if you want the absolute longest driver that you can buy, then you need to get fitted by a professional club fitter. There's simply too many different combinations of heads + shafts to do it on your own and get it right, and off-the-rack drivers won't be the longest combination for you.
If you are going to play golf competitively (in tournaments or leagues or money games with your friends), it's well worth the extra money to get properly & professionally fitted for the best driver head and shaft combination. If it results in an extra 5 yards or an extra fairway hit each round, then your money was well spent.
If you just like playing golf with your buddies and have a good time, then don't waste your money on getting fitted. The fitting will cost $100+, and the driver will most likely cost you $500 when it's all said and done (taxes, shipping, etc).  Just find a good, highly reviewed driver and make your best guess for the correct flex (slow swings = regular flex, fast swings = stiff flex, super fast swings = extra stiff flex).
Should I just buy an off-brand driver to save more money?
Personally, I would NEVER recommend an off-brand driver, even for beginners on a tight budget. Drivers from brands like Precise, RAM, Top Flite, Pinemeadow, etc. are super cheap, but there is a reason for that. Off-brand drivers will break faster than you'd ever imagine. The club head will fly right off if you accidentally hit the ground with your driver. Sometimes, the driver head will come right off even on a perfect strike. Don't cheap out on a driver, as you'll eventually have to buy a more expensive driver anyway when it breaks.
Oh, and off brand drivers won't perform nearly as well as a 2-10 year old driver from Callaway, TaylorMade, Cobra, Ping, etc. Off brand drivers are shorter, less forgiving, don't hold value well, and feel terrible at impact compared to the top brands.