Putting comes down to two things: direction and speed. You can obviously have the perfect speed every single time but still never make a putt if you aren't sure where your putter is aimed.
If you are struggling lining up your putter, you might not realize that not all putters are easy to aim. Everyone's eyes are a little different while standing over the ball, and some putters are simply easier to line up to your target, allowing you to be more confident with your putting.
Putting is a very personal thing. Some people find that they can line up better with a "naked" putter, which is one that doesn't have any lines or design on the topline of the putter. Others find they can line up and aim their putters better with the aim line on the bottom of the putter.
However, the general rule is that putters with a larger sight line on the top line of the putter are the easiest to line up. I personally find this is to be the truth as well. I am currently putting with a Ping Scottsdale TR T Line putter, as I find it easiest to align to to the hole.
Now, lets talk about putter style. Everyone has their putter shape preference that fits their eyes better. For example, I personally could never imagine using a mallet putter. It just seems clunky and strange at address for me. Others, obviously, couldn't imagine using anything but a mallet putter for the rest of their lives.
For that reason, I can going to pick out many different putters of all types that are vey easy to align. That way, you'll have the deadly combination of easily aiming your putter and feeling confident over the ball with the style of putter that fits your eyes.
Consider reading my other articles about putters: the best value putters on a budget or the best putters under $50.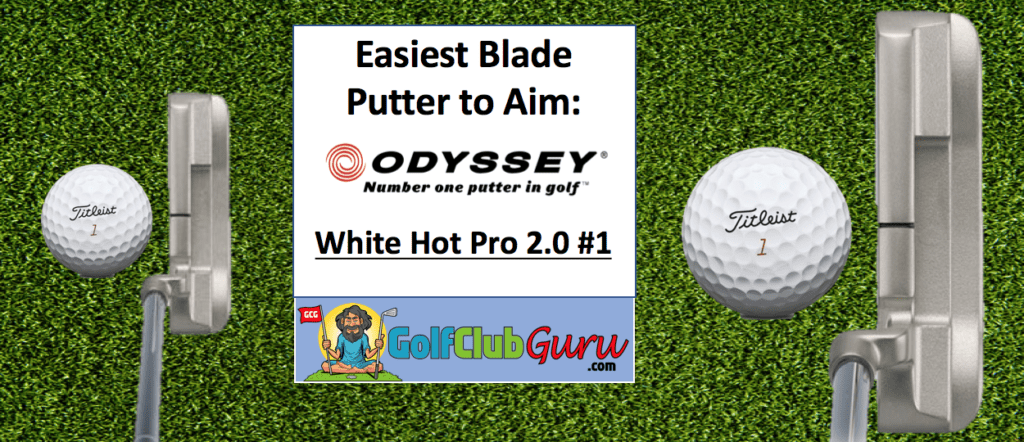 If you are looking for a blade putter that is very easy to align, I would strongly recommend the Odyssey White Hot Pro 2.0 #1. I've always been a big fan of the #1 Odyssey putter line. It is a simple, sleek model with one white sight line on the top of the putter.
Being able to put the sight line right up next to the golf ball makes is much easier to align, especially when the sight line is on the bottom part of the putter, sometimes an entire inch away from where the putter is going to make contact with the ball.
This distance between the face of the putter and the golf ball can make a big difference as to where you might THINK you are aiming the ball.
The White Hot Pro inserts also feel great at impact. They have a very soft, quiet feel at impact, as if you can hardly tell you are actually hitting the golf ball.
For a blade putter, I think the Odyssey White Hot Pro 2.0 #1 putter is the easiest to aim. On top of that, it sells for a great price, right around $100.
If you are indifferent about the appearance of the putter at address, and simply want one that is easy to align, I would choose this one if you have a more rounded arc putting motion.
If you have (or are trying to attain) a more straight back, straight through motion, I would pick one of the two putters below. The two below are meant more for a straight back, straight through stroke, as they are face balanced. Face balanced putters simply means that the club face resists rotation a little more a blade, which is more toe weighted.

If you like prefer the consistency of a mallet putter, but don't like the size of a full mallet putter, a mid mallet is perfect for you. It is a great blend of appearance at address, ease of aiming, and lack of club face rotation.
This SeeMore FGP Black Mallet putter is the easiest mid mallet putter to align at address. By using the shaft of the putter to cover up the red dot, you can be assured that the putter face is perfectly square to your target. If you have never tried a SeeMore putter, you have got to try it out!
I've found that I mostly use the one single sight line on the top of the putter for aligning. However, I've realized that when adjusted while over the golf ball, I also used the two lines on the back of the putter to improve my alignment at my target.
Combining this with covering up the red dot, I felt like I knew exactly where the putter face was pointing at all times.
If you are unsure of the SeeMore brand, you should probably know that many consider it to be the most underrated putter company in the industry. Even Zach Johnson, one of the best putters out there, has praised it's alignment system in the past.
One more benefit of this putter is the straight shaft. Many golfers feel more comfortable with a straight shaft as compared to a offsetted putter. If you have only played a putter with offset (like the Odyssey #1 putter above), consider trying one with a straight shaft like this Seemore.
There is one downside of this putter, however. Some golfers find that they become to anxious trying to make sure the red dot is perfectly covered at address. It can be difficult to focus on the sight line and covering up the red dot at the same time. If you think this might be a problem for you, consider getting a full mallet putter.
Mallet putters are known for their ease in aiming. This is typically because a mallet has more room for a sight line to extend past a normal one. This longer sightline often facilitates improved aiming at the target.
For this reason, the easiest putter ever to aim with is the Odyssey 2018 O-Works putter. 
Having a one inch long sightline right on top of the putter makes aligning to the hole so simple. There have been times where I honestly feel like I can not miss with this putter.
With the putter being face balanced, the face does not turn much during the stroke. It strongly facilitates a more straight back, straight through putting motion that many prefer. The putter will work just fine for someone that used more of an arc stroke, however, so don't discredit it if you prefer a stroke that resembles the opening and closing of a door.