Next time that you head on over to a Dicks Sporting Goods or PGA Tour Superstore, check out the prices on their new putters.
For one, many sporting goods stores likes Dicks or Academy Sports only stock cheap, terrible quality putters. You don't want to get stuck with an off brand putter on the course.
Confidence while putting is a MUST, and it's hard to be confident with a cheaply produced putter made in China for $5.
If you are looking for the best putters in all of golf, check out Scotty Cameron putter or Bettinardi putters. Maybe check out some more custom models from Edel, as well.
But if you are looking for a good VALUE putter, I encourage you to stick with one brand: Odyssey. And on top of that, you need to check out my article about the best golf putters under $50.
They are owned by Callaway and have produced the best putters on a budget for many years. Their "Hot" series has been one of the best selling putter models of all time, and for good reason. Their new "Hot Pro" and "Hot Pro 2.0" models have slight improvements to the putter face to encourage a more true roll.
Results aside, the feel of the putter is incredibly soft, which feels great at impact. I've been using a Hot Pro 2 Ball putter for the last 6 months and I can't speak highly enough about the soft feel when struck in the center of the face.
With that being said, the article was super easy to determine which putters I would encourage you to buy.
The Odyssey models are pretty standard, with #1 being a simple blade with a sightline on the top of the blade, the Rossie being a unique design that was made famous by Brandt Snedeker, the #9 model being used often by Phil Mickelson, and the V-Line model offering golfers a more face balanced putter for those that use a more straight back, straight through putting motion.
Note: all of the links and pictures below (if you click on them) will take you to the respective putters on eBay.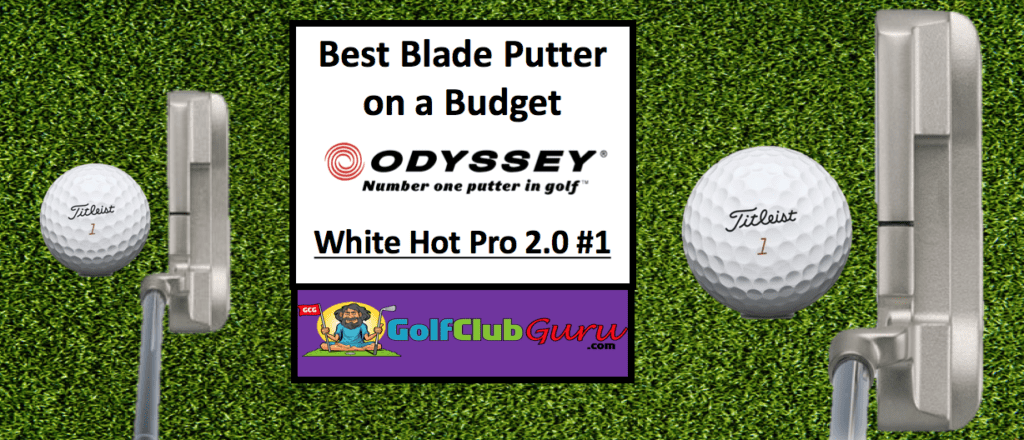 The #1 model is a personal favorite of mine. After using my 2 ball putter for a while, I love going back to a slicker, smaller profile putter like this blade.
Another great thing about the #1 model is the sight line on the top of the club as opposed to the bottom of the club like many blades have. Because you can line up the sight line right up next to the ball, I think it gives golfers a better sense of aim and allows them to correctly set up to their target. (Sidenote: The Easiest Golf Putters for Aiming)
When the sight line is on the bottom of the putter, there is often a one inch gap between the golf ball and the sight line, which can often lead to aiming incorrectly in either direction.
Just think: a 1/8th inch misaim near the ball could lead to a one foot miss from the target on just a medium length putt.
When it comes to saving money, the newer Odyssey models can sell for up to $200 or even $300, but this model is currently selling around $100, and will only get lower as new models are released.
Although you could buy a used putter for a pretty cheap, I would recommend spending a little extra and buying a new one that you can use for potentially forever. A one time purchase is much better than constantly getting a new putter due to too much wear and usual course damage.
If you don't want a tiny blade, but don't want a big mallet either, I would encourage you to look into the Rossie or the #9 Model from Odyssey. They are the best value mid mallet putters that you can buy.
The Rossie model, made famous by the great putting stroke of Brandt Snedeker, was actually my first putter I ever used.
It was so easy to line up and make sure I wasn't leaning the grip too far upright or too far downward.
Something to think about: if the grip is leaned down too much toward the ground, the putter will actually be aiming more to the left. Likewise, if you have the grip too high at address, you will find that you miss the ball to the right very often as this is where the putter face is actually aimed.
The Rossie is the perfect solution to this problem, as you can rest assured that the putter is at the correct lie. If the two sets of lines don't line up, you can easily adjust it to make sure the putter face is aimed where you think it is.
For the #9 Odyssey Model, which was made famous by the forever popular Phil Mickelson, you can't go wrong. Although the sight line is on the bottom of the putter, it is still very easy to line up due to the perpendicular lines.
I really like the profile of the putter, as it isn't too small but is by no means too big, either. It is just a very simple model, allowing you to focus on correctly lining up your putts and swinging away.
Both of these models sell for around $100 as well, which is far less than the expensive mid mallets made by Scotty Cameron, Bettinardi, and the likes.
If your goal is to save money, I wouldn't consider one of the newer Odyssey models. Even though they are very convincing with their marketing and new putter faces, they will perform pretty much the same as these, but at a huge premium.
So, save your money, but a Hot Pro 2.0 series putter, and use your saved money to buy lessons or more rounds of golf.

Mallet putters are highly underrated in my opinion. They are all face balanced, meaning that they are made to keep the face as square as possible during the putting stroke. You might think, "hell, why doesn't everyone have one then??".
That is because many golfers, especially low handicappers, like a more open-then-close putting stroke, similar to how a door opens and closes.
For that type of putting stoke, a blade is better, because it is not face balanced and rather encourages this type of putting motion.
Another reason is that many golfers simply find mallets too chunky and would rather be putting with a more sleek putter. Many mallet putter models are unnecessarily complex and too big in my opinion, so I can understand that statement.
For a golfer that prefers a more "straight back, straight through" (SBST) putting motion, though, make sure you get a face balanced mallet like the Odyssey V-Line putter. 
When it comes to the price, yet again this model comes out to around $100.
This is one of the best $100 investments you can make in your golf game. Contrasted with other golf clubs, this is the only one that might outlive your golf game, meaning you could use it up until you eventually (and sadly) quit playing this great game.