"Look good, play good."
I wonder how many times my teammates and I jokingly said this throughout our golf careers. I fully believe it has some merit to it. There have been multiple times where I have had to wear my less favorite golf clothes to tournaments, and I just never could feel as confident about my game.
Think about it: do you have an outfit where you tend to play well in for some reason? I'll bet we all do.
Golf is a very mental game. So, if you are feeling good is all aspects of your life, I'd bet you'll score better than if your not feeling your best.
Either way, looking and feeling your best on the course can't HURT in any way, so you might as well be confident out there!
If you are looking to add some outfits to your golf wardrobe, I think I can help. I've always been very interested in golf fashion and attire, both for men and women.
I think I have a pretty good feel for what's currently hot in the golf world. So, sit back, and check out some of the outfits that you can purchase today if you find them as attractive as I do.
First, I'll split this article up into the different aspects of ladies golf wardrobes. Then, I'll outline some basic women's golf outfits for you to consider.I've even got a couple of outfits that are perfect on a budget of $50 or $100!
I encourage you to piece together a couple of great outfits for you to feel your best on the course. Oh, and check out my in-depth article about the best women's golf shoes (spiked, spikeless, and the best value options).
Don't forget: look good, play good!
Women's Golf Hats & Visors:

There are multiple options for women when it comes to hats and visors. They can add a great touch to any outfit in my opinion, and hats are included in nearly every female golfer's outfits. When to comes to dressing for golf, I always like to look at how the professionals dress.
In this case, if you look at the LPGA players, the standard look when it comes to headwear is typically a one color, athletic hat or visor.
You can't go wrong with a plain white visor and/or a black cap. If you want to have a few more options, I'd suggest getting a few colors that you like, including a white/black and then two brighter colors like red, blue, or green.
The best hat brand tends to be Nike, as they are by far the best seller in women's golf hats. Other great brands include Under Armour, Callaway, and Adidas/TaylorMade. I would stick with the Nike hats/visors, though, as they are fairly priced and will last many years if taken care of.
There are a lot of cheap brands of visors that will bend and become deformed very easily if not taken great care of. I would avoid these off brands and stick with the name brand hats, as they are not much more expensive and have a much better track record.
If keeping the sun away from your face is very important, definitely look into some of the big bill visors, like the black Nike one on the far right of the picture. Michelle Wie ha made these hats much more popular, and she proves that they can be very fashionable.
Hats are not always just an addition to an outfit… they play a larger role in avoiding too much sun contact. Plus, it's hard to play golf when you can feel your face burning before your eyes.
As always though, make sure you use lots of sunscreen prior to a round if this is a concern.
Ladies Golf Tops:

When it comes to picking the perfect golf outfit, the top is going to be a huge focus. You will typically have two options when choosing a top: a sleeveless polo and a standard polo golf shirt.
As long as you are comfortable with a sleeveless polo, I would make sure you have a couple of each type of polo to vary your wardrobe.
One of my personal favorite looks is just a simple, bright colored polo, paired with a white visor and lighter colored shorts or a skirt. A very simple, yet professional look for anyone to copy.
Again, when choosing an outfit, the best thing to do is look at what the LPGA golfer wear. You are supposed to dress for the job you want, right? 🙂
I would try to avoid most tops with too much of a design. A simple, horizontal striped shirt can look very nice on the course, but I find most designed tops too excessive. The simpler the outfit, the better!
The best brand when it comes to golf tops is Nike, followed by Adidas, Puma, and Under Armour. All of these brands are very similar, so find the shirts that fit your eye and your budget and pull the trigger! You are going to need a good number of tops to diversify your wardrobe and give you more outfit options.
When it gets a little colder, I would make sure you have a nice, dry-fit long sleeve shirt and/or a quarter zip jacket. Make sure you get a color that will pair with the majority of your bottoms and pairs or shoes.
Women's Golf Belts:
If you choose to tuck in your shirts, then belts are going to be an important part of your golf outfit. Remember, if you are not playing too seriously and are just playing golf for fun or to get exercise, you might not have to tuck in your shirt.
I would look at the other women at your club and see what they wear. It might be perfectly acceptable to wear outfits similar to tennis, with a simple untucked polo and shorts or a skirt.
I'm sure if women could pick, they would definitely prefer to wear this, similar to how men would rather wear shorts instead of pants in warmer weather.
If you are going to wear tucked in shirts, though, I would make sure you have a few different golf belts. The three different belt styles are web, woven, and standard/solid. A good rule of thumb is a have a white, black, brown, and one brighter color belt.
This should open up many different outfit ideas and possibilities. I would make sure you have at least one of each type of belt to be able to keep your style fresh.
Golf Bottoms for Women:

For a simple list of bottoms to wear while playing golf, there are: shorts, skirts, bermuda golf shorts (longer shorts), capris, and pants.
I would encourage you to have at least a couple different pairs of your two favorite styles, as well as a pair of pants for colder weather.
If you would rather substitute pants for shorts/a skirt with leggings, this would also be a great look for cooler weather.
Make sure you have multiple color schemes, from brighter colors to simple white/blacks to open up more possibilities.
If you are on a budget and can only buy a few pairs, I would pick a style you prefer (shorts or a skirt) and buy two of them, one white/black and one colored. Then, I would buy one of the other style in any color of your choice. This should offer you plenty of outfit combinations and make your wallet a little happier.
When it comes to women's golf shorts, Adidas is one of the best brands out there. They make many different styles with varying lengths and obviously colors as well. Other great shorts brands are Nike (surprise) and Puma.
When buying golf skirts, there are actually many different great brands, as the same ones can be worn by other athletes and fitness junkies, especially tennis players.
ASICS and Penn make great skirts for any women, as they are soft, well made, and will hold their color well. My favorite style is a simple, plain white skirt to pair with a colored top.
Ladies Golf Shoes:

I have written a few articles about the best women's golf shoes that you can buy.
To keep it short and sweet, it all depends on how much you are willing to spend, whether you walk or ride when you play, and how fast you swing the golf club.
If you are willing to spend a lot of money to buy the best shoes out there, I would recommend you look at FootJoy shoes. They are the cream of the crop for golf shoes.
FootJoy is owned by Titliest, which is undoubtedly the best brand in all of golf. They have a great reputation and fantastic customer service. If you are interested in laceless shoes, check out their Boa golf shoes that tighten with a turn of the knob.
If you typically walk when you play, I can't stress enough the importance of a very comfortable golf shoe. The most comfortable shoe brand in golf is Sketchers at the moment.
They have come out with some great models in the last couple of years meant specifically for making women's feet feel as great as possible after walking 18 holes.
If you have a very fast swing speed and use the ground to get a lot of your power, I would make sure you have shoes with a great support, like spikes.
Otherwise, you might find yourself slipping on slightly damp golf courses, which could lead to some very wayward shots. If you are looking for a pair that will keep your feet grounded well, I would recommend the Adidas Women's W Adizero III Golf Shoes. 
Check out the article linked above for more info on women's golf shoes.
Summer Golf Outfit Ideas for Women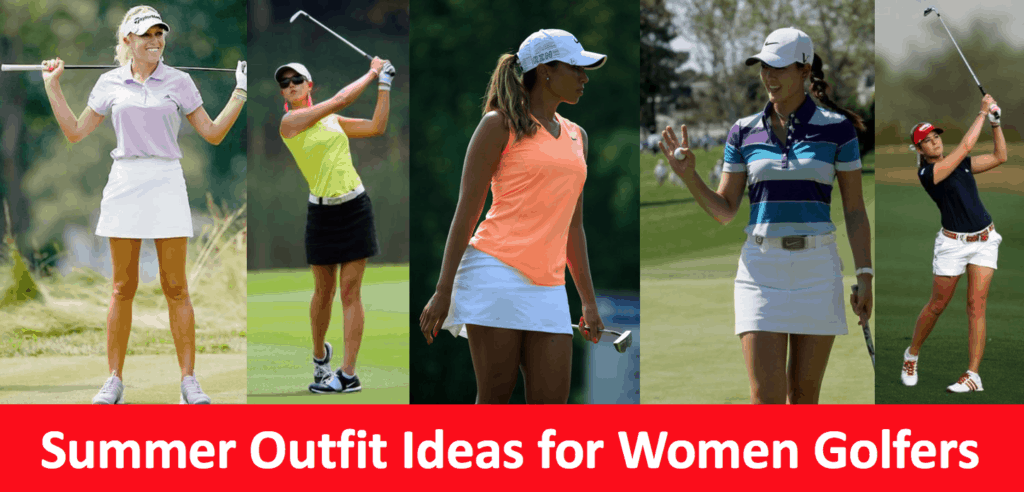 Summer can be a great time to show off your favorite golf outfits, usually starring a simple polo and skirt/shorts combo.
When you look at the LPGA women, you'll notice this common trend.
Look at the picture above for some outfit ideas for the summer. They are simply combinations of different athletic polos, shirts or a skirt, hats or visors, belts, and golf shoes.
Golf fashion, as you can tell, is not difficult to replicate at all.
Here is a simple outfit idea that you can buy today for a very fair price from Amazon.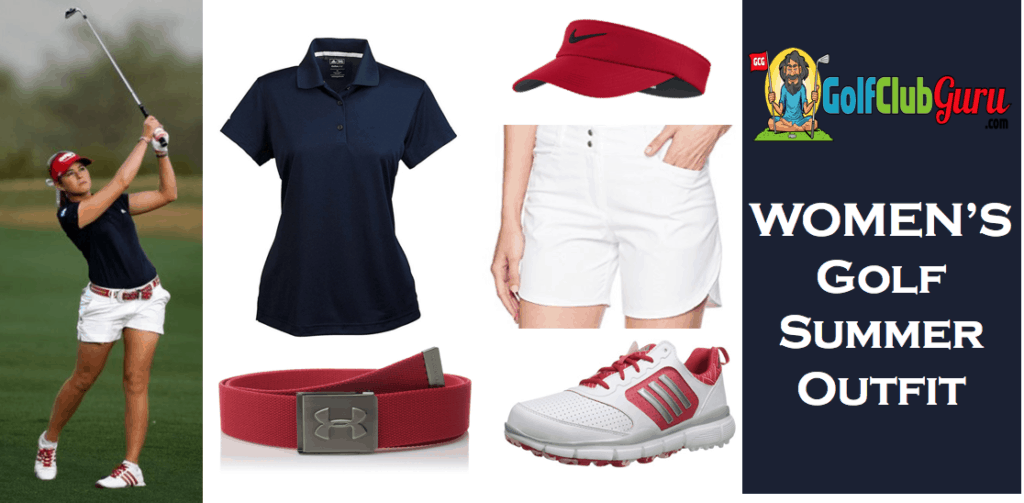 In this outfit by the always fashionable Paula Creamer, she is wearing a simple navy blue short sleeve polo. She pairs this with white shorts, a red visor and belt, and nice pair of adidas golf shoes. I think this is a simple, yet great looking outfit for the hot summer weather.
Winter Golf Outfit Ideas for Women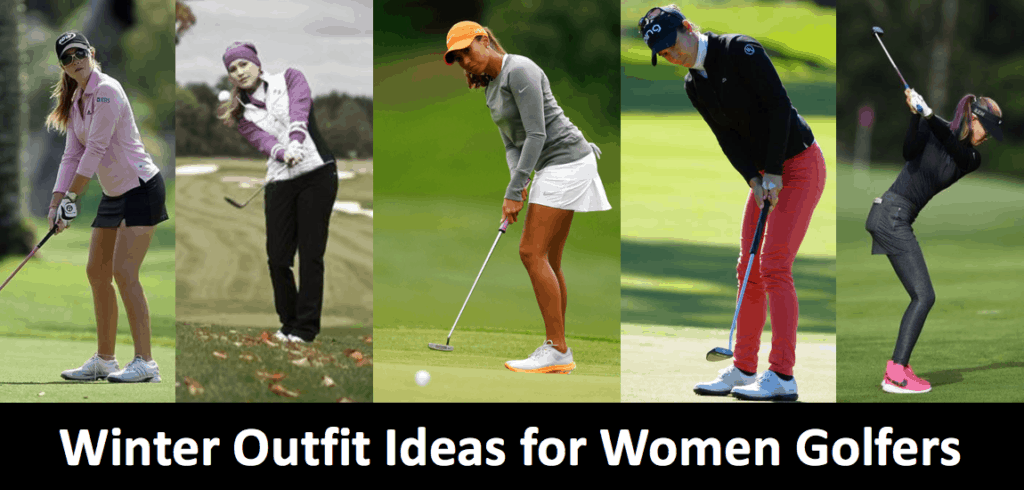 Cold weather golf is not easy. Luckily, dressing for it can be!
Although there are far more options as to what you can wear, most women find it easier to figure out what they prefer to wear to stay cold and still be able to swing a club easily.
If it is not too chilly, I'd recommend just wearing a long sleeve shirt or quarter zip jacket with your shorts or skirt. You can also wear some leggings under your shorts or skirt to keep your lower body warmer (see Michelle Wie above on the far right side). If that is not your style, simply wear a nice pair of pants and pair it with a belt to match your outfit.
If it's a little colder, you might want to look into a vest perfect for golf. Pair that with a couple magical heaters, as well as a thick pair of socks, and you should be good to go.
Below is a golf outfit that you can steal for a decent price.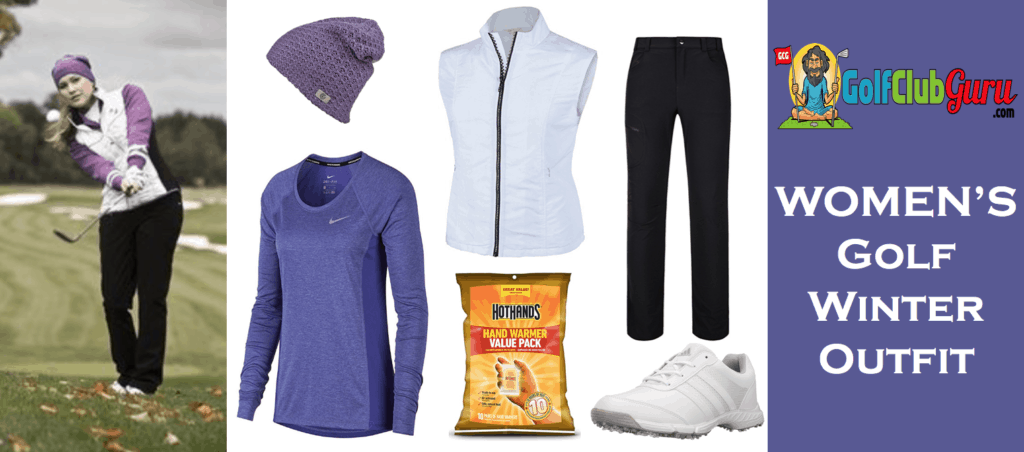 For extremely golf winter weather, I would suggest not playing at all… just kidding, we know you can't stay away from the course for long.
To push through the cold weather, try to stay as warm as possible! That means thick socks, hand warmers, ear warmers (if needed), a beanie, and as many layers as you can confidently swing in. I would start with a long sleeve dry fit polo, add a quarter zip jacket, and then a good golf vest if needed.
Make sure you invest in a good pair of golf pants that will keep your legs warm as well.
The Best Women's Golf Outfit Under $50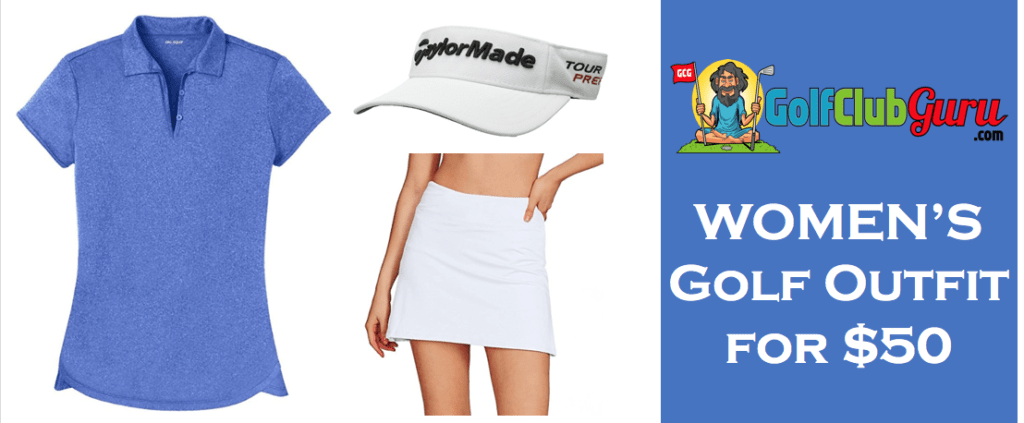 If you are looking for a outfit (top, bottom, and hat) for under $50, you'll have to skip out on the name brand and find a undervalued brand that produced to of the line quality clothing.
For under $50, I would recommend a lesser known brand Dry-Fit polo for the top. It should cost around $20, and I wouldn't spend much more than that so we can have $30 left for a skirt and hat.
For the skirt, simply get a silky skirt from another less known brand that produced clothing for all types of sports. Yet again, this should cost around $20, leaving us $10 for a hat/visor.
For the headwear, I would choose a simple TaylorMade or Nike golf visor, whichever one you can find for around $10 at your time of purchase.
All things considered, this is a simple yet cute outfit for around $50. You can then pair it with a $45-50 pair of adidas shoes for a total cost of $100 or less.
The Best Women's Golf Outfit Under $100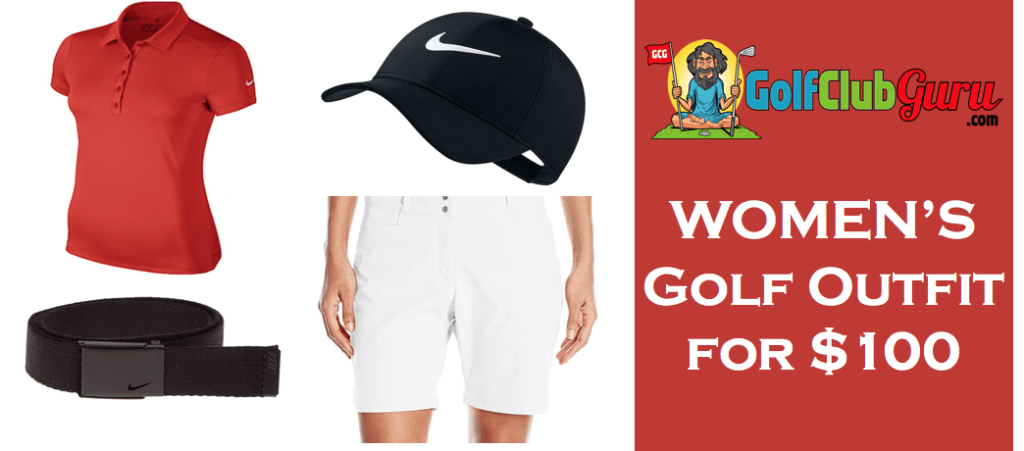 If you would prefer to have name brand clothing, no problem! You will spend a little more for it, but Nike offers great value for their golf apparel.
They offer a number of different polos. Each model is dry-fit, which feels much better than any cotton you would ever buy. Their best budget model is their dry victory ladies polo, which sells for around $40 on Amazon. It would be a great idea to get a bright colored shirt to match with either white/black bottoms.
For the bottoms, adidas comes out on top for budget golf shorts, coming it at about $40 as well. I'd recommend a pair of black or white (as pictured), as they will pair well with any color top.
Because we are pairing this outfit with shorts, we will need a belt. We can buy a web Nike golf belt in the color of your choice for around $1o each if you buy multiple, which you will need anyway.
Since we already have a visor in the $50 budget outfit, I would recommend getting a black or white solid hat by Nike this time. These two hats should be all you need to complete any ladies golf outfit. It should cost around $10-12 dollars, capping off the entire outfit at around $100. Throw in a nice pair of golf shoes and you've got a complete outfit for $200 or less.
While you are at it saving money on golf clothing, don't forget to save money on golf clubs as well for women.
I'm a little biased but I've got some great guides to helping ladies pick out golf equipment!