Golf shoes are more important than you might think. Every played a round in tennis shoes where your shoes have no traction? You'll end up sliding all over the place during your swing. Not exactly the most effective way to get the ball exactly where you want to hit it.
Not all women's golf shoes are made the same though! You'll have to find the one that fits your game and your course style the most. For example, someone that has a slow swing speed and tends to walk courses (as opposed to ride) might should consider a spikeless golf shoe. This will be more comfortable, and you won't slip around too much because you don't generate as much speed in your golf swing.
On the other hand, if you are a serious, competitive golfer that wants to make sure you keep your ground during your aggressive swing, definitely buy a pair of golf shoes with spikes so that you can stay down through your swing.
[Read about the best golf shoes for every golfer, my most popular post about golf shoes]
Four criteria for finding the best golf shoe:
1) Your swing speed: If you are a very aggressive golfer and use the ground for a lot of your power, you won't be able to last without golf shoes with some good traction in them. Will you give up some comfort? Sure, but not too much. Plus, if you are caught with a spikeless golf shoes, one wet and slippery golf course and you will be done for. However, if you have a slower swing for a women and just want to look and feel good while playing, then I would encourage you to get a more comfortable golf shoe.
2) Walkers vs riders: If you tend to walk while you play, you might find yourself more comfortable in a spikeless shoe with a little more support for your feet. If you tend to ride while you play, you won't notice as much of a difference because you won't be on your feet as much. Check out the most comfortable golf shoes on the market here.
3) Budget: Lastly, you'll need to find a pair of golf shoes that meets your budget. Sure, you can get the best of the best ladies golf shoes on the market. Or, you could get a pair for around $60, and use your savings to invest in some golf lessons, better golf clubs, more range balls, or more rounds to play at your course.
4) Appearance: I don't care how spectacular the golf shoe is. If it is ugly in your eyes, you won't get it. A good rule of thumb is to find the style golf shoe you want, and then find your favorite color variety that will fit the majority of your golf outfits!
————————————————-
Without further adieu, here are the best ladies golf shoes you can buy! I've split the article up to try to make it easier for you to find the one best suited for you.
If you would rather skip this altogether, as you might be more focused on style and don't care as much about everything else, I would recommend you follow this link to find the best variety of women's golf shoes at the best prices.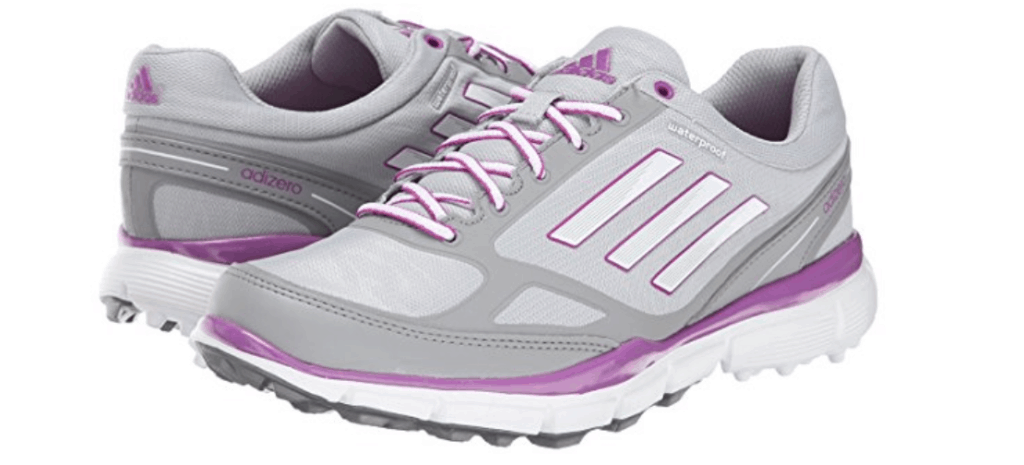 For those that take golf very seriously, have played for a long time, and have developed a higher speed swing, you are going to want some traction on the bottom of your shoes. You could get a pair that has spikes in them, but odds are you don't swing hard enough for them to be worth it. I would encourage you to get a pair that has good traction on the bottom of the shoe, though!
For that reason, I would recommend the Adidas Women's W Adizero III Golf Shoes for you. Available in some great designs (the purple pair is my favorite), you are sure to find one that matches your wardrobe. 
These shoes will allow to you generate great club head speed, yet still stay planted throughout the swing and keep your balance.

If you are looking for a great golf shoe on a budget, this is the one for you. For often times less than $50, you can pick up this great pair of New Balance shoes. These shoes are a little more comfortable as the Adidas ones above, but they aren't available in as many colors. My favorite is the blue pair, but I am not a fan of the other selections.
None the less, for spending less than a $50 bill, you can't ask for a whole lot more. New Balance golf shoes have come a long way in the past few years, so I am very pleased to give them a spot as one of the better golf shoes for your (hard earned) money.
Best BOA / Laceless Women's Golf Shoes
BOA golf shoes are slowly taking a large chunk of the market share, and for good reason! They are so much easier and more practical than laced golf shoes. They also look a lot better in my opinion, as they are so much more sleek. Some women find they just can't get used to the appearance though.
If you are a fan, however, there are some great options of BOA shoes. I'll list the best overall BOA shoes and the best on a budget BOA shoes for women below.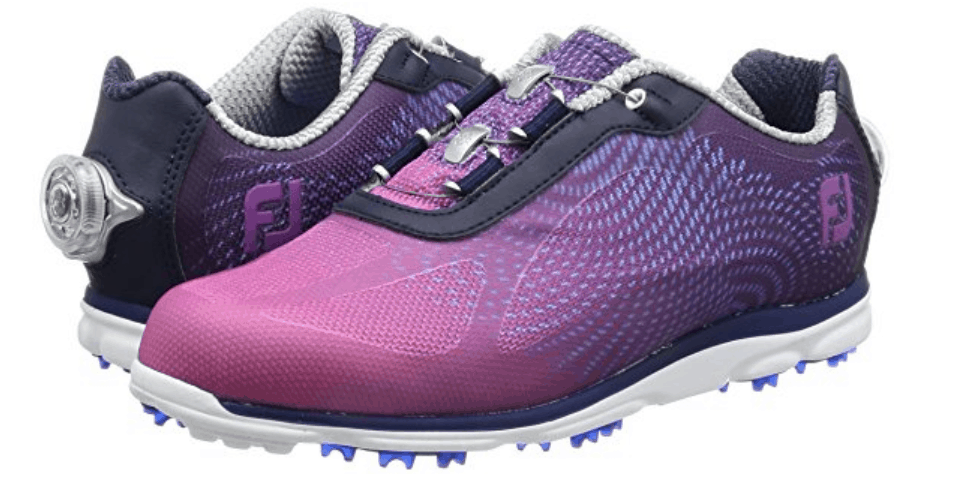 To put it simply: you can't go wrong with FootJoy golf shoes. They are typically seen as the "best" golf shoes on the market, and for good reason. Their customer service is incredible. Their quality is incredible.
You can rest assured that these Footjoy emPower BOA shoes will last a long time. If seen as an investment, I'd call this a pretty good one on your part. If you are looking to spend less than $10o, though, you'll have to look elsewhere (below, actually…that's where you should look). 
Personally, I absolutely love the design on these. However, FootJoy has also made a lot of different varieties of BOA golf shoes. So, if you are not a fan of these shown, I'd advise you to click the link in the picture for a wider selection of options of FootJoy BOA ladies' golf shoes.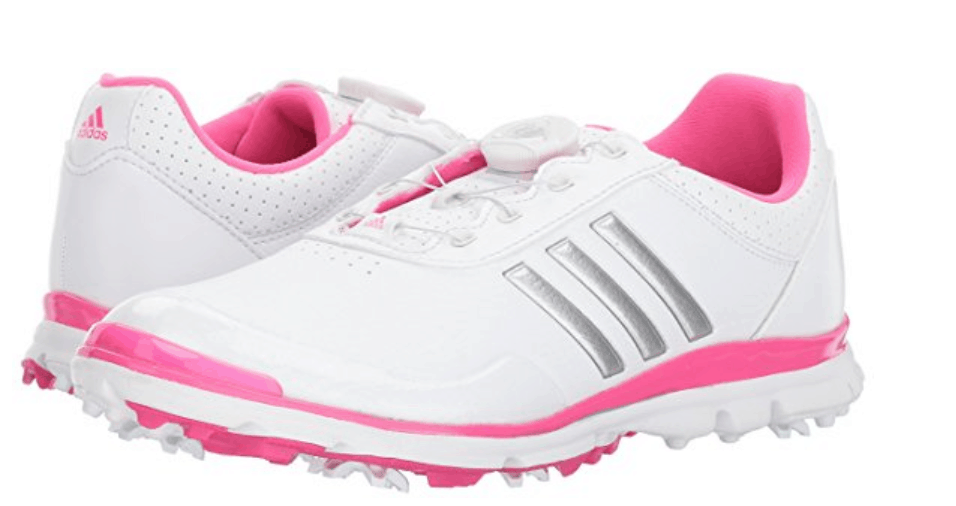 For those that would rather spend much less than $100 on a pair of shoes, these Adidas W Adistar Lite BOA shoes are a much better option. It's a great shoe with a great mix of tractions and comfort. It is a very light shoe, perfect for those that love to walk courses when they play. Available in three different color schemes, my personal favorite is the white and pink model.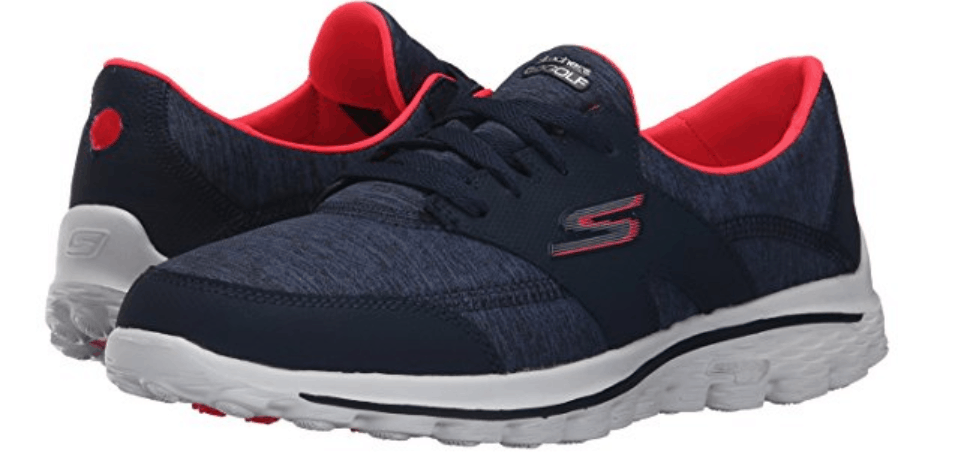 If your main priority is finding a shoe that is as comfortable as possible, you've come to the right spot. To warn you, you will be giving up traction. However, if you don't swing too hard to begin with, wearing a spikeless golf shoe will not be a problem.
The most comfortable women's golf shoe on the market is the Sketcher's Go Walk shoes. They offer the most support and are super light weight. They are available in tons of different colors, so you should find one that fits your eye pretty easily. My favorite pair is the navy and pink pair shown above.
If you suffer from foot pain after playing golf, this shoe is 100% for you. The insole has had incredible reviews, often leading to women golfers feeling the best they have ever felt after a round.
—–
Have any questions about how to find the best golf shoes for you? Please leave a comment below. I would love to help you out!