You might feel useless off the tee with a driver in hand. Hitting slice after slice can be frustrating and embarrassing. (Quick tip: strengthen your grip, take the club more outside on the backswing, and swing more to right field on the downswing).
But, there IS something that you can do. There are some drivers that are built specifically to fix one of the causes of a slice: an open clubface at impact. The other cause (an out to in swing path AKA over the top move) must be cured by making swing changes. To cure the open clubface at impact, we need to have a club that encourages the face to close easily. How do you do that? Two ways:
You adjust the club to be closed at address. This way, with everything else staying constant, you can attack the ball with a square club face. This is a quick fix and I wouldn't suggest it.
You use a driver that has more weight on the heel than the toe. Why is that? Well, if there is too much weight on the toe end of the driver, that means it requires more force (hand and wrist action) to close the clubface and hit the ball square. This is a better option. 
The two reasons above are a large part of why club manufactures started making adjustable clubs, so they can change the face angle and the weighting.
So now we know that, for a club to be optimized to cure slices, we need adjustability and heel weighting. Below I have picked out 5 drivers that will surely help cure the slice and encourage you to hit high, soft draws like you have always wanted!
Note: if you were to click on any links/pictures below, you will end up on eBay listings for the respective drivers.
To begin with, your very best option is the…
Overall Best Driver for Slicers: TaylorMade M1

If you never want to hit a slice again, my best suggestion would be to buy a TaylorMade M1 driver. The T-Track Adjustability System (one moving vertical weight and 1 moving horizontal weight) allows you to move the 15 grams of weight closer to the heel to encourage the club face to turn over and be square at impact.
Next, the M1 provides 12 different loft sleeve adjustments for loft (plus or minus 2 degrees), lie, or face angle. Face angle and lie go hand in hand by the way. A more upright lie with result in a closed face angle. So, make sure you make the adjustments necessary (see the adjustment book when you purchase the club) to get an upright lie and closed face angle.
The combination of the 15g weight near the heel and the closed clubface should get you well on your way to curing that dreaded slice!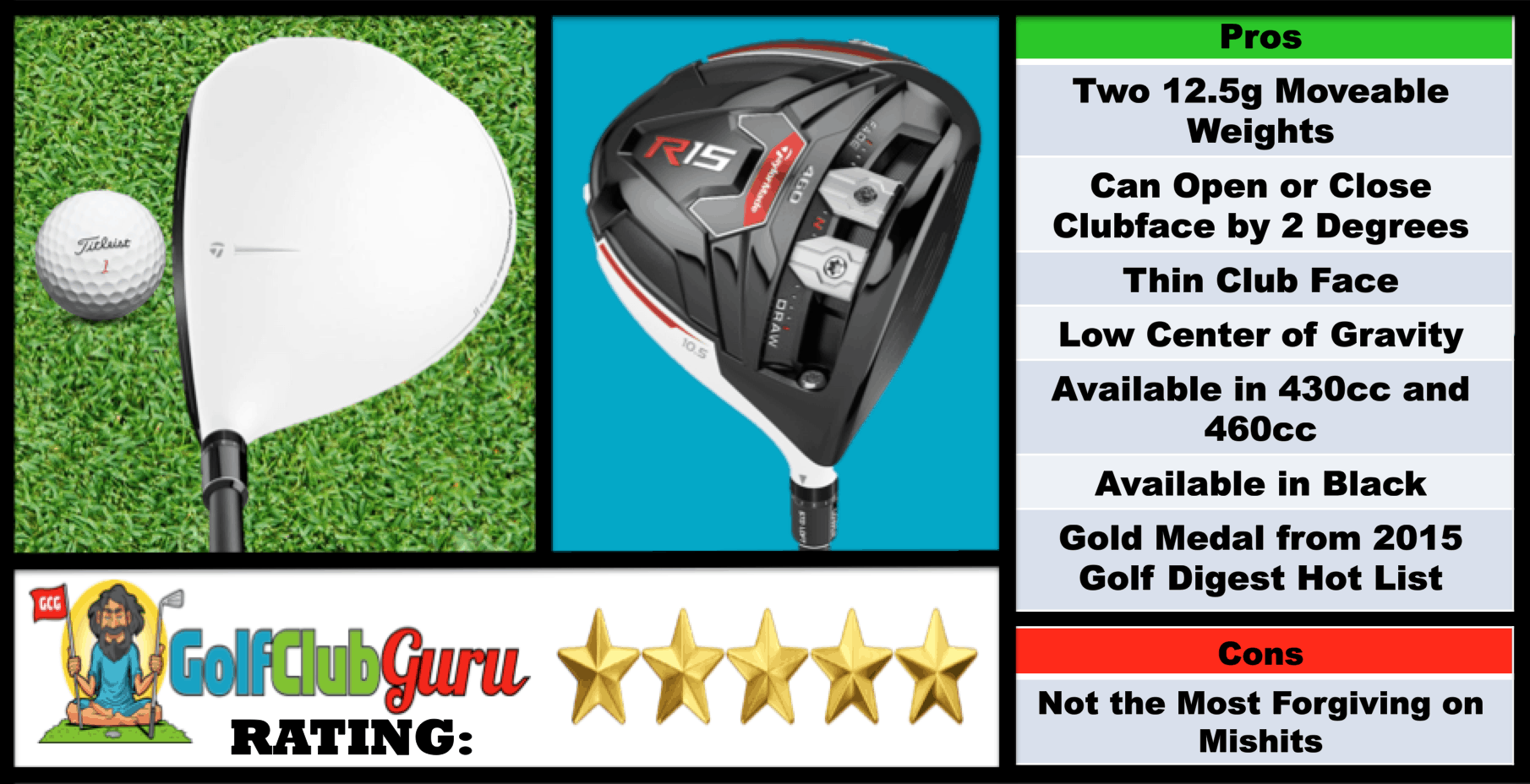 If you are looking for the best value club (AKA the best bang for your buck), then the TaylorMade R15 driver is going to be hard to beat. It features 2 12.5 Moveable weights that you can move towards the heel, just like the M1 above. You can also open or close the clubface by 2 degrees.
Besides adjustability, the R15 is an extremely long driver. The thin club face leads to a bigger recoil at impact and therefore more distance. It also has a very low center of gravity, leading to higher ball flights and more carry distance on average.
The thing that makes the M1 better, however, is that this driver is slightly less forgiving. Mishits seemed to be a little spinny and didn't go as far as I would have imagined. Other than that, they are nearly identical drivers, as the movable weight for higher and lower ball flights on the M1 doesn't have a huge effect in reality.

If you are not wanting to shell out much money to improve your slice, the TaylorMade SLDR is the driver to pull the trigger on. It has been featured many times on this website, as it truly is an incredible club that sells for low prices.
As someone who slices, you probably haven't been playing the game for too long (or maybe you have just been dreading the much needed swing change!). If that is the case, I would never suggest spending even close to $500 for a brand new, top of the line driver. With that being said, you can buy the SLDR driver, which made a HUGE impact on the golf industry upon its release, for under $100.
So what makes the SLDR a great driver for slicers?
It has got a 20 gram movable weight that you can push to the heel to facilitate a square face at impact.
It has 21 different hosel adjustments so that you can find the perfect one that leads a more closed clubface.
The sweet spot is very large. Mishits still fly pretty straight.
Lofts on the SLDR are much higher than usual (While you might normally play a 10 degree driver, it wouldn't be unusual to play a 12 degree SLDR driver.) This is because they moved the COG low and forward. Higher lofted clubs are easier to hit draws with, so this is a benefit for you!

The Callaway Great Big Bertha driver has a very desirable mix: it has a great design paired with easy adjustability. The 10.5 sliding weight in the sole of the driver can be placed very close to the hosel, making the toe of the club feel lighter and therefore easier to turn over during the swing.
The loft sleeve also allows you to change loft, lie, and face angle to further get rid of your slicing habit. Besides the benefits from a strictly ball flight standpoint, this driver has a very low COG and a great sound at impact, like nearly every recent Callaway driver. These characteristics make this a great driver for a beginner. It didn't earn a gold medal from Golf Digest for nothing!
Best for Penetrating Ball Flights: Ping G30 SF Tec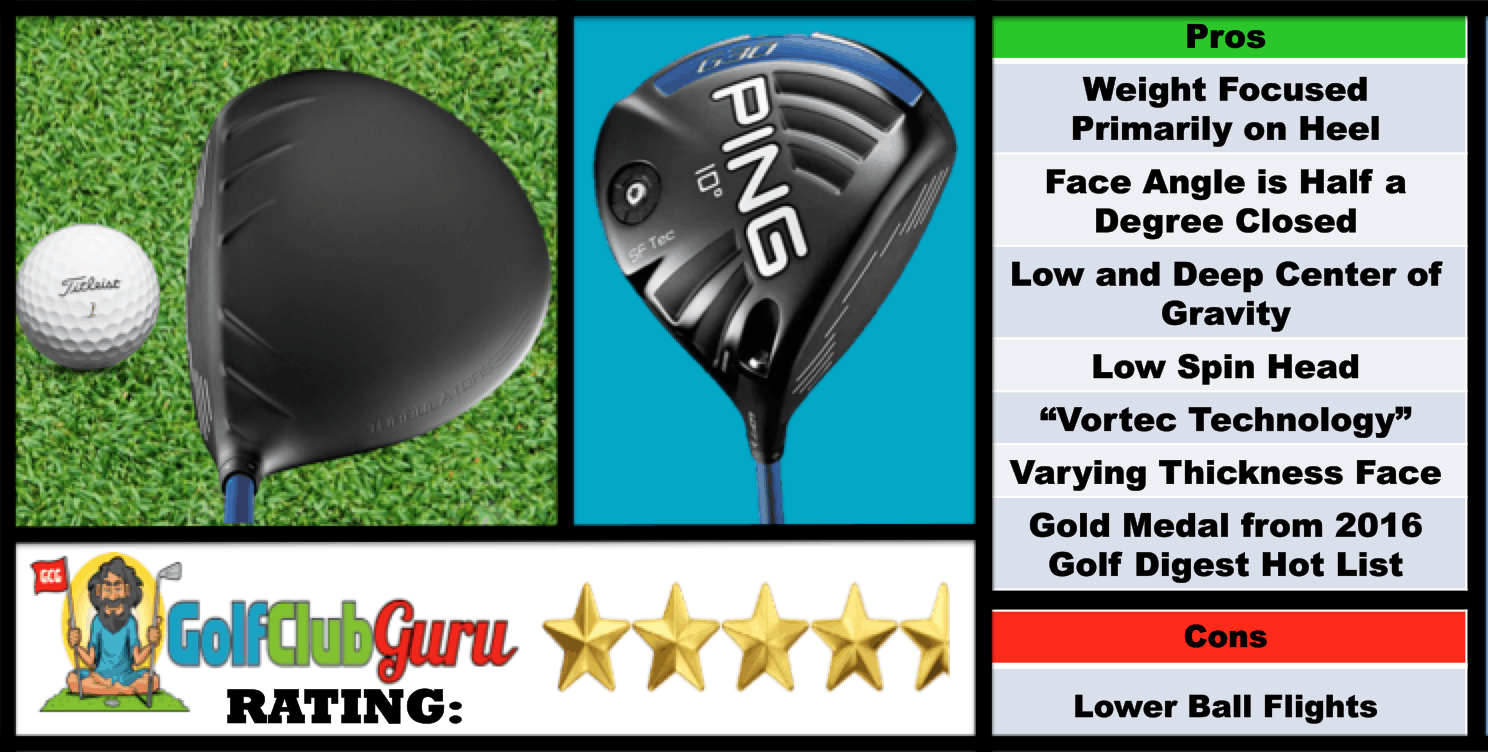 If you play in a lot of windy conditions, or if you simply want to bring down your ballflight to a more penetrating one, I would recommend the Ping G30 SF Tec (stands for Straight Flight).
For a slicer, this club offers many obvious benefits. To begin with, the face angle is half a degree closed. That's half a degree that you no longer have to worry about in the golf swing. Secondly, the weight is primarily placed in the heel of the club, as you can see in the picture above. That combination alone should be enough to make an impact on your drives.
As added benefits, the Ping G30 SF Tec has a low spin head, which leads to balls that don't carry as far, but they roll forever. Innovation-wise, the Vortec Technology and the Varying Thickness Face are two technologies that improve the consistency and distance of your drives.
If you reached this far, I want to thank you for reading. If you have any questions, please comment below!
Save