I won't even lie to you. This is one of the best article ideas that I have ever had. It encaptures everything that I'm trying to do: make golf more affordable, make golf more fun, and help others with their game.
I hope this article saves you money! If it does, please support this website by making a purchase at the best online golf club website!
The Training Aid: Orange Driveway Marker Rod
First, let's get into what the "training aid" is. I put those in quotes because it's actually not a training aid. It's a driveway marker. Yep, that orange rod that you see in many bags is not really an "alignment rod". It's a driveway marker. You know… to mark your driveway, I guess.
Sure, you can spend $20+ to buy products marketed as "golf alignment rods", but you are just throwing your money away. Get your butt up and drive to a home improvement store. Home Depot has them available for just $2.28 right now. Grab 2 of them. You only really need one for this drill, but you can use the second one as an alignment rod.
The Drill: Over & Under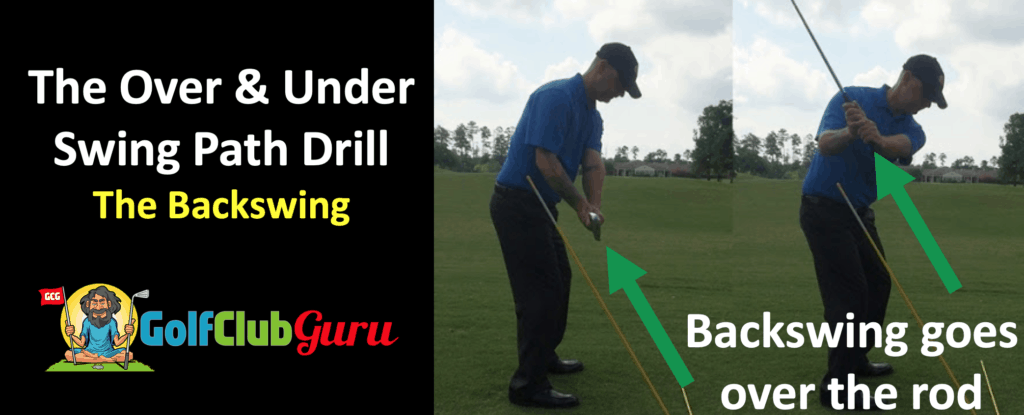 I just made up the name of this drill. I call it the "Over & Under" drill. (Edit: I just looked it up, and it looks like other people call it this, too. Not surprised.)
You place a rod in the ground behind you that is parallel to your golf shaft at address. Your backswing goes over the rod, allowing you to make room for a in-to-out downswing. Your downswing goes under the rod, allowing you to drop the club into the slot. Easy peasy, lemon squeezey.
This drill is great for so many reasons. I'll list them off now:
It helps golfers that have an inside takeaway. An inside takeaway typically leads to feeling "stuck" at the top of the swing. The only way to hit the ball? By coming over the top. This obviously results in a big ole banana slice (or a big pull to the left). It's important to keep the club head even with or even a little outside of the hands (when the club is parallel to the ground in the backswing) when looking down the line. This creates room for you to drop your hands at the top of the backswing and hit the ball from the inside.
It helps golfers that try to "HIT" the ball right at the top of the backswing. Many golfers have a bad habit of trying to HIT the golf ball as quickly as possible. Going over the top is the quickest way to the golf ball, which can lead to a huge slice and deep divots. This drill, however, requires you to drop your hands into the slot at the start of the downswing, as opposed to over the top towards the ball.
This drill can be used to actually hit golf balls. Golf drills are great (as long as they are actually helping solve your swing flaws). However, golf drills that don't involve actually hitting a ball can be difficult to transfer to the course. I really like this drill, because I can hit actual shots on the range.
It's so easy to transport, easy to use, and you can always keep it in the bag. Some golf training aids are too bulky or difficult to use. Using them is a huge hassel, and therefore you typically stop using it after one attempt. You can use this drill before EVERY ROUND if you wanted to. It's always in your bag, it doubles as an alignment rod (more on that later), and it takes 10 seconds to setup.
It integrates the ONLY way to make a swing change: exaggeration. Everyone has a "natural" golf swing that they use when they are not thinking about anything. If you want to make a swing change, you have to REALLY exaggerate the move to make it eventually feel like second nature. Most golfers have a natural tendency to whip the club inside in the takeaway and come over the top of the golf ball on the downswing. Well, you need to practice doing the OPPOSITE! If you are a slicer now, and if you use this drill everyday for a week, I can GUARANTEE your swing will be in-to-out without even thinking about it when you get back to the course.
This Drill Will…

This drill will prevent you from whipping the club too far to the inside during the takeaway.
This drill will allow you to create room to drop your hands at the top of the backswing.
This drill will encourage you to drop your hands and the club into the slot during the beginning of the downswing.
This drill will encourage you to stop coming over the top.
This drill will encourage you to start hitting the ball from the inside. This would be an in-to-out swing.
This drill will lead to you hitting more draws, and less slices.
Five Warnings
There are five things that I want everyone to know before they do this drill.
It WILL feel weird. Your natural swing feels right. Guess what? Feel isn't real. Your swing is over the top. You have to swing in the opposite direction with this drill, so YES it is going to feel weird. Stick with it.
You CAN overdue it. If you do this drill enough, or if you do it too severely (too much inside to out motion), you WILL start hitting duck hooks and pushes. But I think that goes to show you just how well this drill works. Once you start hitting hooks, you can simply start "trying" to hit fades, which will likely result in a great swing path.
You may find that your swing feels "armsy" or "arm-dominant" after a while. You may feel that your arms disconnect from your body in the takeaway. Remember: this is just an exaggeration – it's not meant to be a permanent swing. You may also feel disconnected at the beginning of the downswing. You can make sure that this doesn't become a problem by making sure to make a full shoulder turn in the backswing and to really rotate your entire body through the ball at impact.
If you hit the stick on the downswing, it will be loud and embarrassing. The rod will actually come out of the ground and fly through the air. It's the fear of doing this that helps you make sure to avoid the rod in the downswing, and thus engrain the in-to-out swing path.
If you have one, consult with your PGA professional before you do this drill. I don't want to mess with whatever they are trying to work on with your swing.