As a beginner, forget adjustable drivers. Forget drivers that have sweet spots the size of a dime. Forget drivers that are great for those that love working the ball left and right. Why make the game harder than it already is?
As a beginner, you should play to your advantages. Pick a driver that has a large sweet spot and is very forgiving on mishits. That way, hitting it an inch from the sweet spot will result in a shot in the rough, not out of bounds.
Pick a driver that is not adjustable, so that instead of tinkering with the settings and changing it to "draw" when you keep hitting slices, you can work on your swing instead.
If you are a beginner, pick one of these 4 drivers and you can't go wrong. They have simple designs, large sweet spots, low spin heads, deep centers of gravity, and some are already draw biased, so you can start hitting those sweet, high draws like you've always wanted.
Want to read more? Read one of my two favorite articles, the easiest, most forgiving drivers and the best drivers under $100.
1) Best Driver for Beginners and Slicers: Ping G SF Tec

Most beginners have the problem of an open club face at impact, especially with driver. This is one reason why many beginners slice the ball, as the club face at impact is open to its path. Well, the Ping G SF Tec Driver has weight in the heel of the club, which makes it easier for the face to turn over (shut). So, as long as you work on your club path, this driver would do a great job of fixing the open club face. I personally am a big fan of this driver, as it requires less timing of closing the club face through impact. It makes me feel like I can swing as hard as I would like (which would typically result in an open club face) without leaving the club face wide open and hitting a big push/cut.
Hands down the best driver for beginners in 2016, let's talk about some of the other benefits of this club:
Low and Deep Center of Gravity: When Club manufacturers realized that putting the weight low and deep (far from the club face) led to higher, longer driver, it has become standard for drivers to have this characteristic. And, it works!
Face Angle is Already Half a Degree Closed: Well, that makes the open club face at impact problem a lot less common. Now the golf swing requires much less timing and releasing of the hands at impact, and I think we can all use some more of that consistency in our games!
Vortec Technology: The turbulators reduces drag (by 37% according to their website) during the downswing for increased club head speeds and stability throughout the swing to improve both distance and forgiveness (the ultimate combination!)
Dragonfly Technology: You see that… strange design on the crown? Well that is the engineering (inspired by a scientific approach called biomimicry) that saves 8 grams that is then moved to the back/bottom of the club for a lower and deeper center of gravity and therefore longer, higher drives.
Extreme MOI Design: Like I mentioned in the last bullet point, moving the weight to the perimeter of the club results in a high MOI (moment of inertia), which is a fancy way of saying that it makes the club much more stable and consistent.
This driver is perfect for someone that is tired of hitting slices or pushes to the right, as long as the crown design doesn't put you off.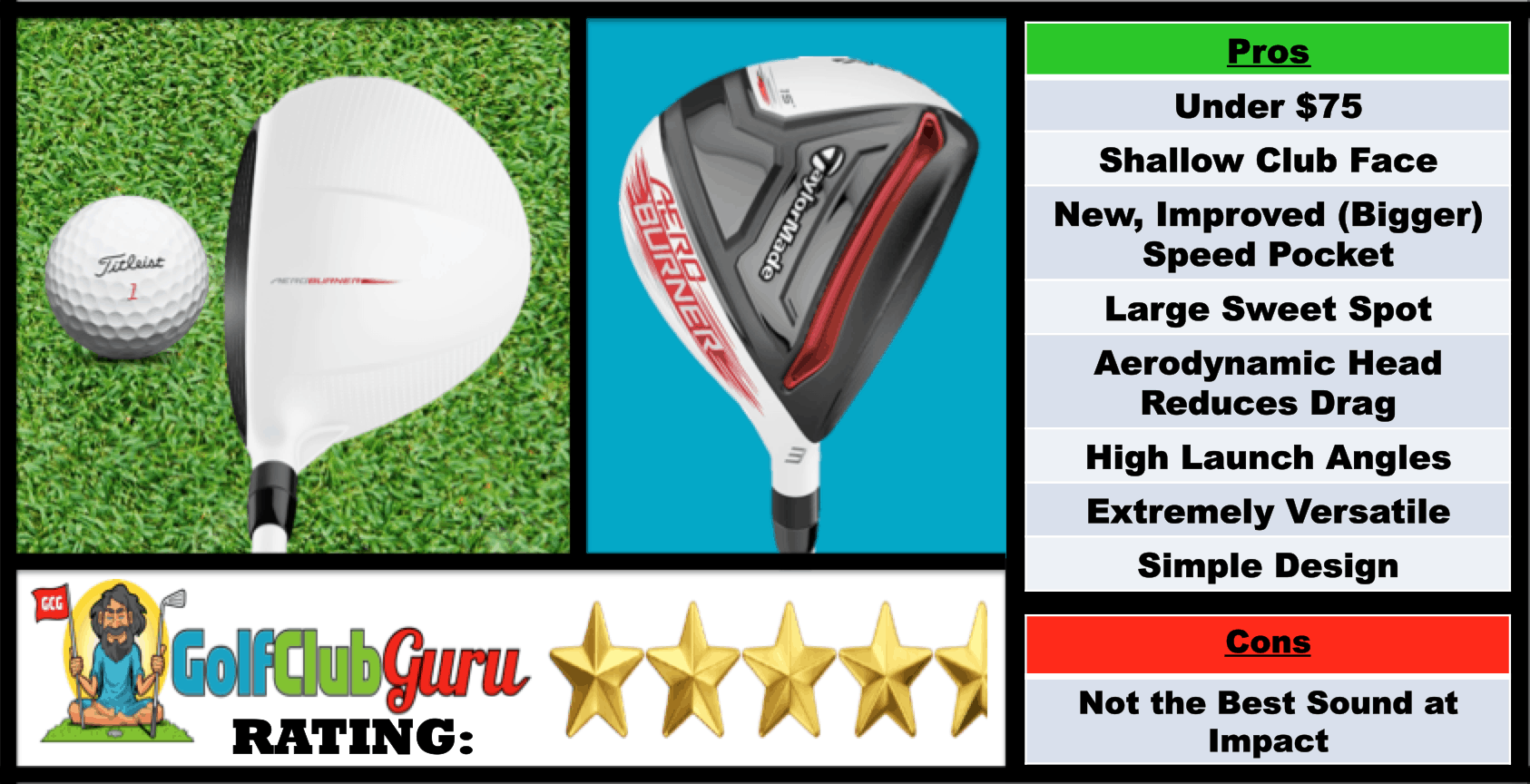 You better believe that TaylorMade made this list, and not just once either. They have come out with numerous incredible drivers in the best few years, and the TaylorMade AeroBurner is no exception. A very simple, yet professional looking design is perfect for beginners, who don't need all the adjustability like the TaylorMade M1 or R15. The sweet spot on this club is very large, making it one of the most forgiving drivers released this year. Balls hit away from the sweet spot still fly far and relatively straight, perfect for beginners who often struggle due to a lack of consistency. If you can get over the high pitched sound at impact (think "dink!"), then this driver is perfect for you!
Let's talk a little bit more about the features of this driver!
Speed Pocket: The patented technology from TaylorMade is the longest open channel speed pocket ever made by the company, which they say increases ball speed at impact due to a trampoline like affect, leading to more driving carry distance as well.
Extremely Aerodynamic Design: There are a couple aspects of this driver that make it aerodynamic. First, the  raised center crown keeps airflow attached longer and reduces drag during the downswing. Next, the Aero Hosel design also reduced drag and leads to increase club head speeds. The last aspect of the aerodynamic design is the rounder toe, which TM says will reduce drag as well and increase club head speeds. Remember, every additional 1 mph of club head speed typically leads to about 3 additional yards on your drives.
This driver is perfect for a beginner in 2020 that wants a simple, non adjustable design that delivers long drives even on mishits.
3) Most Forgiving Driver for Beginners: Callaway XR16

The longest Callaway driver I have ever hit, the Callaway XR16, was a much needed release. Callaway hadn't come out with a driver in a while that really caught fire, but this one stopped that trend. Although not extremely adjustable, I would say it is still more than necessary for beginners, as you can adjust face angle and lie. Who knows though, maybe you will make good use of it one day. However, I and many other golfers have noted that they noticed more spinny shots with this driver at times, leading to some ballooning in the air.
Here are some of the benefits of the Callaway XR 16:
R•MOTO Face Technology: This new face, which you have probably heard from earlier Callaway models, is up to 19% thinner than previous generations. A thinner face leads to a more trampoline like effect during impact, exploding the ball off the face at faster speeds.
Extreme Forgiveness: The club head was made much larger than previous models, and the center of gravity is much lower and deeper. As a result, mishits still go pretty far and straight, no matter where they were hit on the face. As beginners, this is a great benefit, as contact on the face can vary greatly.
Boeing Engineered Aerodynamics: The Aerodynamics experts at Boeing made a very low drag club head by strategically placing the redesigned Speed Step on the crown of the driver. Less drag = more distance, and all beginners would love some extra yards.
This club is perfect for: a golfer that feels confident that they have a good angle of attack on drives (AKA hit up on the ball, not down) and wants an increase in distance.
4) Another Great All Around Option: TaylorMade M2

The second driver from TaylorMade on this list, the TaylorMade M2 is arguably the best overall driver of the year. Many pros absolutely fell in love with the club, and everyone else can see why. The reason that this club is not higher on the list is that it is the most recent release from TM, and I struggle to see why beginners would shell out so much money early into their hobbies.
You never know if you decide golf isn't meant for you, and your golf club investments would be a waste then. Plus, technology honestly hasn't improved significantly the last couple of years, so I would definitely suggest getting a club a few years old (and therefore $100-200 cheaper) as a beginner to start out with. However, I know some of you truly want the best of the best, with money not being an option. For those of you people out there… I envy you. In all seriousness though, you won't be let down with the M2. It's not very adjustable (face, lie angle, and loft only), and the sweet spot is pretty huge, a great combination for beginners.
This driver is perfect for: someone that wants the absolute best of the best that isn't afraid of dropping $400 plus for a driver to get some extra yards and consistency.
Save