Rangefinders are key if you are trying to shoot lower scores and enjoy the game more. You don't have the time or expertise that pros do to find the exact yardage by measuring steps or using pin sheets.
Problem is, you don't want to get a crappy rangefinder that breaks after a few uses or can't find the flag pins very well and get you the correct yardages. I've used a variety of different rangefinders throughout the years and will tell you the general consensus on a few of the most common models.
To begin with, you should learn what all you need from a rangefinder so that you don't spend more than you need to. If you are a golfer that is looking to compete, you also need to make sure you are getting one that is conforming to competitive golf tournaments.
Here's what I generally recommend:
Get one that is from a well known company (Bushnell, Nikon, & Leupold) that has good customer support
Don't get one that has a slope feature (finding out how long the shot plays on a hill or in a valley) unless you think it is worth it and never plan to compete
Buy a model that has good reviews and doesn't cost as much as a brand new driver.
To make this easier for you, I'll pick the best model for a few different types of golfers with varying budgets. Hopefully this article helps you select which rangefinder is best for you. If it did, let me know which one you went with in the comments below!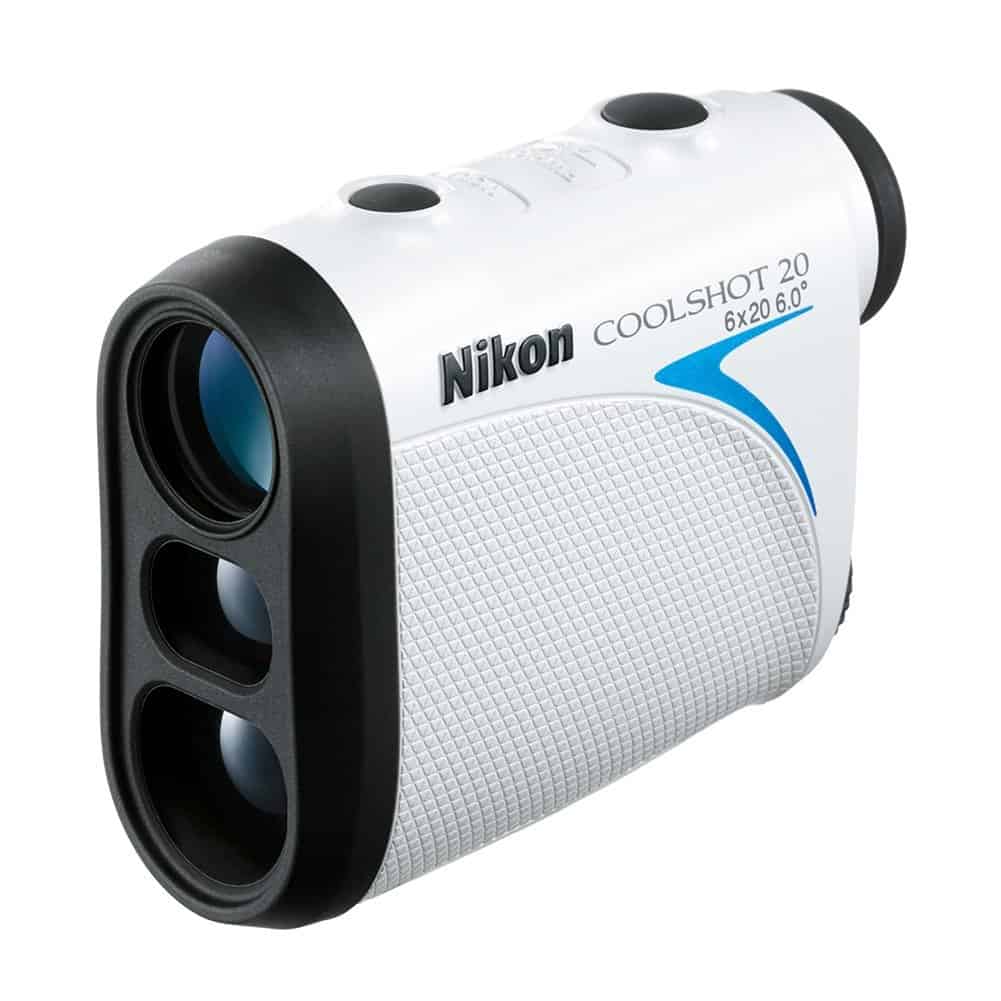 This model rangefinder is by far the best budget one on the market. For around two hundred dollars, you can get a rangefinder that will last you a long time and provide consistent results. The Nikon CoolShot 20 is the lightest and most compact rangefinder that I have ever used, and it has lasted me three years so far.
To use it, you simply aim it at your target and press down a single button. For 8 seconds, it will give you the distance (up to 550 yards) to the target. Other rangefinders will lock in on a (sometimes incorrect) object for a while, making it take more time than it should to find the distance you are looking for.
Another huge benefit is that it is water proof. A little water doesn't typically stop golfers, so you need one that will hold up in any weather.
Features that actually mater:
Moderately priced
Most compact model of the Nikon rangefinders – no need to carry around a brick
6x zoom in design using Nikon's legendary optics – easy to see your target
Clear bright images in any condition
"Long eye relief design" to make it easier for those that typically see with glasses
Continues to work in any extreme hot or cold weather
It is accurate to the nearest yard within 100 yards accurate to plus or minus 2 yards from over 100 yards
Can be used anywhere inside 550 yards
One push of a button –> 8 seconds of continuous yardages
"First Target Priority" technology finds the closest object to make sure its easy to use
Uses (and includes) CR2 Lithium Batteries to ensure its long lasting
Shuts off after 8 seconds of no use (can turn on again with just the press of a button) to save power
All-weather reliability
Approved by the USGA for tournament usage
Manufacturer's warranty or 2-Years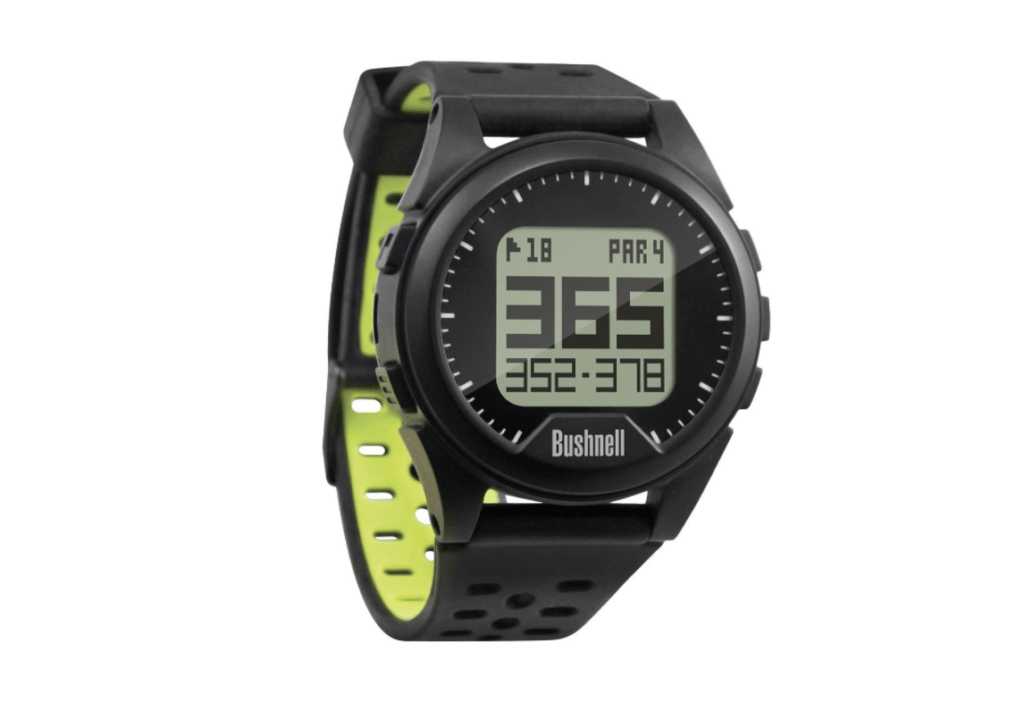 There are a couple of really good watch rangefinders on the market. I'll agree that they can be super convenient. By using a watch, you will take out or at least lessen  the possibility of losing your rangefinder, forgetting it in your car, or having it stolen.
Pre-wired with over 35,000 courses, the odds are that the courses you play will be on there. I got the chance to test the Bushnell NEO ION out myself, and I've gotta say that it was a convenient.
The one downside is that, while over the ball about to hit, I couldn't stop thinking about the distance as opposed to being loose and letting my swing do the job. For some people, this might be a good thing though! It will require you to be sure you are making a swing to hit the ball the exact distance that you want.
With a battery life of around 16 hours, and a recharge time of about two and a half hours, it will definitely last you a few rounds without having to recharge it.
You might be wondering how it works. A little suspicious? I was too. Basically, it used GPS system to get the near-exact distance between you and many different areas of the course. A hug benefit is that it will provide the distance to an optimal layup position on holes that require it. The downside is that it won't be able to get you the exact distance to the hole, just to the center/front/back of the green.
However, for those just looking to hit it close, this will 100% suffice!!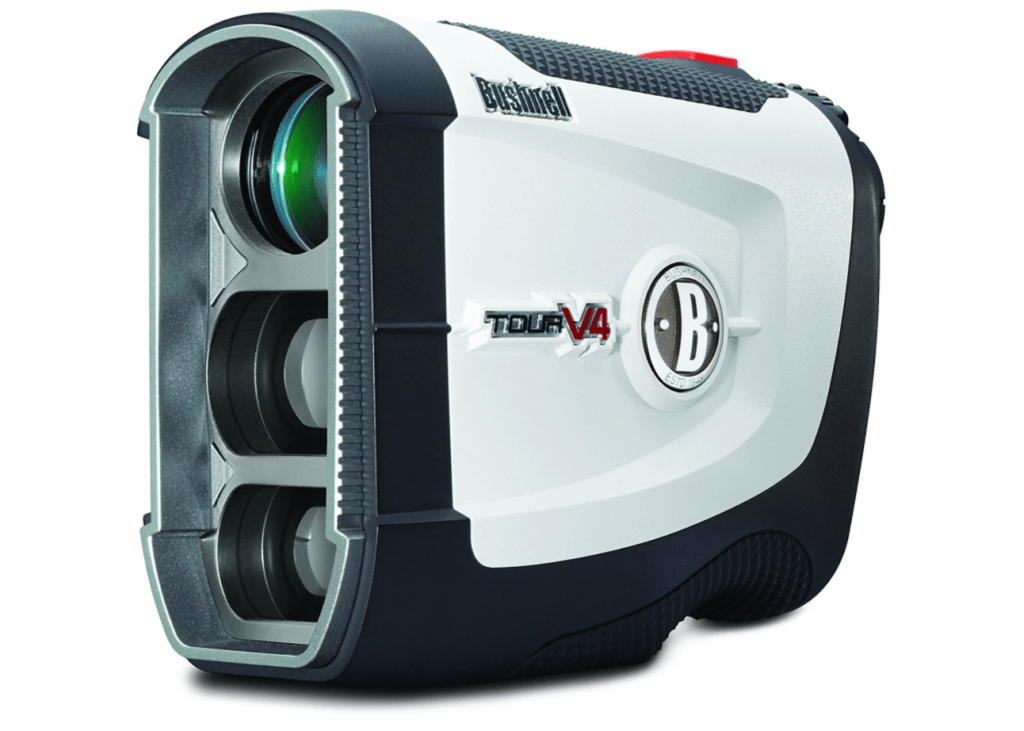 There is no question about it: if you want to the greatest rangefinder on the market, this is your pick. What sets it apart? To begin with, it JOLTS as soon as it hits the flag. I couldn't help but smile the first time it jolted when I used my friend's. If I had the money (poor college student now), I'd buy a Bushnell V4 Jolt for sure.
I can't tell you the number of times that I have thought I locked onto the flag, hit a shot exactly how I wanted to, then realized that I actually shot the hill 10 yards behind the hole. That could result in a bogey (my short game isn't perfect!) instead of a birdie like I felt like I deserved. Do that a couple of times throughout a tournament and it will for sure be the difference between first and fourth.
It's not just the jolt that sets it apart though. It has been proven to provide extremely precise yardages, even long range. So if there is a difference between you hitting a ball to a target 198 yards away and 202 yards away, don't cheap out on a rangefinder that may make this mistake.
Make the investment. It will last you a long, long time. The Bushnell brand is the best rangefinder brand in golf, in my opinion.
If you want the slope function, the Bushnell V4 Slope Edition is the one for you. It comes in handy for those that play on very hilly courses. For me personally though, I just think it's more fun to have to adapt and use your brain a little when necessary. Plus, I don't think it provides a huge benefit. A couple yards here and there won't make a big difference for a non-tournament golfer, which is the only person who should purchase this because many tournaments ban their usage.
To be perfectly honest with you, the majority of people that want a slope rangefinder are older gentlemen. It definitely helps some of them, but I think a big reason they buy it is to tell their friends the EXACT yardage to this uphill shot or this downhill shot.
Buy hey, now you know my opinion. I was never very good at selling things that I don't believe in, anyway. Hopefully that provides some value to you though, because I don't recommend crappy products.
—–
If you have any questions at all, I would be happy to help. Just leave a comment below. Thanks!