Rangefinders are key if you are trying to shoot lower scores and enjoy the game more. You don't have the time or expertise that pros do to find the exact yardage by measuring steps or using pin sheets.
Problem is, you don't want to get a crappy rangefinder that breaks after a few uses or can't find the flag pins very well and get you the correct yardages. I've used a variety of different rangefinders throughout the years and will tell you the general consensus on a few of the most common models.
To begin with, you should learn what all you need from a rangefinder so that you don't spend more than you need to. If you are a golfer that is looking to compete, you also need to make sure you are getting one that is conforming to competitive golf tournaments.
Here's what I generally recommend:
Get one that is from a well known company (Bushnell, Nikon, & Leupold) that has good customer support
Don't get one that has a slope feature (finding out how long the shot plays on a hill or in a valley) unless you think it is worth it and never plan to compete
Buy a model that has good reviews and doesn't cost as much as a brand new driver.
To make this easier for you, I'll pick the best model for a few different types of golfers with varying budgets. Hopefully this article helps you select which rangefinder is best for you. If it did, let me know which one you went with in the comments below!
Note: if you like this article, then consider reading my other related articles: the best rangefinders and GPS under $100 and the best VALUE golf gadgets. 
—
It's been a few years since I wrote the original post. I wanted to come back and talk about the new options out on the market. First of all, there are lots more brands now than there were 5 years or so ago. Secondly, there are lots of great options now that are well under the previous "minimum price" for good quality of $200.

Wait, are you telling me you can a get a good range finder for under $100?Surprisingly, yes. That couldn't have been said when I originally wrote this article many years back.
Gogogo (terrible name in my opinion) has become the "go-to" company for incredible value rangefinders. The Gogogo PRO-GS24 Golf Rangefinder is selling for a whopping $90 right now.
It comes with a hard case and a strap that you attach to your golf bag or take with you in the golf cart. The rangefinder itself is sturdy. It doesn't look or feel cheap at all – despite it's price tag.
However, it's worth noting that, if you choose the model with the slope function, you won't be able to play any USGA golf tournaments, along with any other golf organizations that prohibit slope rangefinders.
Having a rangefinder on the market for under $100 that offers a slope function is incredible. There are tons of rangefinders out there for 2x or 3x the price that don't offer a slope function. For most weekend golfers (no tournament play), they will benefit greatly from using a rangefinder with a slope function.
Why it's the best value rangefinder on the market for 2020:
Offers everything a golfer would need, and then some (slope function)
Accurate within a yard (+/-) up to 650 yards
Flagpole locking function
No questions asked 30 day refund period + 1 year FULL warranty (refund or new rangefinder sent if you have any problems) + incredible reviews of their customer service
85% 4 or 5 star reviews on Amazon
Uses triple A batteries, which you probably already have, instead of the obscure batteries that you might find in other rangefinders

Tectectec and Gogogo… Who the heck makes the names of these golf rangefinder companies? Goodness.
Anyway, Tectectec was seen as the best value brand for rangefinders until Gogogo came onto the market. Tectectec is still a more reputable name. Their products have a longer testing period, so you know they won't stop working after 2-3 years. Plus their customer service has been top notch from day one.
Compared to the cheaper Gogogo option, the Tectectec VPRO500 has a better pin seeking feature. It's super easy to lock on to your targets, so you know that you are getting accurate measurements. The WORST thing that could happen is that you shoot something else and hit your golf ball 20 yards short or long, especially when you hit the shot just how you wanted to.
Why it's the best under $200:
Awesome pin seeking technology
Can shoot up to 540 yards with a CONTINUOUS scan feature (don't have to wait 5-6 seconds each time)
Much longer lasting battery than AAA
Rain resistant, durable body
TecTecTec Happiness Guarantee for 2 Years (Online Registration Required) and Lifetime Customer Support
3) Best All Around Rangefinder:

Bushnell Pro X2 

Listen, if you want the best of the best, you have to go with a Bushnell. Bushnell is the Titleist of rangefinders. It's the cream of the crop. And the price is a good representation of that. The Bushnell Pro X2 rangefinder, for example, is about $450.
In my opinion, it's all about the Jolt Technologies. As soon as you lock on to the pin or flag, you'll feel the JOLT and be able to know FOR SURE that you are locking on to the right target. Shooting a tree right behind the flag is more common than you think with a traditional, lower priced rangefinder.
It also has a great on/off switch when it comes to the slope feature. If you want the slope feature on, simply slide the switch upward (to reveal "slope edition"). To turn the slope feature off, simple slide the switch downward (to hide "slope edition").
It BY FAR has the most durable body of any other rangefinder that I've ever felt. It's a little heavier, but that's what durable materials can do to a small rangefinder.
There is a reason that 99.3% of PGA golfers use a Bushnell rangefinder. It's the most reliable, best performing rangefinder on the market.
Why it's the best overall:
Incredible 6x magnification to allow you to see everything more clearly. Most Bushnell rangefinders have 5x magnification.
Red or black displays (some golfers see better with the red, depending on their eyes and the background)
On/off switch for slope function
Super durable body & case
Great accuracy within 450 yards
Brand recognition and reliable customer service

If you want a great golf GPS watch, stick with Garmin. They have a lot of great options, with the Garmin Approach S10 being the most popular in 2020.
It gives yardages to the front, back, and middle of the greens for around 42,000 preloaded courses worldwide. Truthfully, that's all most golfers really need. Knowing the exact distance (within the .1 yard) to the pin is a little extra. 99% of golfers don't need to know the exact distance.
Battery life is a huge problem when it comes to golf GPS watches, so the 12 hour life can get you through 3-4 rounds (unless you are like, really, really, really slow).
You can also keep score and upload your scorecards to the Garmin Express website, but I doubt any golfers would actually do that. Cool feature regardless.
Here is the super cool feature, in my opinion. You can turn the watch into "watch mode". Guess what it does now? It tells you the time. Yep, like a good ole normal watch. Now, the battery life will last you 14 weeks. Huge difference. Right now, I am currently wearing a Garmin vivoactive watch. It's like this Approach S10 watch, expect it has practically no golf functions at all. I could have (and should have) spent a LITTLE more money and gotten the Approach S10 instead so that it would help me when I play golf.
Why it's the best GPS golf watch:
Super easy to use (as long as the course is in their database)
Quickly gives you distances to front, center, and back of the greens (all that is needed)
Can turn into normal "watch mode", which has a 14 week life
Never have to mess with changeable batteries. Just charge it after every 2 rounds or so.
Older Golf Rangefinders (Lower Priced Now)
Below you'll find the original article I wrote. The rangefinders are a little old now, and you may have trouble finding them for sale. Most of these models have been upgraded, with new names, color schemes, and features.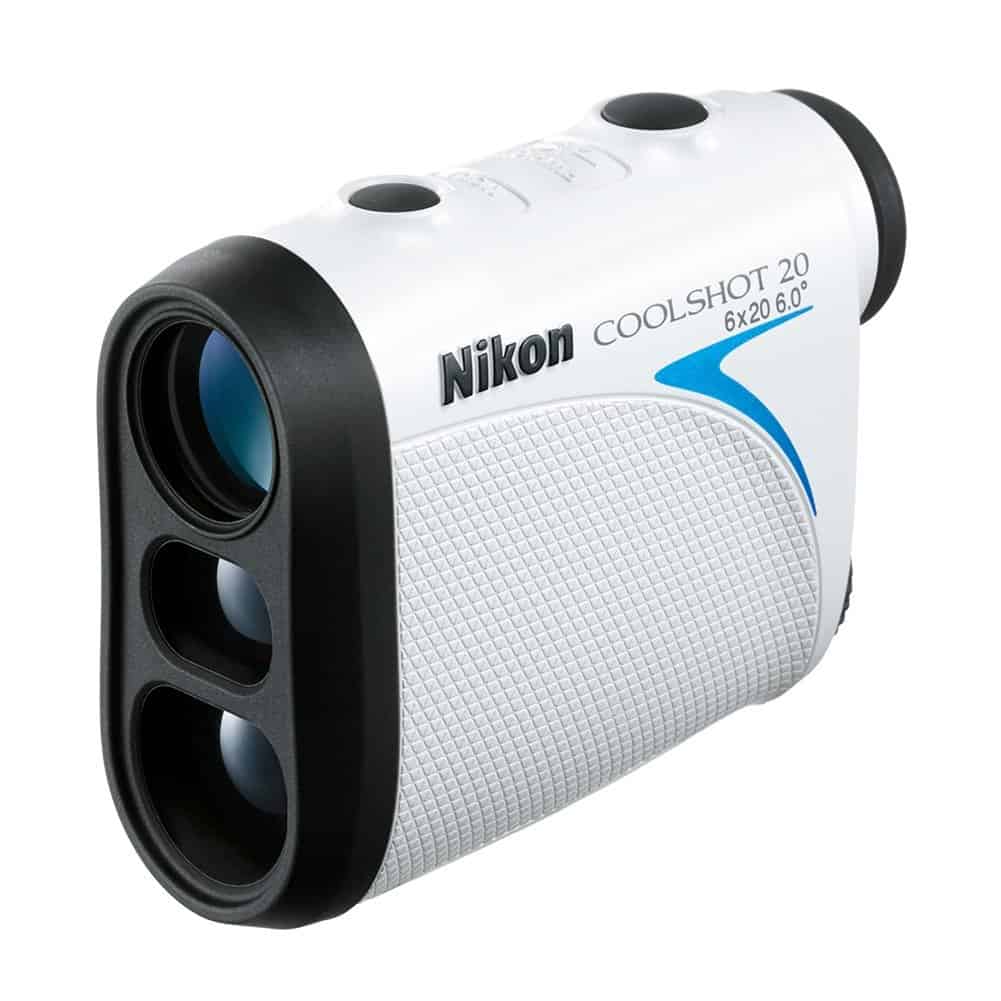 This model rangefinder is by far the best budget one on the market. For around two hundred dollars, you can get a rangefinder that will last you a long time and provide consistent results. The Nikon CoolShot 20 is the lightest and most compact rangefinder that I have ever used, and it has lasted me three years so far.
To use it, you simply aim it at your target and press down a single button. For 8 seconds, it will give you the distance (up to 550 yards) to the target. Other rangefinders will lock in on a (sometimes incorrect) object for a while, making it take more time than it should to find the distance you are looking for.
Another huge benefit is that it is water proof. A little water doesn't typically stop golfers, so you need one that will hold up in any weather.
Features that actually mater:
Moderately priced
Most compact model of the Nikon rangefinders – no need to carry around a brick
6x zoom in design using Nikon's legendary optics – easy to see your target
Clear bright images in any condition
"Long eye relief design" to make it easier for those that typically see with glasses
Continues to work in any extreme hot or cold weather
It is accurate to the nearest yard within 100 yards accurate to plus or minus 2 yards from over 100 yards
Can be used anywhere inside 550 yards
One push of a button –> 8 seconds of continuous yardages
"First Target Priority" technology finds the closest object to make sure its easy to use
Uses (and includes) CR2 Lithium Batteries to ensure its long lasting
Shuts off after 8 seconds of no use (can turn on again with just the press of a button) to save power
All-weather reliability
Approved by the USGA for tournament usage
Manufacturer's warranty or 2-Years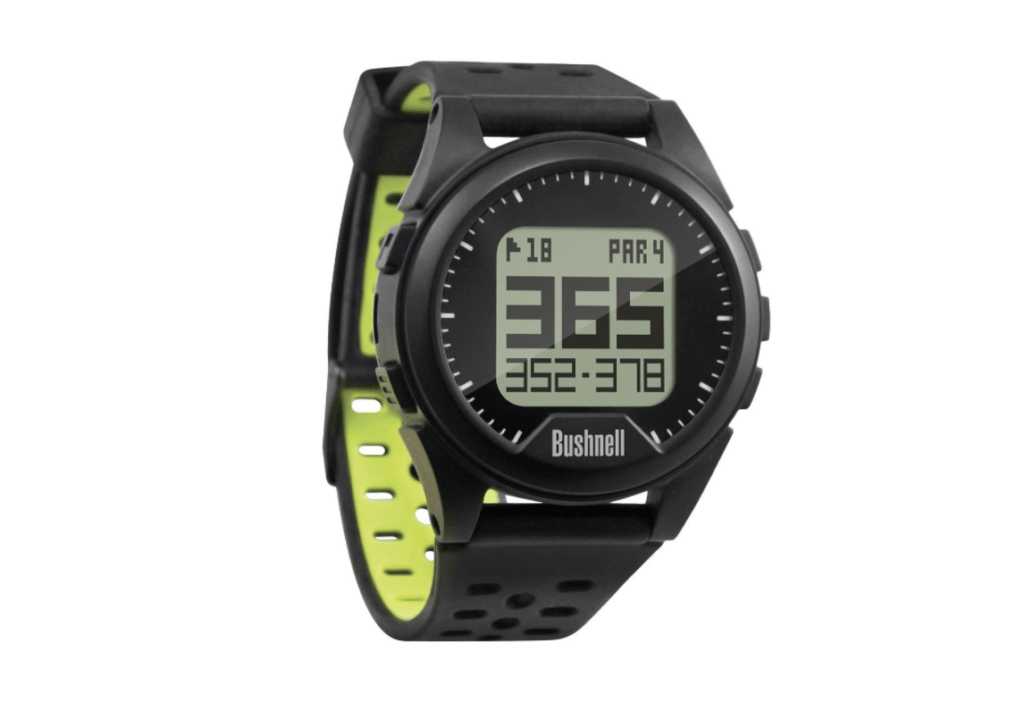 There are a couple of really good watch rangefinders on the market. I'll agree that they can be super convenient. By using a watch, you will take out or at least lessen  the possibility of losing your rangefinder, forgetting it in your car, or having it stolen.
Pre-wired with over 35,000 courses, the odds are that the courses you play will be on there. I got the chance to test the Bushnell NEO ION out myself, and I've gotta say that it was a convenient.
The one downside is that, while over the ball about to hit, I couldn't stop thinking about the distance as opposed to being loose and letting my swing do the job. For some people, this might be a good thing though! It will require you to be sure you are making a swing to hit the ball the exact distance that you want.
With a battery life of around 16 hours, and a recharge time of about two and a half hours, it will definitely last you a few rounds without having to recharge it.
You might be wondering how it works. A little suspicious? I was too. Basically, it used GPS system to get the near-exact distance between you and many different areas of the course. A hug benefit is that it will provide the distance to an optimal layup position on holes that require it. The downside is that it won't be able to get you the exact distance to the hole, just to the center/front/back of the green.
However, for those just looking to hit it close, this will 100% suffice!!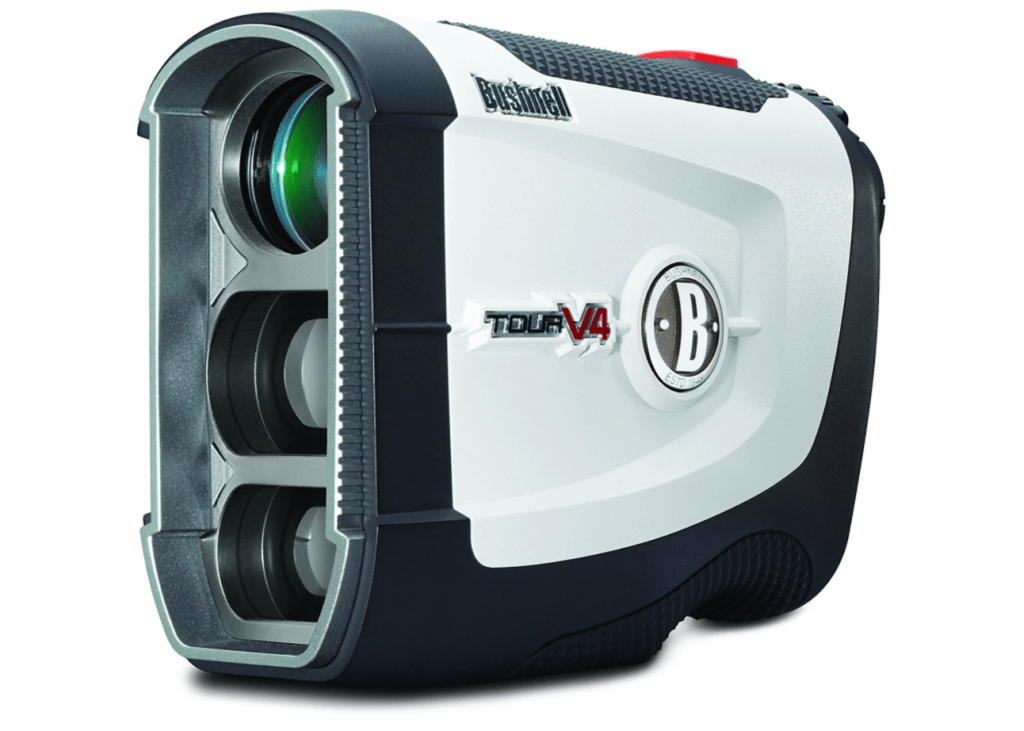 There is no question about it: if you want to the greatest rangefinder on the market, this is your pick. What sets it apart? To begin with, it JOLTS as soon as it hits the flag. I couldn't help but smile the first time it jolted when I used my friend's. If I had the money (poor college student now), I'd buy a Bushnell V4 Jolt for sure.
I can't tell you the number of times that I have thought I locked onto the flag, hit a shot exactly how I wanted to, then realized that I actually shot the hill 10 yards behind the hole. That could result in a bogey (my short game isn't perfect!) instead of a birdie like I felt like I deserved. Do that a couple of times throughout a tournament and it will for sure be the difference between first and fourth.
It's not just the jolt that sets it apart though. It has been proven to provide extremely precise yardages, even long range. So if there is a difference between you hitting a ball to a target 198 yards away and 202 yards away, don't cheap out on a rangefinder that may make this mistake.
Make the investment. It will last you a long, long time. The Bushnell brand is the best rangefinder brand in golf, in my opinion.
If you want the slope function, the Bushnell V4 Slope Edition is the one for you. It comes in handy for those that play on very hilly courses. For me personally though, I just think it's more fun to have to adapt and use your brain a little when necessary. Plus, I don't think it provides a huge benefit. A couple yards here and there won't make a big difference for a non-tournament golfer, which is the only person who should purchase this because many tournaments ban their usage.
To be perfectly honest with you, the majority of people that want a slope rangefinder are older gentlemen. It definitely helps some of them, but I think a big reason they buy it is to tell their friends the EXACT yardage to this uphill shot or this downhill shot.
Buy hey, now you know my opinion. I was never very good at selling things that I don't believe in, anyway. Hopefully that provides some value to you though, because I don't recommend crappy products.
—–
If you have any questions at all, I would be happy to help. Just leave a comment below. Thanks!