You'll notice that most some-what serious golfers all wear roughly the same things. A golf hat, a dry fit polo shirt, non-pleated shorts or pants, and (typically) white golf shoes. There are lots of different options though, whether it be color or designs. Then you can also add on pullovers, a golf vest, etc.
And guess what! It doesn't have to cost you an insane amount of money. I will try to stick to mostly budget friendly outfits, because golf can be super expensive as is. You might have to get away from the top brands like Under Armour and Nike at time, but there are still great alternatives that feel just as good and will last just as long!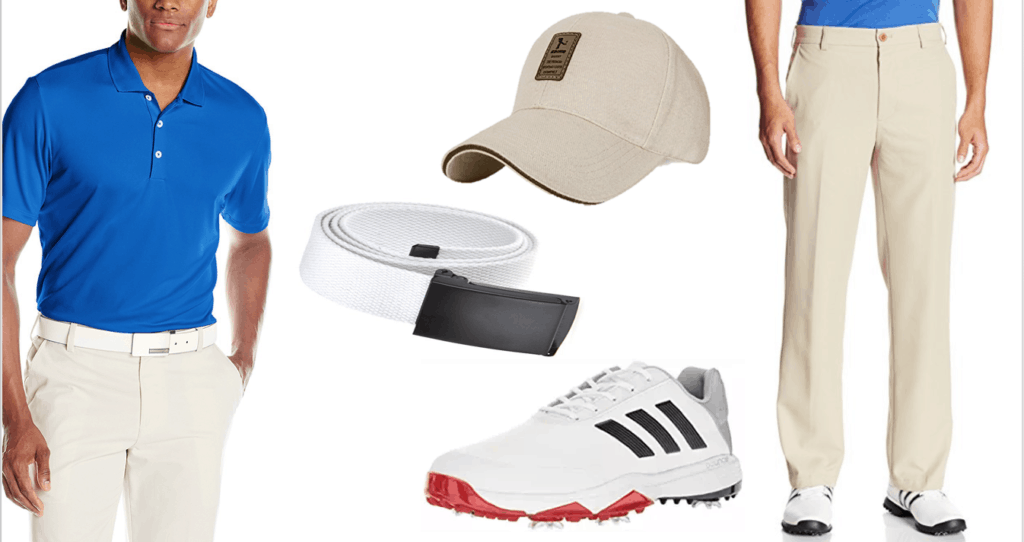 Hat: Chosur Golf Hat
This is a great outdoors hat for any sport, especially golf. It will go well with practically anything you decide to wear, and comes in many different colors. I would recommend a white, beige, black, or navy blue.


Shirt: 
Amazon Essentials Quick Dry Golf Polo 
Essentially the same quality as the top brands, but no branding/logo. Still a great shirt that will hold up for years. I have worn a couple in the last couple of years, and they feel incredible.


Belt: Mile High Life Golf Belt
For less than $20, you can get a pack of two belts that will go with nearly everything. I would suggest some sort of combo of black, white, dark grey, or blue. Go with what you like though!


Pants: V46 Performance Golf Pants
Another great product from Amazon Basics, these pants are non-pleated, come in three different colors and every size you could imagine. They don't get too hot, so playing in them year round is no problem at all.


Shoes: A
didas Men's Adipower Bounce Golf Shoes
Adidas golf shoes consistency sell for great prices for the quality of the shoes they produce. My favorite model is the Adipower Bounce golf shoes, as they feel great, come in many different colors, and are very durable. If you are on a budget, I think it's safe to say that Adidas is going to give you lots of options to choose from. Nike and UA don't offer the deals that Adidas does.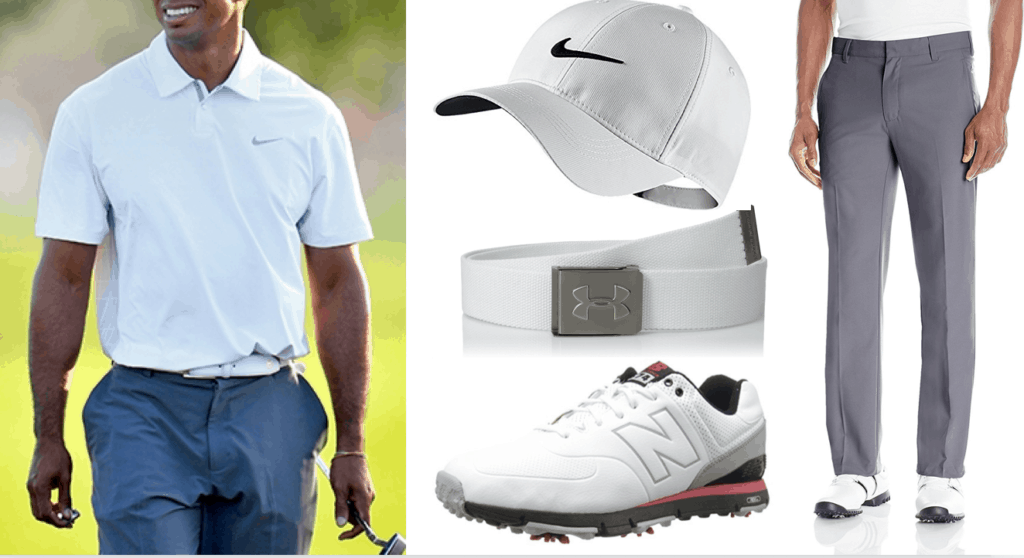 Nike consistently sells the most golf hats, and for good reason! They are extremely well made, keep their fit longer than other hats, and aren't priced too high. I would try to spend roughly $18-22 for a Nike hat.
The classic, one color nike polo is a go-to for golfers. It holds up well for years; it doesn't get worn down in the laundry like some cheaper brands.
A nice, plain white webbed belt is almost a must now in golf. Although some are not a fan of white belts, I think it looks great with most outfits.
You won't find a big difference between Nike, Adidas, and Under Armour when it comes to their pants. They all fit and feel pretty similar. For that reason, I would suggest Adidas due to slightly lower prices.
New Balance golf shoes are incredibly underrated. They feel so good, even after a long round of golf. I love the design as well.
Hat: Classic Titleist White Mesh Hat
Hard to go wrong with the forever classic Titleist white mesh hat. I've worn a couple in the past few years nearly everyday, and they hold up so well, even in the wash. Something about this hat just makes everyone feel like more of a golfer.


Shirt: Nike Victory Striped Polo
I love a nice striped shirt in the summer. The one shown is my personal favorite, as I would consider it a more bold look.


Belt: Under Armour Men's Webbed Belt
I've gotta go with the UA belt again, this time a nice blue one to match the shirt. I've got a few UA belts and I am very pleased with my purchase due to the variety they provide.


Shorts: 
IZOD Men's Classic Fit Golf Shorts
IZOD is a great brand for golf, although it often gets overshadowed. Their shorts look very clean and don't stain as badly as some shorts do.


Shoes: Footjoy DNA 2.0
Footjoy shoes are very popular amongst golfers, and for good reason. Their customer service is incredible. I once had a pair that lost a couple of spikes after a month or two for some reason. They instantly shipped me a bag of brand new spikes to replace them. I was amazed! They have me as a customer for life. Besides their customer service, their shoes look great and hold up under all weather conditions.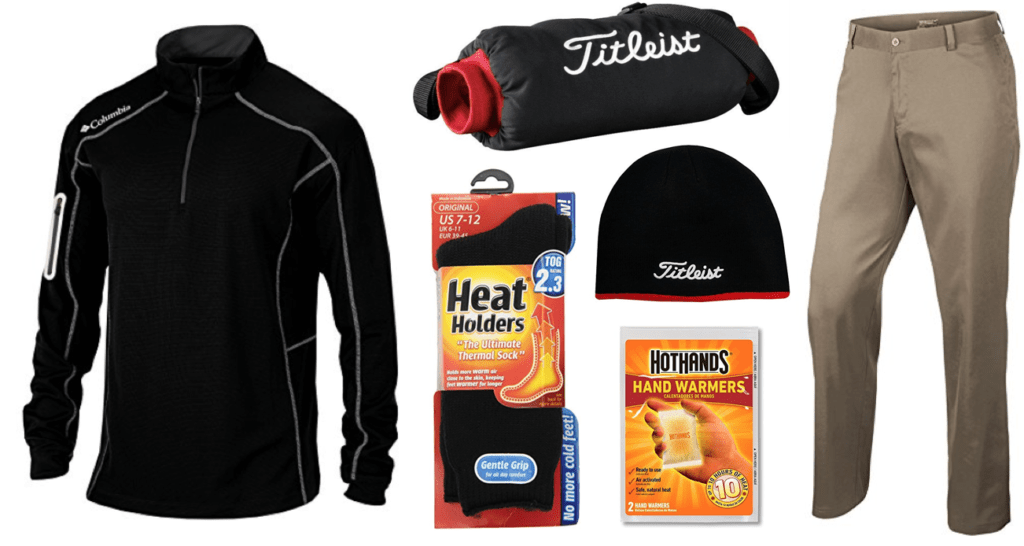 If you play golf in cold weather, you know how important it is to dress for it. To begin with, before we even get to the clothes, you will NEED lots of HotHands hand warmers and an nice around-the-waist hand warmer as well.


I can't explain enough just how important it is to keep your hands warm when playing golf. If you lose feeling in your hands, your golf game will be ruined for the day.
Alright, now on the clothes. I'll skip the shirt this time, because it will covered up with the all important pullover.
Beanie: Titleist Beanie
For me, if my ears are cold, I am going to be miserable. No matter where I am or what I am doing. With that being said, I own a couple of beanies to make sure my ears stay warm. My favorite is the Titleist Beanie.


Pullover: Columbia Golf Omni-Wick Pullover
Playing golf in the cold is tough, because you want to stay warm but you also want to stay loose. If you don't feel like you can extend your arms and get a good rotation, your swing will feel much different and the results will prove it.
I've tried a couple of pullovers, but the best one is this Columbia Golf Omni-Wick Shotgun Pullover. It keeps me warm, looks great, and allows me to swing freely and fully. 


I fully believe that if sponsorships weren't determining what pros wear on the course, they would all be wearing this in the colder tournaments.
Pants, like I've said earlier in this article, aren't going to make a big difference. They are all about the same material and thickness, so I would just stick with the good ole Adidas Golf Climate 3 Striped ones again.


Socks: Heat Holders
That's right, socks are 10x more important now, so let's talk about some warm socks for golf. You should definitely try the Heat Holders, as they keep my feet and legs toasty all day. Never underestimate the effect of the right socks when playing in the golf, especially if (god forbid) it is also raining.


—–
Have any questions or comments? I would love to hear them below! Thanks for reading everyone.