Looking for the best hybrid to add to your bag? It's probably a really good choice! Each year, more and more golfers are taking their longest iron out of the bag and replacing it with an easier to hit hybrid club.
Golf is meant to be fun, right? What's more fun than hitting better shots and shooting lower scores? Not much, that's for sure.
Note: all links and photos in this post (if clicked) will take you to the respective listings for the hybrids on eBay.
I always write two different types of articles:
Articles focused on the best value golf clubs that you can buy. These are typically clubs that have been out for a few years and have slowly decreased in price. When it comes to bang for your buck, these are the clubs to get. The technology hasn't improved much in the past 5 years, so you won't see a big difference between clubs made today and clubs made 3-5 years back.
Articles focused on the best golf clubs released in a certain year. That's what this article is. I'll be talking about only the best hybrids that were released in 2018. As a result, the prices will be much higher than the articles about the best budget clubs. However, you can rest assured that you are getting the best of the best and the latest technologies that these companies implement in their clubs
Alright, let's start talking about the best hybrids in 2018. I might mention a couple released in the later half of the prior year, just because there have not been a TON of hybrid releases this year unfortunately.
The Best Hybrid Overall 2018: Callaway Rogue

I can't think of a better overall hybrid than the Callaway Rogue hybrid. It is definitely the best mix of distance, forgiveness, feel, and overall performance. Is it a little pricey? Sure, but that's because it is by far the hottest release of the year for hybrids.
This is the first time that Callaway has implemented Jailbreak Technology in a hybrid, and the reviews have been incredible so far. I got to demo this hybrid while using a simulator. Comparing it to my hybrid now (Titleist 910), I was hitting it much straighter and about 6-7 yards longer on average. That's a huge increase for me, and I would buy them today if I could afford them (not likely on a college budget).
Across the entire face, forgiveness and ball speeds have been improved pretty drastically. Compared to the GBB Epic, the improvements are not substantial, but many golfers want the absolute best of the best. If you want to save money, scroll down a little and find the better budget option, the GBB Epic.
Why I chose the Callaway Rogue for the best overall option:
Jailbreak technology for more forgiveness and increased ball speeds across the club face
Hyper Speed Face Cup Technology for a larger rebound effect at impact (more flex to the club face)
Internal Standing Wave –> lower COG –> higher launch angles

If distance is primarily what you are looking for, check out the TaylorMade M4 rescue hybrid. This hybrid is the longest one that I tested, though it was hardly any longer for me than the Rogue. And it obviously depends on what shaft/ball I was demoing the clubs with, so hard to really tell for sure.
Compared to the M3, the M4 was a tad bit longer and more forgiving to me. Plus, I'm not a huge fan of adjustable hybrids, as I don't think many players actually benefit for the adjustability.
Why the TaylorMade M4 is the best hybrid for distance:
Speed Pocket technology maximizes ball speeds on low-on-the-face shots, providing consistent distance across the entire face
split internal weight (one towards the heel and one towards the sole) that increases ball speed on mishits
Geocoustic technology enhances the playability of the M4 Hybrid from all lies
The Most Forgiving Hybrid (Easiest Hybrid to Hit) 2018: Cobra King Oversize

Hybrids aren't necessarily EASY to hit. Compared to longer irons, sure, they are easier. But in general, some of them are very daunting and difficult to hit correctly. For that reason, you might want to consider a more forgiving option like the Cobra King Oversize hybrid.
At address, you can see a large, wide club face. That should make you feel better about being able to mishit the ball slightly and still end up with a decent result.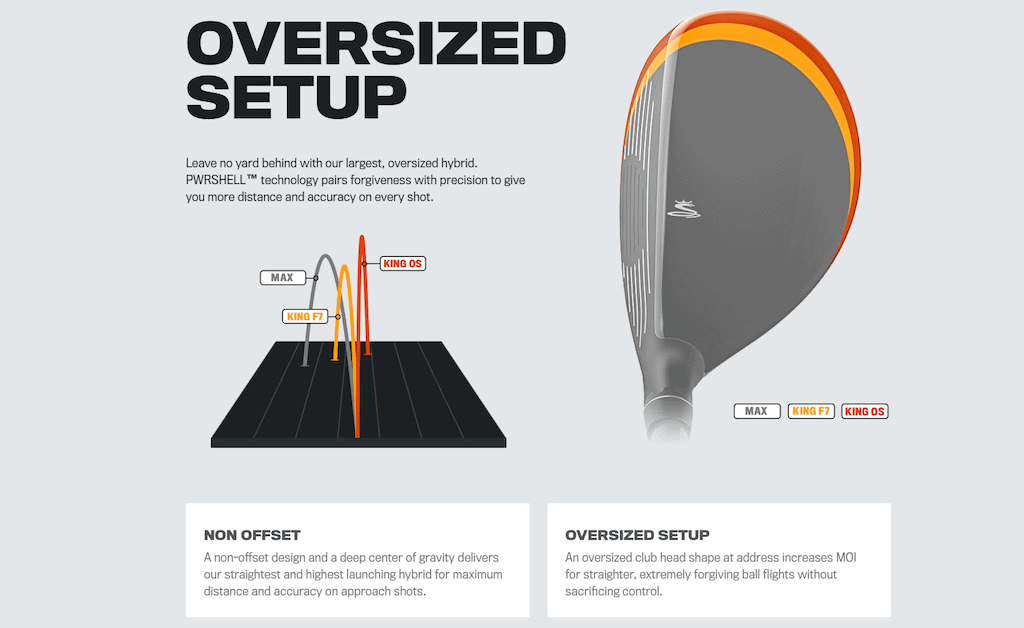 Forgiveness isn't only from being oversized, though. Forgiveness also means being able to get the ball in the air easily. The Cobra King Oversize has a very low center of gravity, which allows you to hit balls with higher launch angles and ball flights.
Why the Cobra King Oversize hybrid is the most forgiving option:
"PWRSHELL

™

 technology" increases the size and speed of the sweet spot for higher ball speeds, increase launch angles, and more distance across the entire club face.
Oversized club face for more forgiving ball flights on mishits
Internal Tungsten Weighting  for higher trajectories
"MyFly8 with SmartPad 8" results in 8 easily adjustable lofts so that you can change it when needed
If you want a more budget friendly option for 2018 hybrids, the Callaway Great Big Bertha Epic hybrid is definitely the one for you. Callaway releases a lot of models compared to other club manufacturers. For that reason, each time a new model is released, the demand for previous models goes down slightly. This is great for consumers, as they can get reduced prices on super high quality clubs. These clubs were the premium picks a few months ago, but now their prices are more affordable for the typical golfer.
The Epic clubs are incredible in nearly every way. They feel great at impact, they go long, they are pretty forgiving, and they look great at address. And now, after the release of the Rogue clubs, they are the best value 2018 options for most club categories (driver, fairway woods, hybrids, etc).
They don't have the jailbreak technology like the Rogue hybrids do, but they still perform incredibly well. If you are on a budget, I'd recommend you try them out before anything else!
Why the Callaway GBB Epic hybrid the best budget hybrid for 2018?
overshadowed by the Rogue hybrid –> reduced price
best combination of price, distance, forgiveness, and feel
hyper speed face cup for increased ball speeds, even on mishits
weight low in the head for increased launch angles
great versatility from all lies
The Callaway Rogue Women's hybrid is very similar to the men's version, but with a few differences. The super light weight design and higher loft options help golfers with slower swing speeds develop more club head speed and maximize their distance on long shots.
This is the first women's hybrid that has Jailbreak technology, which increases ball speeds AND forgiveness across the entire club face. So you don't have to hit the dead center of the club face to end up with a great shot.

There are a couple of other technologies (Hyper Speed Face Cup & Internal Standing Wave) that also maximize the performance when it comes to distance and how easy the club is to hit from both the tee and from the deck/ground.
Here's why the Callaway Rogue Women's the best hybrid for women:
ultra light weight head and shaft for women
hyper speed face cup and jailbreak technology to maximize ball speed
internal standing wave to maximize launch angles