Callaway's Rogue irons were some of the best sellers in the golf industry for the past two years.  Callaway had a huge task trying to improve on the Rogue and turned to Artificial Intelligence to help tackle the challenge.  Previously Artificial Intelligence was used to design woods, but now AI is instrumental in the design of each individual Mavrik iron for improved ball speed, distance, spin and feel.  Companies are focusing on speed and Callaway has owned the ball sqeed category for several years.  Let's take a look at how the new Mavrik irons stack up in technology, appearance and performance.
Technology
Callaway has placed even more technology into the new Mavrik iron.  Flash Face Cup Technology wraps around the face, crown, heel and toe for faster ball speeds across the face while improving spin rate uniquely to each iron.  The Tungsten Energy Core precisely positions center of gravity in each iron that compliments the faster ball speeds from Flash Face Cup.  Consequently, Callaway achieved optimum launch, trajectory, spin rate and decent angles.  Mavrik utilizes a patented urethane microspheres to eliminate vibration for better feel and faster ball speed.
Appearance

Callaway Mavrik irons look fairly standard for a game improvement iron, thick top line and sole with plenty of tech built in.  Design features a chrome appearance and two white grooves on the bottom of the face.  The cavity plate shows a diagonal black line with orange trim from the crown toward the toe.  The iron looks really easy to hit, similar to other distance and game improvement irons.
Performance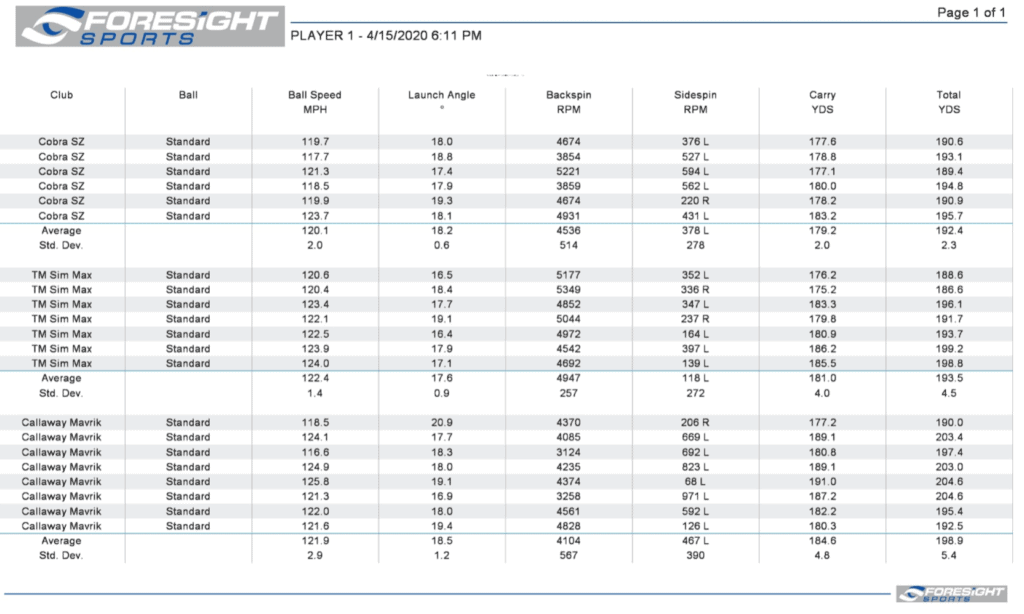 I tested Mavrik irons with stock True Temper Elevate 95 shaft, standard length, lie angle and Golf Pride Tour Velvet 360 Grip.  All testing uses TaylorMade TP5 golf ball and Foresight GC2-HMT to reduce additional variables.
Mavrik irons look visually appealing and easy to hit, however, they test off the chart!  All the technology in the Mavrik irons support some of the fastest ball speeds and longest shots possible from an iron.  Testing provided a desirable 18.5* launch angle, however, a slightly lower average backspin rate of 4104 rpm.  Shots were consistent with a right to left ball flight, however, the average 467 rpm side spin was higher than expected.
I was blown away with an average 184.4 yards of the carry distance from Mavrik 7-iron.  The farthest shot traveled 189.1 and 191 yards.  191 YARDS WITH A 7-IRON!  That's 25 yards longer than my personal 7-iron.  Mavrik is unbelievably forgiving and easy to hit.  One of the most impressive shots was terrible smothered toe hit.  The shot felt like it would travel 150 yards, yet just kept going down the target line and over 180 yards.  Impact feels solid and crisp and produces a "crack" sound.  There are irons that feel a little better, but the results are so forgiving and long it's easy to give up on the feel a little bit.
Specifications
Callaway Mavrik irons are available in 18* 4-iron through 56* Sand Wedge.  The strong lofted 7-iron measures 27*, 37" long and 62.5* lie angle.  The entire set weights in at D3 for steel and D1 graphite.  All irons are available in either right or left-handed options.
Mavrik offers True Temper Elevate 95 as the stock steel shaft.  Elevate 95 is available in high launch regular flex and mid-high launch stiff flex.  Graphite selection offers Project X Catalyst available in 55 gram light flex, 65 gram regular flex and 75 gram stiff flex.  All three are designed for a mid launch.  The stock grip is Golf Pride Tour Velvet 360 Soft.
Other Options

Callaway also offers two additional irons in the Mavrik line, plus Mavrik hybrids that can swap out for any of the longer irons.  The Mavrik Pro iron features a smaller profile and geared toward the 3-10 handicap range.  Mavrik fits into the game improvement category with handicap ranges of 8-20 while the Mavrik Max is the super game improvement iron designed to fit golfers with the 15-36 range handicap.
Price & Alternative

Callaway Mavrik irons retail at $114.28 per iron or $914.27 for a set of 8 iron in steel.  Graphite irons are a little more at $128.57 each or  $1028.56 for a full set of 8 irons.  The price on Mavrik irons is directly in line with competitors like Ping, TaylorMade and Cobra.  Based on the look, feel and performance Callaway Mavrik irons should easily be one of the most popular irons in golf during their traditional two-year life cycle.
If you would be interested in a better value set of irons, check out the Callaway XR OS irons. Super bulky, forgiving irons just like the Mavrik irons. Both are focused on the perfect mix of distance and forgiveness. At half the price at the time of this writing, we think the Callaway XR OS irons are a much better value option.
Conclusion
Phenomenal!  Every player can put these clubs in their bag and get something out of the.  Players with slower swing speeds are guaranteed to pick up distance.  Mid to high handicap players will benefit from the forgiveness and distance. Even better players can put the Callaway Mavrik irons in their bag (if they can get over the oversized design) and swing with confidence that every shot will go far and straight with minimal work.