I've been teaching golf for nearly 5 years now, and unfortunately I haven't seen as many young girls interested in golf as I would have hoped. Many of our kid classes are 15 boys and 1 to 2 girls.
Let me say this though. These girls can play! I love it when they hit the ball better than their boy competitors and just smile.
Alright, let's get to the good stuff. There are lots of great quality golf clubs made for girls in 2020. Let me make one thing straight though. There are tons of pink, sparkly sets that look very pretty. However, they are made terribly and I would never recommend them.
I encourage you to stick with the basics. When buying golf equipment, stick with the top brands that have proven products that are long lasting and well made.
Here are two more articles that you may like to read: the best golf clubs for junior girl golfers (14 and younger) and the best golf clubs for girl teenagers & high school golfers. 
Just like any other product you ever buy, there are three categories of girl's golf clubs.
There is the leading brand: US Kids Golf (USKG). This is the cream of the crop. They are extremely high quality, will last a long time, and produce the best results compared to other brands.
There are other brands that make great products. Examples are Wilson, Callaway, and Top Flite. Nothing special, but you don't necessary need the cream of the crop brand when buying a girl's first set of clubs.
There are terrible brands, made with low quality materials that will break quickly and not produce results that they should. Stay away from these. Stick with the clubs that I recommend below and you will be good!
To make this article more effective, I'll try to split it up based on the child's age and your budget.
For Those That Want a Long Lasting Set: US Kids Golf Set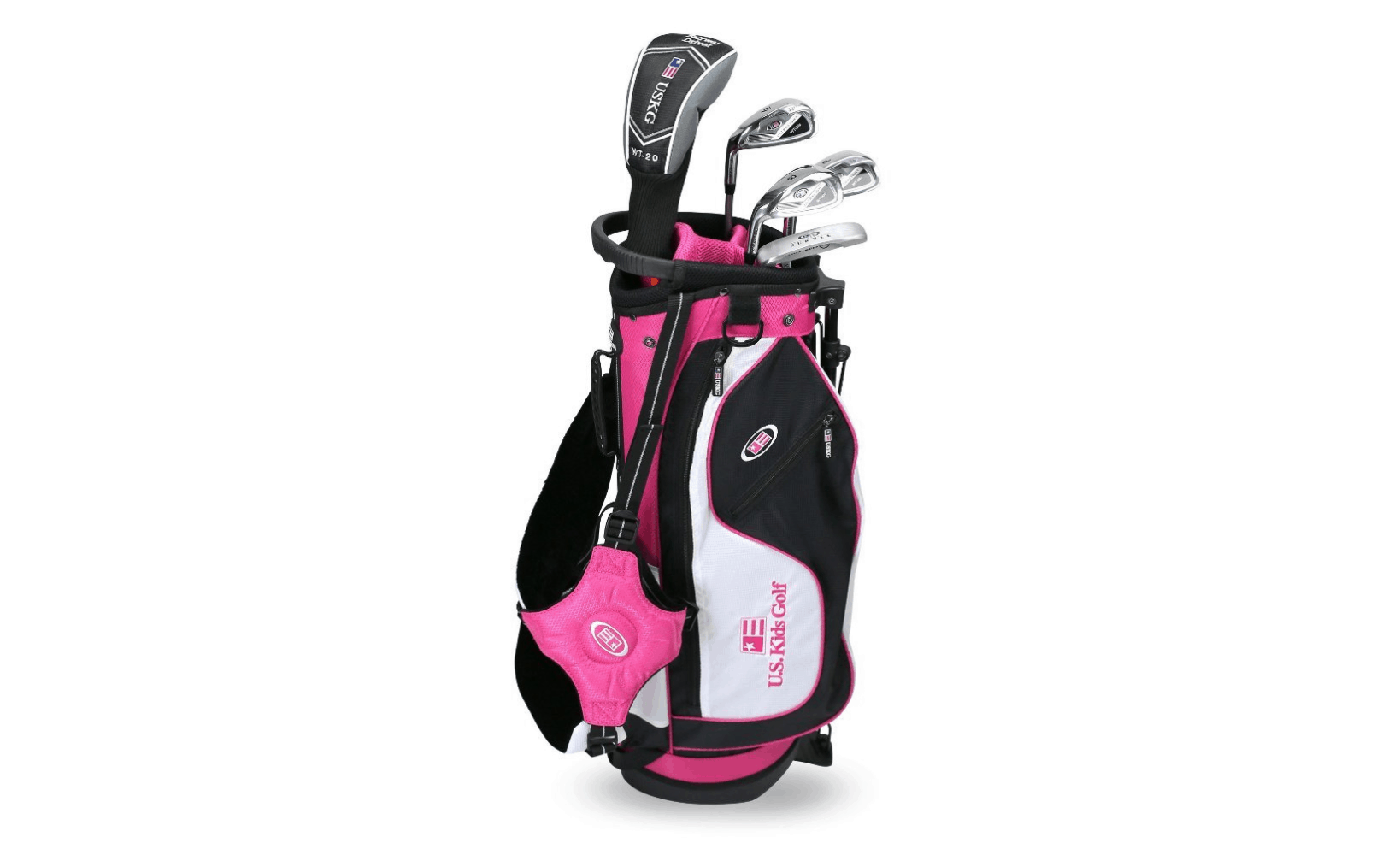 There is no question about it. If you girl loves golf, and you think she might continue to play for years to come, it is very important to invest in a solid set of US Kids Golf Clubs. You might be thinking: "They will just outgrow it very quickly, and then it would be a waste."
For many reasons, this is wrong.
They will have started out with a set that fits them, so they can develop good golf swing habits from the start. It is very tough to unlearn bad habits, so never let them start learning with a set that doesn't properly fit them.
They will last a long time. This means that, once they are outgrown, you can donate or sell them so that another girl can use them and learn the game.
I always recommend that you get one size larger than needed. This is the same concept as getting kids shoes one size larger so that they can grow into them. That way, they can use them for a little longer and get used to one set of clubs.
There are many kids that I teach that simply borrow clubs every week. I can see a noticeable difference in their swings when they use a short club, as opposed to next week when they use a different friend's larger club. So because your child will have her own set for a long period of time, she can be much more consistent, and have a better time as a result.
The US Kids brand is incredible. They have the market practically locked down, yet they never charge too high of prices.
I would recommend going here and finding the height range a couple of inches taller than your future junior golfer.
For example, if your daughter/ granddaughter/ friend is 45 inches tall, I would get a set for a girl that is 47 inches tall. This will ensure they can use the club for longer than average.
There are two types of US Kids Golf clubs, the Ultralight clubs (get these!) and the Tour Series clubs (meant for stronger golfers).
The best place to  buy US Kids clubs are from Amazon, as they provide quick shipping and excellent customer service.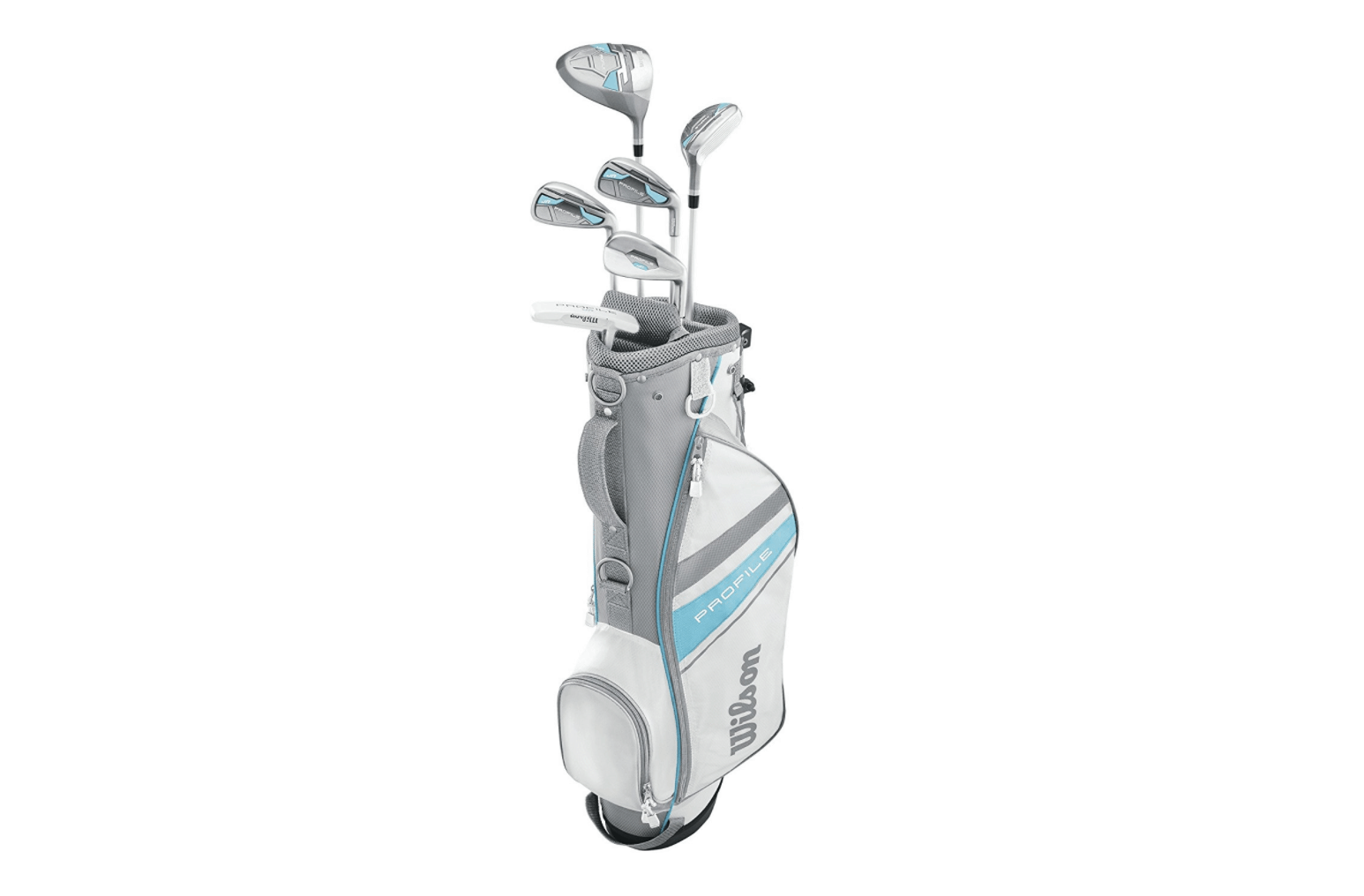 The Wilson 2017 Profile set has had incredible reviews. As a company, Wilson has always placed themselves as a lower prices alternative to higher end clubs. They have captured this market very well.
This set if great from those 10+ or 56″+. If you are shorter than that, I would high recommend just getting one of the US Kids set, as this lower priced alternative won't be a good option.
This set includes 9 pieces: a driver, a hybrid, a long iron, a short iron, a wedge, a putter, a bag and two headcovers for the driver and hybrid. The bag is a lightweight carry bag, perfect for girls. 
The 2017 Profile set will last a long time and produce great results, as a fraction of the price of US Kids Golf. Although US Kids Golf will outperform Wilson over time, it is still a great alternative.
If you don't want to shell out a ton of money for your junior golfer, I would highly recommend this set.
Again, I would advise you to pass on all the pink, sparkly sets that are all over Amazon. They are simply not high quality sets. If (or when) one of them breaks, you will have to spend more to buy a higher quality set. You might as well do that from the get go.
If your kid is 56″ or shorter, there is another cheaper alternative made by TopFlite. TopFlite is a brand one step below Wilson, and two steps below US Kids Golf. However, it is still a decent brand and their prices are very fair. The TopFlite Junior Golf Set is also a great option if your girl loves the color pink. Nearly every young girl at my academy has a pink bag and clubs, so I know that it is important to them, haha!
This set also includes a driver, a hybrid, two irons, and a putter. The bag is extremely light, and most little girls love the design!
BONUS TIP:
Make sure that when your little girl is starting out, the focus is on having fun! If she is working with a lame coach or if her father/granddad is too hard on her, she will instantly dislike golf, and your investment will be a waste.
So, make sure she is having fun, and find a good coach so that she can start off on the right foot!