Complete sets are very common with women, and for great reason! To begin with, they are easy to purchase. Buy one item and you are good to play in just a few days! There is no need to buy a separate driver, woods, irons, wedges, putter, and bag like many end up doing. As an added bonus, buying a complete set saves you lots of money in the end.
While complete sets used to be seen as cheap and lower quality, companies like Callaway, Adams, and Cobra are consistently coming out with higher quality complete sets. All of these sets have everything you need, including a easy to hit driver, a fairway wood, a forgiving hybrid, perimeter weighted irons, a putter, and a lightweight bag.
Here are a few things that you should look out for when deciding on which set you are going to purchase:
How much are you wanting to spend? If you foresee yourself playing a lot of golf in the future, I would recommend shelling out extra money to invest in some durable clubs. Most notably, I would recommend the Cobra, Callaway Solaire, or Adams sets below. However, if you don't see golf becoming a large part of your life, I would stick with the Callaway Strata or Wilson Ultra set. These sets will get the job done, but might not last many, many years.
Do you want more woods and hybrids or more irons? If you are decently long hitter, I would recommend getting more irons, as you will have more mid range shots into greens. If you are a shorter hitter, I would suggest getting a set with a variety of woods and hybrids, as you will end up needing more selections when hitting long shots into greens.
Let's be real here: You want to look and feel good when playing golf. So, you need a set that looks awesome! Find a set that is appealing to you. They will all perform pretty well, so you might as well pick one that will make you confident on the course.
2020 Update
I wanted to come back and update this relatively popular article with more recent options. When it comes to complete sets of golf clubs for women, most sets are only available for a couple of years. Then, they are updated with new colors, new names, and new (higher) prices unfortunately.
If you can find an older set of clubs in good condition, you'll save a lot of money compared to brand new, most recent complete sets of clubs.
Oh, and before we get the best sets, you may also like to read about the best women's golf clubs in 2020.
Listen, let me be frank here, OK? Callaway Strata makes the best complete sets of golf clubs under $400. They have a 16-piece set priced around $350 & an 11-piece set priced around $250, which is often sold out because it is so popular. Both of these are GREAT options if you are not positive that you'll be playing golf consistently for 5+ years.
Please note that I HIGHLY RECOMMEND not going any cheaper than the Strata sets. There are lots of offbrand clubs that are cheaper (Aspire, Founders Club, Confidence, Precise), but they are cheaper for a reason. They break quickly and don't feel right at impact.
If you want a low priced entry into golf, just go with the cheaper 11-piece set for $250. It has everything you need: no more, no less. It doesn't have a sand wedge, but you can use your pitching wedge in it's place. If you want the sand wedge, you can pick up this Wilson Harmonized Wedge for a super affordable price.
The 16 piece set has 2 extra irons, 1 extra wedge, and 1 extra hybrid compared to the 11-piece set. Personally, I think I'd stick with the lower priced set, as the extra $100 isn't worth it for the additional clubs.
Best for: new golfers that want a low priced entry into golf without spending a fortune.
2) Best Value Complete Set (<$1,000): Callaway Solaire

If you know that you'll be taking golf seriously for many years to come, you need to spend a little more money than a Strata set. That's because you'll need higher quality sets that won't break within 3-5 years. If you buy a cheap set and then are forced to buy a better set due to the clubs breaking, you would have been better off to just buy the higher quality set from the beginning.
Callaway Solaire is a much higher quality line of clubs than Strata. The clubs are made to be more durable, slightly lighter, and slightly longer as well.
The Soliare set is an 11-piece set, which comes in three different colors (black, blue, cherry blossom). It includes a driver, a three wood, 2 hybrids, 5 irons, a putter, and a golf bag. The driver alone would cost around $300-400 new, as it's very similar to the Callaway Mavrik driver.
All of the clubs are super forgiving. The driver and fairway wood have huge sweet spots. The irons have lots of perimeter weighting and wide, thick soles to bounce off the grass easier (as opposed to digging). The putter is a mid-mallet style, high quality putter.
The price will only make sense if you plan to get a lot of use out of the set. Otherwise, go with the far lower priced Strata set.
Best for: female golfers that want a high quality set that will last a lifetime, perform like a top of the line set of clubs, and cost under $1,000.
3) High Quality, Lightweight Set ($1,200): Cobra 2020 Airspeed
Most ladies complete sets come with graphite shafts, which are lighter than steel shafts. Even graphite shafts can be heavy, though. The new Cobra 2020 Airspeed Women's Complete set comes with super light-weight shafts AND club heads to allow you to generate more club head speed.
Here is the thing: there are "complete set clubs for absolute beginners" and there are "high quality clubs". Cobra has merged the two: this is a complete set that happens to be be composed to super high quality clubs.
It's like the Callaway Solaire set, but it has 2 more clubs, and the weight is lighter overall. It has 2 extra fairway woods, 1 less hybrid, and 1 more wedge than the Solaire Set.
This set comes in two color combinations: black/purplish & white/copper.
Best for: women that want a super lightweight, high quality set that will offer the most distance and last a lifetime.
Older Clubs
Below, you'll find the original article that I wrote around 4-5 years ago. It has since been updated, but the original point still stands. Strata has the best value sets for women. Callaway Solaire offers the highest quality set, with Cobra as a close second. Adams golf clubs are no longer a thing, unfortunately 🙁

Finding a good value set is hard to do. You can go and look through all of the listings of full sets and read all of the reviews. Or you can take my word for it, as I have already done all the hard work. The Callaway Strata Women's set is one of the best selling women's sets of all times, and that is because Strata is known for their incredible value. Nearly all golfers who game these clubs are happy with their purchase.
To keep it short and simple, these clubs are easy to hit. The shafts are graphite, which are lighter so you can swing faster and hit the ball further. The driver is oversized, so it has a large sweet spot. That means you don't have to hit it perfectly on the center of the club face for it to go straight and far. The irons are designed similarly, leading to a lot of forgiveness.
I'm also a big fan of the easy to align putter. After all, alignment is half of good putting (the other half being speed), so you might as well use a putter that is simple to align correctly to the target. These clubs seem to easily fit any women between the height of 5 and 6 feet.
Here is a list of everything included:
An oversized driver
A 5 wood (easier to hit in the air than a 3 wood)
A 5 hybrid (more forgiving than the long iron that is replaces)
Perimeter weighted 6-PW Irons for extra forgiveness
A SW for getting out of the sand and for chip/pitch shots
A mallet putter that is very easy to control (as compared to a blade style)
A lightweight stand bag with a rain cover, a backpack straps system, and a cooler pocket!
Headcovers for driver, 5 wood, and hybrid

If making golf easier is your main concern, look not further than the Adams Tight Lies Complete Set. The irons are very oversized, which basically makes them more forgiving. However, it's a give and take, as the larger size leads to decreased feel at impact. So they won't feel or sound as soft when struck compared to other irons. That won't bother many of you, but it is worth mentioning.
The irons are what I call "hybrid style", as they are a mix between irons and hybrids. Hybrids are known to be easeir to hit and get in the air due to the large sole of the clubs. So the hybird like irons attract players that really just want the game of golf to be a bit easier.
This set is great if you want a large variety of woods and hybrids, as 2 fairway woods and 3 hybrids are included. As a result of this, you can really dial in your long game. However, you are only left with 4 irons, so this set if really for something that hits a lot of woods and hybrids into greens typically.
This set includes the following:
An oversized, 10 degree driver
3 and 5 Woods
4, 5, and 6 Hybrids
7-PW Irons and a Sand wedge
A simple designed putter with one sight line
A light cart bag

What an incredible quality set that Cobra came out with here. The Cobra Max Set is targeted at women that want more distance on their shots… let's be honest, who doesn't want to hit it further?
These clubs are professionally made to be very durable. This set and the Callaway Solaire listed below will be your best bets if you want to buy one set of golf clubs to last you over a decade. The major difference between this set and the others is the low center of gravity. Basically there is a lot of weight low in the golf clubs, leading to ball flights that take off much higher much quicker. This increase in launch leads to longer shots. You might expect to gain 5-10 yards on your irons depending on what you currently use, and 10-20 yards on your driver. Another benefit is that these club heads are very light, so you can swing them even faster.
Design wise, this set comes in both pink and blue. If you don't mind shelling out the money, pick your preferred color and invest in these high quality clubs to take your golf game to the next level.

If you imagine yourself playing a lot of golf in the future, I can't stress enough how important it is to invest in great quality clubs. Imagine this scenario: You buy a cheap set of clubs for $100. They break within 2 weeks, so you buy a somewhat better set for $150. Two months later, they break again and you are out of golf clubs.
However, if you just bought a high quality set for $400 to begin with, you would be set for years to come. So, if golf is going to be important to you, save up for some good clubs and make the investment!
Aside from that rant, the highest quality golf clubs that women can buy are the Callaway Solaire set. Callaway invested a ton of money and research into the production of these clubs, and they have performed incredibly well over time. Every club in the bag is very solid and will definitely improve your game if you put in the time. They offer a great balance of forgiveness, distance, and feel around the course. This set also has the best putter compared to the others, as it is an Odyssey design (a very popular putter brand).
The Callaway Solaire 2016 Set includes:
A driver with a thin, hot face
3, 5, and 7 Woods (the more the better!)
Easy to launch 5 and 6 Hybrids
7-PW Irons with perimeter weighting for forgiveness
Sand Wedge
Premium Odyssey Putter
High quality, durable bag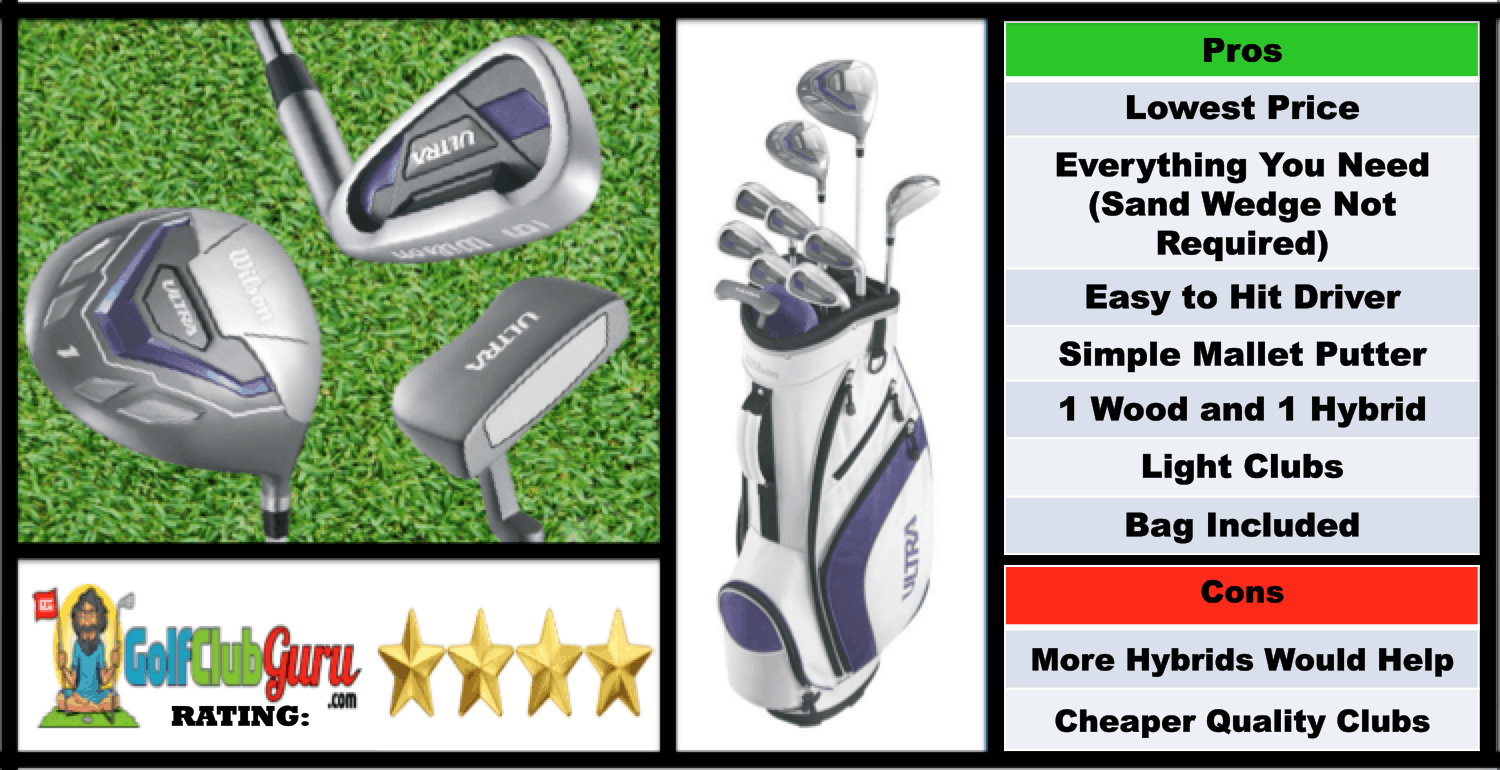 If you are simply looking for a low cost set of clubs that will last you a decent number of rounds, the Wilson Women's Ultra Set is your best option. Again, this is only for women that don't see golf being a hobby that they pursue with much effort. The clubs have a cheap design and they won't sound as solid at impact compared to the others, but they will get the job done! One positive is that the putter design is very easy to control, as mallets move less during the putting stroke than blade putters. There is no sand wedge, but that is not a big problem, as the PW is a fine replacement.
The Wilson Ultra set includes:
An oversized driver for forgiveness and accuracy
A 3 wood for long shots into the green and off the tee of short holes
A hybrid to replace a difficult long iron
5-PW irons
A mallet putter
A very lightweight bag that is easy to carry
Any questions about the 5 that I listed? I would love to answer them, so comment below!
Save