Note: yes, people might judge you if you don't conform to the general golf clothing rules that I talk about here. Who cares, though? If you want to wear something, wear it. Don't change what you wear unless you truly want to. Life is too short to conform to everyone's norms for no reason. I chose to upgrade my golf wardrobe because I didn't feel confident on the course. I felt like I didn't really belong there with what I was wearing before.
---
If you are like me, you like looking and feeling good on the course. For so long, though, I just didn't have clothes that made me feel that way. I didn't really know exactly where to buy things, or even what to get when I was shopping for different golf outfits. I used to hate shopping. I dreaded the idea of going to pick out shirts, pants, shorts, belts, shoes, etc.
After playing golf and being around many top amateurs in the nation, though, I've got a better feel for golf attire now. My best tip would be to look at what the top amateurs are wearing in golf. The pros are all sponsored and most have their outfits picked out by someone else, to make sure the latest and newest clothes are being advertised for the viewers back at home to see. The amateurs, though? They aren't sponsored. They just want to look and feel confident on the course.
If you want me to sum this article up in a a really short way, here it is. The simpler the better. Top amateurs almost all wear a plain colored hat (typically white), a striped or solid color polo shirt, a single color belt, light colored shorts, and white shoes. Bam, feel free to skip the article all together and just look at pictures from here on out.
What can this article do for you? Well, it can give you some options for determining what golf clothing you want to buy. I'll provide a lot of pictures to get your mind churning. Some of these outfits should stick out to you as something that you would like to wear on the course. If not, you can mix and match different outfits, eventually building a solid wardrobe of lots of different combinations that you feel good in.
Where did these trends come from? That's a good question. I used to wear black golf shoes with shorts. I never thought anything about it. Then, one day I realized that picture after picture, I was the only one without white shoes. I was shocked! Why did everyone have on white shoes? I honestly didn't get it at first, but now I couldn't imagine playing without white shoes. They just look more natural and traditional in my opinion. I used to play with a black belt as well. Man that thing was beat up. I even poked a hole in it after losing weight and not fitting into it anymore. Again, I didn't really think much of it. However, after getting golf clothes that fit me better and look more professional, I've noticed a huge difference in how I feel while playing. I am more confident, as I am dressing for the part.
"Dress for the job you want." Right? Well…. kinda. I would agree, except that pros are forced to wear golf pants when they play competitive rounds. There is no way that I am going to be wearing pants when I typically play in 80-100 degree temps. No thanks. I'll dress the part – of a good amateur golfer.
Depending on what type of whether you play in, I'll try to break up this article up into different sections. Enjoy!
General "Rules" For Feeling and Looking Good on the Course: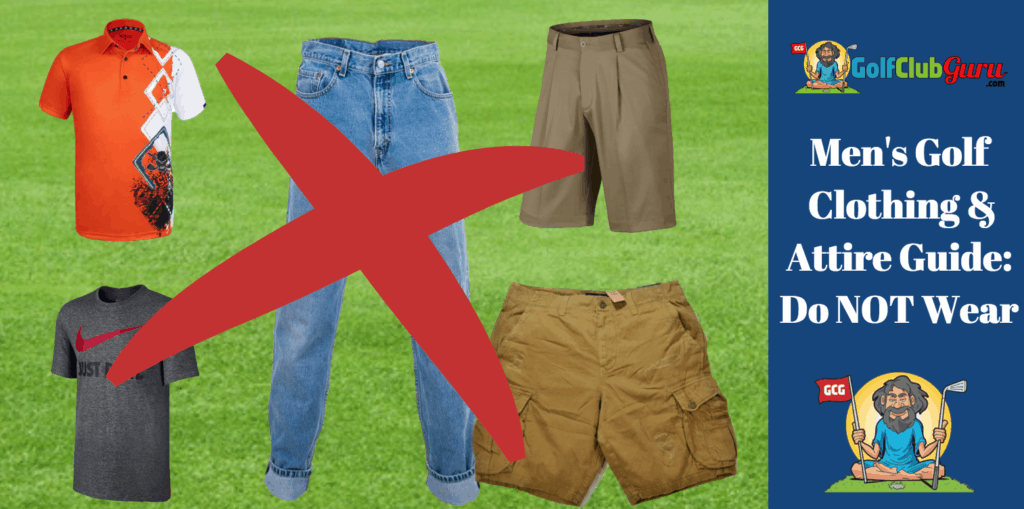 never wear the following: cargo shorts, jeans, tee shirts, shirts with too much designs, pleated shorts or pants, tennis shoes, plaid designs
the simpler the look, the better
a white hat and white shoes are always a nice touch – white or black socks will do
if you are wearing a darkish colored shirt, wear light colored shorts/pants
if you are wearing a white shirt, wear darker colored shorts/pants
a light brown belt is a good bet
Make sure your clothes fit you – not too baggy or tight
generally, avoid super bright colors
If you must, white tall socks are okay – just don't pull them too high, don't pair them with super short shorts, and preferably pair them with white shoes only
white shorts are okay –  but the rest of your outfit better be up to par
If wearing pants, stick with light colored khaki, grey, or black
if you wear a white belt, your shoes better be white too

Bold opinion: a blue shirt (this one is an Izod) and light colored shorts is the best combo in golf fashion. Maybe that's just me.
If I could wear something like this everyday, I would. Heck, sometimes I do. I think you should have multiple light colored polos in your closet that you can rotate between.
This is a great look for summer golf, as you will stay cool and will reduce the sweating as much as possible.
The hat, which I would choose a lighter colored one, will keep your face cool while you are playing in the sun all day.
Shoes don't matter too much. Any pair of white or light colored adidas tend to be the best budget option while still looking professional.
This look screams that you are a good golfer and that you know what you are doing. Just look at the guy in the picture… he won! If you want to trick some people into thinking you are a good golfer (until they see you on the first hole, that is), this is the look to try to emulate.

White and grey is a great combination when it comes to golf attire. Tiger has made the look very popular lately.
A white polo and light colored shorts just doesn't look right to me, and most agree. So I try to wear a grey, darker blue, or black shorts when I wear a white golf shirt. Personally, I think you should have at least 4 different colors of golf shorts that you really like. This will give you plenty of options when it comes to outfits.
Do whatever you want though, this is really just my personal opinion.
If you want to save some money on this look, consider choosing off brands shirts. They might not last feel quite as soft for a longer period of time, but you might not be wearing it that long anyway. Decide if you would rather have the extra cash or the better quality name brand clothes.
The white Nike webbed golf belt is a good one to have in your wardrobe. It goes with a lot of different outfits, and it doesn't cost much to begin with. I'm not a huge fan of webbed belts personally, because the end of the belt tends to get in my way and distract me. But, I know that they are very popular among other golfers.
Nike golf hats are an absolute steal in my opinion. For less than $20, you can get an adjustable hat that will last years and feel great on your head. Mine has lasted a couple of washes so far, and it is still going strong.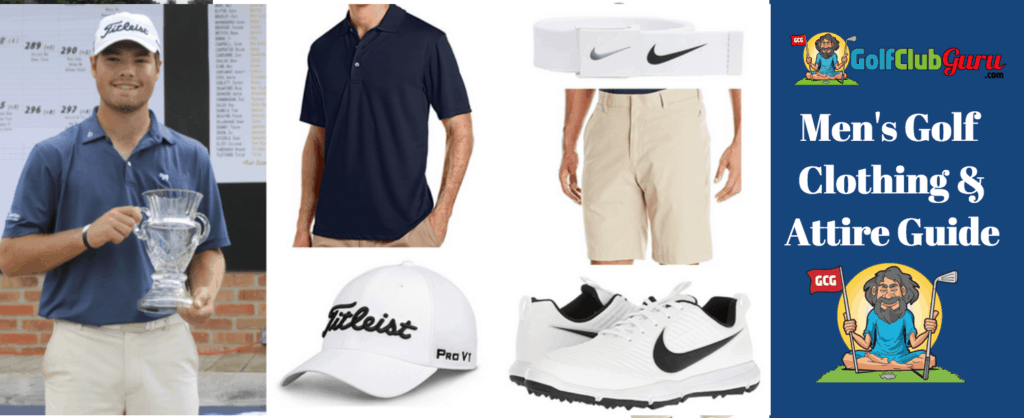 Here is another good look for summer golf. A dark colored polo and light colored shorts will never get old, either.
When it comes to saving money white still buying high quality shirts, it's all about brands. The shirt this guy is wearing could easily be an $80 shirt. It's hard to tell, as I can't see the logo. But if you don't mind skipping out on the brand logo on the shirt, consider getting the Amazon Basics brand or maybe the PGA Tour brand. They both produce high quality shirts at a huge discount.
I'd recommend you check out your local Ross or discount retail store as well. They can have some great deals on golf attire and clothing. I've bought many of my favorite shirts there, for about $12 bucks a piece.
The famous Titleist hats are pretty nice. Mine deformed pretty good after just a quick wash in the washing machine. Note to self: stick to hand washing the Titleist hats. They will hold up much longer and look better.
Nike golf shoes, along with Adidas, are some of my personal favorites. You can often times get a pair for around far under $80, as long as you pick an older model and buy online. A simple white shoe with a black logo is always a good look in my opinion. Not too overwhelming, and very easy to clean and look brand new when they get dirty.


If you are like me, you like visually seeing many different options when it comes to outfit combinations and ideas. For that reason, I made the picture above.
These are all great looks. My point was to show that you can make lots of different outfits by changing top and bottom combinations.
Plus, most pairs of white golf shoes go well with any outfit, which is why they are so popular.
Having these four colors of golf shorts covers nearly all of your bases.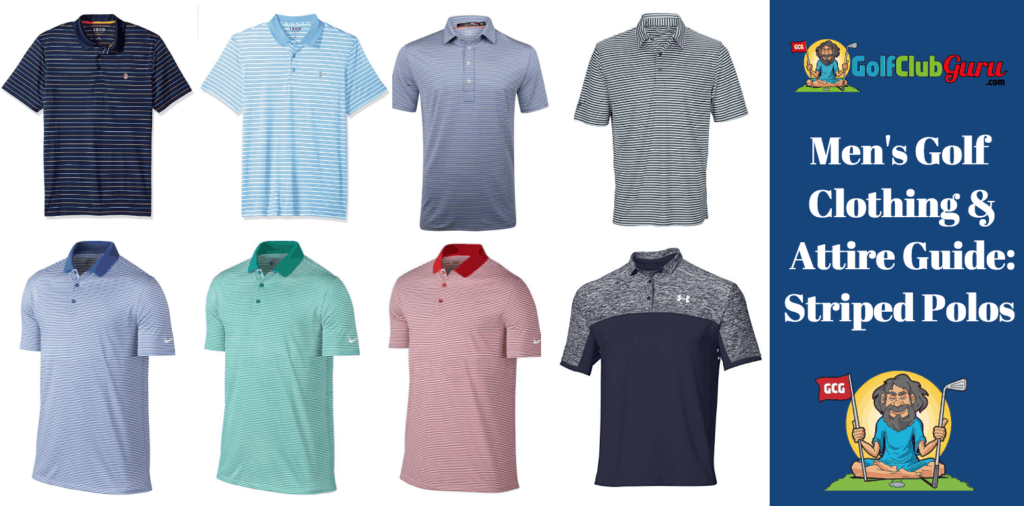 If you are on the market for some new golf shirts, my personal favorite are striped golf shirts. The design is not too wild, and I think it is a great look when paired with solid, light colored shorts or pants.
You can't go wrong with Nike Victory Striped shirts. I've got tons in my closet and wear them all the time. They feel incredible, look great, and hold up forever. I don't think they will ever become unwearable. Other personal favorites, which will cost a little more, are Under Armour, Polo RLX, and Izod.
Izod is actually an incredibly underrated golf brand. Their shorts are my favorite, as they are priced very low and feel great. I think a lot of golf shorts are too long for my liking. Nike, for example, has shorts that feel and look like capris in my opinion. Izod's golf shorts are incredible. Anyway, back to golf shirts.
Polo RLX shirts feel like heaven to me, but their prices are very expensive. You can pick up some online for a better price, though. Same with Under Armour. Their prices in stores are absolutely ridiculous in my opinion, but they are a little lower online. The shirt in the bottom right corner is actually my favorite golf shirt at the moment. It's hardly "striped", but I wanted to include it anyway. It has one stripe at least!

If you are going to be wearing golf pants, whether you have to or just want to, here is an outfit idea for you.
It's very similar to any outfit with shorts that I would recommend, but I wanted to include it anyway.
This is an Izod shirt, which is a really great value. I'm a big fan of the striped design.
The belt is a blue Adidas webbed belt, which is the best priced webbed belt on the market as far as I can tell.
This outfit pairs well with simple white shoes and a hat. Pick whichever models and brands that you find best fit your budget. Nike hats and adidas shoes will be very hard to beat, though!
Golf pants are all pretty similar – when it comes to look, feel, and quality. Therefore, I tend to stay on the cheaper side and buy Haggar golf pants, which is the best value brand that I have ever found.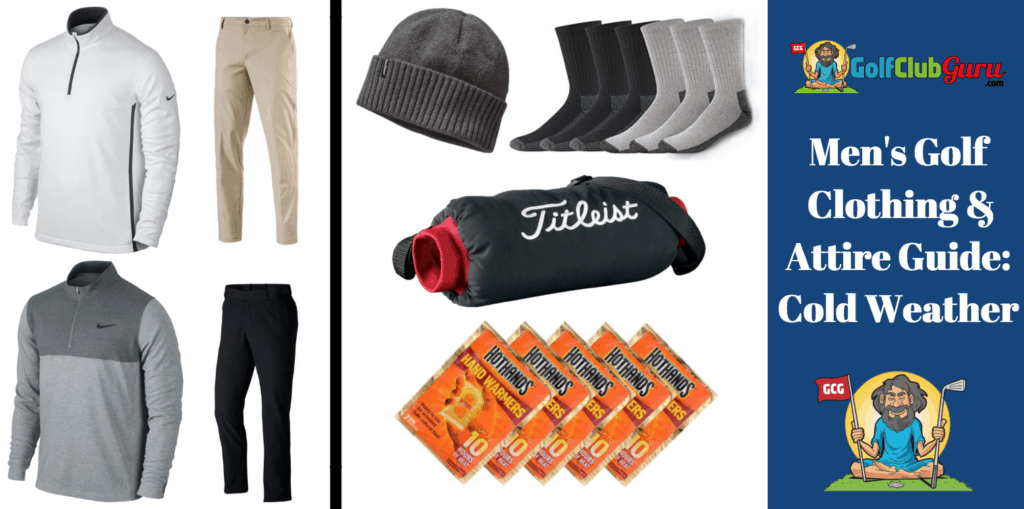 Ugh, alright if you MUST play golf in the cold, you better be prepared.
If you want to stay as warm as you can (trust me.. you do), the I would suggest having all of these in your wardrobe.
A good Nike quarter zip golf pullover is a must. They are thicker than they look. It will allow you to swing comfortably while still staying warm.
When it comes to pants, just make sure you have a good pair of khaki or darker colored pants. Pants won't help you too much here. However, socks will!
Make sure you have a good, thick pair of socks to wear when it is cold. If you can keep your feet warm, you will feel a lot more comfortable on the course.
Next, let's talk about keeping your hands warm, which should be your #1 GOAL!
I think everyone should have a pair of hot hands hand warmers. And if your hands get REALLY cold, make sure you have a hand warmer (like the Titleist one above) that you can strap around your waist. When you aren't hitting, you can have the hot hands inside of the hand warmer in front of you. If you are hitting your shot, you can move the hand warmer behind your body and out of the way. Very easy to do and definitely worth it if you feel as if you lose feeling in your hands when you play.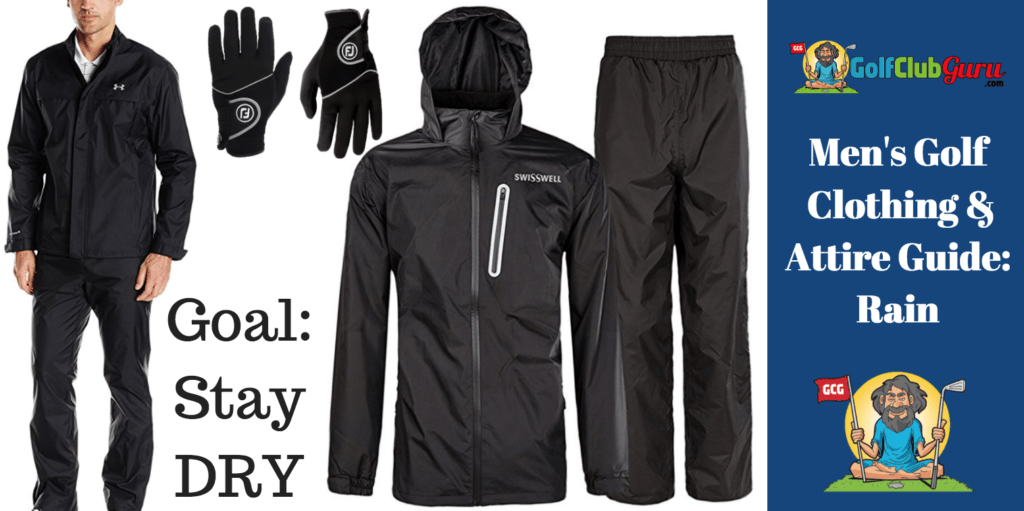 Similar to playing in the cold, if you HAVE to play in the rain, then you need to be prepared.
Depending on how much money you have to spend, you can buy a low budget or a more expensive rain suit. Rain gear for golf is inherently more expensive than other golf clothing, so be ready to spend a little more.
If you want to save on rain gear, just buy an off brand jacket and pants. SwissWell Rain Gear seems to be the best value rain gear brand on Amazon. If you want to be sure you are buying the highest quality, get the Under Armour rain gear for a little more.
Most importantly, make sure you have a pair of rain gloves ready to use. These can be a life saver, because your club will fly out of your hands otherwise. The Footjoy rain gloves tend to be the most popular, so I would just stick with those and see how you like them.