I've been giving golf lessons to boys and girls for 4 years now, and it hurts when I see a child sent to the golf course with a man sized club. Please, don't let this happen to your child.
If a child isn't given an appropriately sized club, I can guarantee they will develop terrible habits from the start. As a result, they will not enjoy the game as much as they could.
There are great sets of clubs for kids in 2020, that won't cost too much. You might be concerned that your child will grow too quickly and the clubs will be a waste.
However, there will always be other kids to give the clubs to. And like I said, they won't cost much to begin with.
[Here are a couple other articles that I wrote that you may be interested in: the best golf clubs for junior golfers (Age 14 and under) and the best golf clubs for teenagers/high schoolers.
To give you a short rundown of how clubs for kids work, they are similar to other products in that:
There is one brand that rules all: US Kids Golf Clubs
There are other brands that make great sets of clubs for kids (Wilson, Callaway, Ping)
There are cheap brands that you want to stay away from. They will break quickly and were poorly made.
I'll try to break this article up for a few different types of golfers. If you have any questions, please leave a comment below and I will be glad to help!
Best for a Golfer That Is Serious About Golf: US Kids Golf
If your little golfer is serious about golf or really enjoying golf, invest in an appropriate set of US Kids golf clubs.
Surprisingly they are not very expensive at all. US Kids has the market pretty much locked down, but they have never charged outrageous prices.
There are many different sizes and version of US kids clubs. The have an excellent sizing chart, based on one's height, to find the perfect set for the boy you are buying for.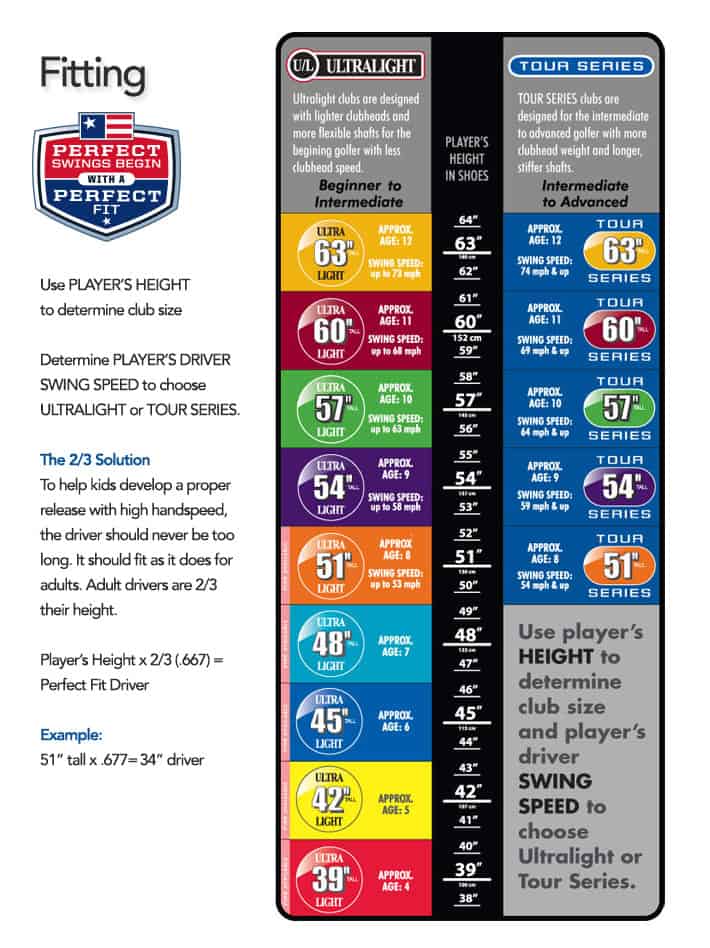 However, my mentor and I have been recommending that everyone buys a set that is one size bigger than your golfer currently is. Example: If your boy golfer is 44 inches tall, I would invest in the set of clubs for somewhere in the 45" to 48" range. That way, they can use the set for much longer, and the small difference won't affect them very much.
There is an Ultralight version (most common), and a Tour Series version, which is meant for stronger built children who can hit the ball a long way. The only difference is the stiffness of the club shafts. Unless you know your child can hit the ball long for his age, I would stick with the Ultralight version.
In summary, US Kids golf clubs are the Titleist of junior golf. They have great customer service, and their clubs are made extremely well. It truly is like a miniature set of top of the line clubs.
There will be listings for individual clubs, but I highly recommend that you buy the complete set, as all of the clubs will obviously be needed.
My recommendation would be to go here, and pick a set that is meant for a boy a couple of inches taller than your child.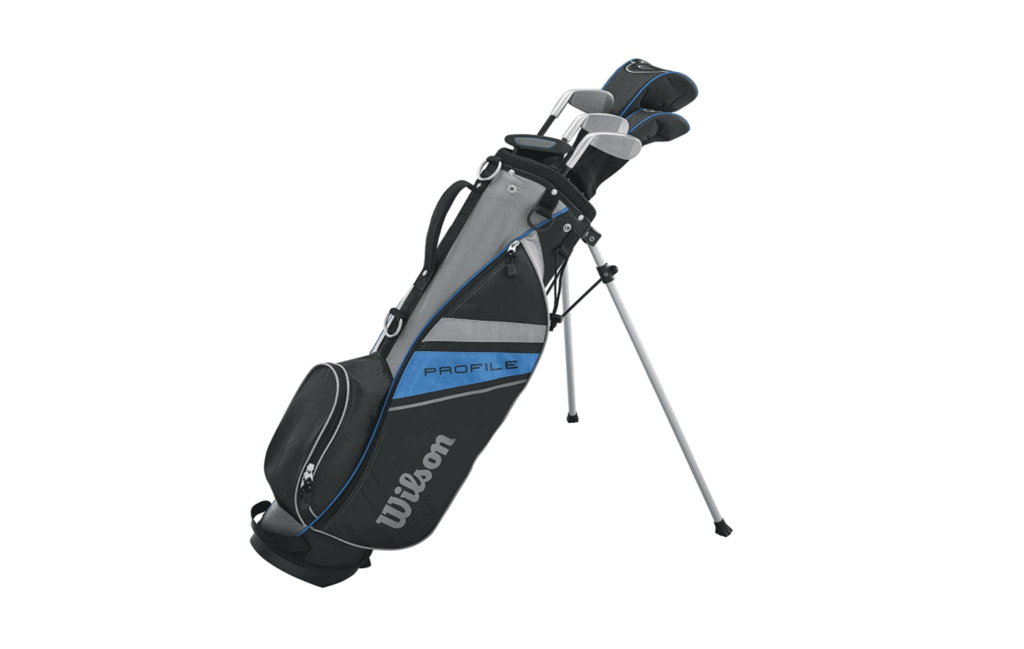 If you are looking for a  good budget set without spending an arm and a leg, I would buy the Wilson 2017 Profile Complete Junior Golf Set. It's the perfect set if you are not too sure if your golfer is going to stick with the game. Plus, if they DO end up enjoying golf, this is a set that will last a long time and have great results on the course. 
Wilson is a very old brand in golf, and they have released tons of sets for kids. They tend to be a more budget friendly brand, so Wilson sets are very common where I teach!
At this point, I would start looking into the US Kids clubs, depending on how much fun your little golfer is having with the game. If they are loving it, invest in some nice US Kids clubs for them.
If you can't really tell if they are going to continue with the game, try out the Wilson Profile Set.
Another thing to think about: kids love showing off their golf clubs at the academy I work at, so don't underestimate how much your kid wants a cool looking set.
Remember, if they like the set they have, they will probably enjoy the game that much more!
If they are all about the cool factor in 2020 and want a really cool set of nice clubs, let them choose from the following options below. They are hand picked by me, and all four are  incredibly solid options for boys. Callaway and US Kids sets especially are very well made. If you go the US kids route though, just make sure they get the right size for them.
If your little golfer is 6 years old or younger (obviously not an exact number), there is one set of golf clubs that I would highly recommend. It's the Paragon Golf Club Set. There are not many sets made meant for very small golfers, but this one tends to have the best reviews online.


It has everything they will need: a driver, an iron, and a putter. For those just looking to take their son/grandson to the driving range to have some fun, this is the perfect pick. It's very inexpensive, which is great because they might outgrow it pretty quickly.
Ahh, the memories of hitting the plastic set of golf clubs in the yard as a child. Honestly one of the few things I can remember from then.


If you are shopping for a toddler, I'd recommend the Deluxe Grow-to-Play Golf Set. It's super lightweight, and it guaranteed to make your toddler smile!
It includes a driver, an iron, a putter, some balls, and some flags!
BONUS: Tips for You and Your Junior Golfer
Make sure the number one priority is your junior golfer having fun. Period.
I can't tell you the number of times that a dad or granddad has made their son or grandson practice way too much, taking all of the fun out of golf.
I hope you will never pressure your golfer into playing if he doesn't want to. Let kids be kids.
If they want to play, great! Seeing the gleaming look of a kid hitting a good golf shot is something that I will never forget.
On the other hand though, seeing a child being forced to practice when he would rather be with his friends is something that stays with you as well.
Life is too short. Let them play golf when they want to, and only when they want to.
Rant Over 🙂
—–
Have any question? Please ask away!